Posted 5th October 2017 | No Comments
Strikes go ahead, but Underground walkout is cancelled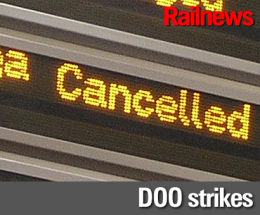 STRIKES are taking place for the second day this week at four National Rail operators in England but a planned walkout by ASLEF drivers on London Underground has been called off, after progress was made in talks between the union and Transport for London over working conditions.
As on Tuesday the effects of the National Rail strikes, which are being staged by the RMT, have varied. The worst disruption is on Merseyrail and Northern, where services are limited and will cease by 19.00 this evening, while services on most Southern routes are normal. Greater Anglia, the fourth operator involved, is able to offer its usual timetable partly because 60 per cent of GA services are driver-only operated, while specially-trained staff are standing in for striking conductors on other routes, including main line services between London and Norwich and local trains on branches in Suffolk and Norfolk.
RMT general secretary Mick Cash said: "Again this morning I am calling on Theresa May and Chris Grayling to call off the centrally imposed blockade on serious talks in these disputes and allow us to get on with genuine negotiations with their contractors."
The walkouts have also again been condemned by the government. Transport secretary Chris Grayling said: "There is no safety issue. On Northern they haven't even set out in detail plans for how the new trains are going to work. Merseyrail have bought new trains in the wake of a safety investigation that recommended they take this approach.
"I'm afraid leading figures of the RMT have made it clear they are in a political battle with the government and the passengers are pawns, and I feel desperately sorry for the passengers."
Discontent over on-train staffing is continuing to spread. Staff at South Western Railway have voted in favour of a strike after the RMT voiced concerns that the new franchise, which started in August, could see changes to the role of conductors. SWR has told its staff that "our bid proposals do not rely on driver controlled operation, and it was not mandated in the invitation to tender. Any changes we might make would be subject to consultation in the normal way, as you would expect."