Posted 14th July 2017 | 5 Comments
RMT drivers join ASLEF walkouts on Southern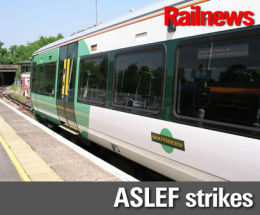 THE RMT has called a strike of its driver members on Southern to coincide with three days of walkouts announced by ASLEF.
The action by ASLEF is in pursuit of a pay claim, and the union has rejected an offer from Southern which would reportedly take a driver's basic pay from £49,001 to £60,683 for the existing 35-hour, four-day week. It amounts to an increase of 23.8 per cent over four years.
But ASLEF members voted in favour of walkouts, with 61.8 per cent supporting strikes -- a decision which Govia Thameslink Railway described as 'breathtaking'.
ASLEF has named three strike days in the first week of August, on the 1st, 2nd and 4th of the month. The RMT now says its Southern drivers will take the same action, although it is believed that only a few drivers on Southern belong to the RMT.
Mick Whelan, the general secretary of ASLEF, said: "Now is the time for Chris Grayling and the Department for Transport to step in and assist in finding a resolution to a problem they caused."
ASLEF members on Southern are already taking part in an indefinite ban on overtime and rest day working in the separate dispute over the introduction of driver-controlled operation, which the union claims has been done 'without negotiation', and which is reducing train services on many Southern routes and also Gatwick Express.
The RMT is also in dispute with Govia Thameslink Railway over DCO. RMT general secretary Mick Cash said: "Yet again today RMT is forced to send Southern Rail a clear message that we will not allow them to strip the railway of a safety critical second member of staff on these vital rail services.
"We have seen again this week the Government propping up the failed Southern Rail operation as they collude with the company to undermine the fundamental principles of safety and access. It is scandalous that neither Chris Grayling nor his contractors, GTR, have lifted a finger to get talks back on despite approaches from the union. This fiasco cannot be allowed to drag on any longer."
A spokesman for Govia Thameslink Railway said: "To call three days of strikes spread across a week is a deliberate move to cause maximum disruption for passengers. To do so in protest against an offer to increase pay by 24 per cent is simply breathtaking. Commuters, the vast majority of whom are seeing pay rises many times less, will understandably be as shocked and frustrated as we are.
"We absolutely need to modernise in order to increase capacity on this, the most congested part of the UK's network, where passenger numbers have doubled in places in as little as 12 years. That requires modernisation of infrastructure, trains and working practices. The trade unions must join us in that endeavour."
Reader Comments:
Views expressed in submitted comments are that of the author, and not necessarily shared by Railnews.
No coincidence the ASLEF announcement came out immediately after the GTR slap on the wrist. Spin, lies and deceit form all sides continues on it's spiral of destruction once again.

ASLEF and the RMT should be made to equal responsibility for this utter disaster of the last 2 years as services have imploded after they were finally improving, be that for the right or wrong reasons depending on your position of 'SAFETY' i.e OBS/guard retainment.

No doubt Mr Whelan and every Southern ASLEF member who voted aye for this action would demand to be treated by my wife at Springfield Hospital if acutely unwell on one of these days. Of course she will be expected as an NHS Band 6 therapist to slog into work, and as a public sector employee and assumed niave fool agree with being held to ransom for her's, and everyone else's own good, by those in support of direct action.

GTR have to be removed from the equation to solve this, for example a large part of the metro service problems during this 'Overtime Ban' is being caused by their lack of larger investment and using decrepit old class 455's reducing capacity, as opposed to those provided by class 387's or 377's. Caterham, as a branch weekdays is running on a 25-30% capacity service fundamentally. That being said ASLEF and the RMT deserve to come to into serious comeuppance over this either by either changing legislation to ban Rial Unions striking (as with Military and Police) or allow them to be privately taken to court by amending the Trade Union Acts. However, this will never occur as the same lack of sense, political courage and leadership from Grayling is endemic in the wider government.

Consequently it's the passengers that suffer between two equally spiteful sides, and those who in the absolutist sense see other wise on either political agenda are merely cutting off their nose of to spite their face.

James Palma, why don't you become a driver if it is so easy and you don't like your lot?

Perhaps you never passed the assesment, or perhaps you are too scared you might get abused, assaulted or make a mistake or error of judgement and be dumped on the dole or in the dock?

Perhaps the drivers would be happy with their lot if they didn't have legal liablity for train dispatch / crowd control shoved on them by Grayling and Wilkinson, not to mention their friends and colleagues in the guard's grade being treated with utter contempt by Southern, which does open the door to increased risks of assaults, violence, disciplinaries and demotions for mistakes and ultimately in the worst case - imprisonment.


Quite right too, the drivers should strike!!! How dare the railway company pay their drivers less than £50, 000 a year or even offer nearly £61, 000!!

I spent 9 years undertaking University work, I am now one of the experts in my academic and professional field because of that time, and it is disgusting that I get paid the same as they do! Drivers work harder than I do, and had to be trained way more than I was. They deserve well over £61,000 for the work they do, driving up and down between Brighton and London everyday, pushing buttons, pulling levers etc. and having to work shifts as well!! Disgusting.

I on the other hand get paid too much for making multi-million pound decisions that affect railway staff, passengers, those within and near, and also served by the railway environment here in the UK and internationally. All I have to do as well is go abroad for 3 to 6 months at a time to work 12 hour days and not see my family for that time.

Yes, I am being facetious. and yes I am questioning why drivers or anyone else believes they should get paid so much? If you don't like it, well, the next train is in 5 minutes, I suggest you use it to find a different job.

This is getting more and more worse with Southern. Strip Govia Thameslink Railway away from Southern and allow other train operators to take over the Southern franchise. GTR shouldn't of merge Southern Railways franchise with Thameslink Great Northern franchise. That's why Southern are in a mess as always.