Posted 22nd March 2017 | 4 Comments
New DOO strike 'a barefaced attack'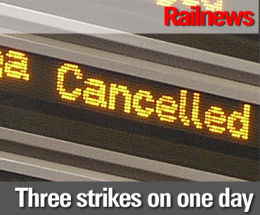 THREE more strikes over driver-only operation are set to be staged by the RMT on 8 April.
The walkouts are expected to disrupt services on Merseyrail, Northern and Southern.
The managing director of Merseyrail has warned that the stoppage, on Grand National day, is a 'barefaced attack' on the reputation of Liverpool, but the RMT countered that the company is adopting a 'cynical and hostile stance'.
The increasingly bitter deadlock over the introduction of driver-only operated trains in several parts of the country shows little sign of easing, although new talks have been arranged between the RMT and Southern, where there have already been 30 days of RMT strikes. A strike originally called for 4 April has been postponed until the 8th after the talks were arranged for the 4th. However, Southern operator Govia Thameslink Railway said last night that it had yet to receive official notification of the change of strike day, and that "we will review our response when we do".
The planned changes to on-train staffing will affect a new fleet ordered for Merseyrail and changes at Northern which also involve new trains, while Southern is replacing conductors with on-board supervisors on most of its routes.
Northern regional director Sharon Keith had said: "Modernising the train journey of our customers means we have to make changes. We want to involve everyone as we develop our plans, from our customers and communities, to employees and their trade unions."
The new Northern franchise was won by Arriva last year, and includes the leasing of 281 new vehicles as well as upgrades to 243 trains in the current fleet. The operator is also promising 2,000 more services each week.
Merseyrail will be receiving 52 four-car trains built by Stadler which will not be designed for conductor working, although Merseyrail said a second member of staff would often be carried to assist passengers. The first train is due to be delivered in mid-2019, and the whole fleet is intended to be in service by the end of 2020.
Talks between Merseyrail and the RMT had collapsed on 20 March, and a new strike date was then announced by the union. The operator's managing director Jan Chaudhry-van der Velde said: "As we predicted, the RMT has sunk to a new low by inflicting their strikes on the Grand National. Damaging the company and its passengers is one thing, but damaging the whole of the Liverpool city region on one of its proudest and most important days of the year is impossible to understand. It cannot be right that the RMT executive, sitting in London, has taken an unnecessary decision that represents a barefaced attack on the reputation of our region."
RMT general secretary Mick Cash responded: "It is disgraceful that Merseyrail wrecked a golden opportunity to engage in serious talks with the union. RMT reps set out key points for discussion that could have moved the dispute forwards, Merseyrail kicked that conciliatory approach back in our faces and made it crystal clear that all that they are interested in is the union signing a surrender document which gives them a free hand to rip apart the safety culture on the railway.
"It is that cynical and hostile stance from Merseyrail which has left us with no option but to put on this additional strike. RMT recognises the severe impact that the action will have on Grand National Day but we are dealing with an employer that refuses to listen or engage with the union on the critical issue of safe rail operation."
Northern said it was 'surprised' at the new strike call on its network. Deputy managing director Richard Allan said "we had been in contact with their officials in the last 24 hours to organise further talks".
Each operator is now making contingency plans, which are expected to include replacement buses in some cases. The effects of recent strikes on Southern has been less severe than before, because the company now reserves the right to run trains with only a driver, reducing the impact of a walkout by other on-board staff.
Meanwhile, members of ASLEF are now voting on a second proposed deal for more than 900 of the union's drivers on Southern. They rejected the first proposed settlement on 16 February, although the union's executive had accepted it. No details have been released, but the result of the new referendum is due on 3 April.
Reader Comments:
Views expressed in submitted comments are that of the author, and not necessarily shared by Railnews.
There is a fundamental disconnect here. Surely the way to ensure that DOO is practical at all times is if there is only a small gap (say under 2") between platform and train, and only a very small allowable difference in level (say less than 0.5"). This is the kind of thing TfL aspires to. When you have nearly a foot difference in level between train and platform and/or wide train-platform gaps, there is a good case for another crew member on board.

So more of the 'don't like it' so 'punish the public

How Mick Cash (in a separate statement) can say "we ask the public to understand that we have no option but to take this high-profile action"

Unless I'm mental surely not striking and not risking the income for the Liverpool area and the Grand National experience for thousands is at least one other choice that could have been made

Once again it's about maximising the disruption to the paying public and getting more prominent headlines

This has to stop before the contagion spreads as more and more modernisation committed obligations are written into future franchises

Merseyrail was unique amongst the three striking companies. It was the only one with a locally-set (pseudo-)franchise which **did not** have to introduce DOO. The Merseytravel (PTE) head and former Network Rail boss, Councillor Liam Robinson should take full responsibility for his decision to embark on the this war with the union which has totally destroyed the publics confidence in rail.

I have some sympathy for the other two, Southern and Northern. They accepted franchise renewals from goverment with DOO as part of their bid, so some of the blame goes to the DfT in their cases, although Southern management have publicly behaved foolishly, causing this to escalate.

As for DOO, my only reason for supporting leaving guards with control over the doors, leaves the compulsion to have two people on a train, without the nonsense at other operators where large numbers of staff with "on-board" people actually run with no-one - leading to crime, muggings, attacks, safety incidents.