Posted 17th February 2017 | 6 Comments
DOO discontent spreads across north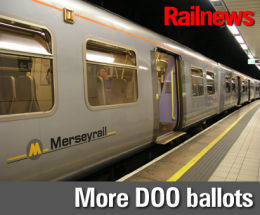 Hopes are 'dashed' by ASLEF vote on Southern
A NEW strike ballot was launched on Friday in the growing disputes over driver-only operation, this time on Merseyside. Meanwhile, there has been dismayed reaction to the vote by Southern drivers to reject the DOO deal agreed by ASLEF.
Train builder Stadler has confirmed a £700 million build and maintain contract for 52 new trains for Merseyrail, but these trains are being designed for driver door control.
The RMT had already warned that it would not accept DOO on Merseyrail. General secretary Mick Cash said: "The union's position on driver only operation is perfectly clear. We will not agree to any introduction of DOO and will fight to retain the safety critical role of the guard and to keep a guard on the train.
"RMT has asked Merseyrail to give the union assurances that any new trains will have a second safety critical crew member on board and that the guard will be retained on all services. We set out clear deadlines giving the company ample time to give those assurances but the company have flatly refused to consider a guarantee of a second safety critical person on the new trains".
The ballot is the second over DOO in 24 hours – a similar vote began on Northern yesterday. Again, the RMT had called in vain for assurances that conductors will be retained and have a full safety-critical role, which Northern's owner Arriva said it was 'not in a position' to guarantee.
Meanwhile the implications of yesterday's DOO referendum of ASLEF drivers on Southern have dismayed passengers and industry observers.
Drivers voted by 54.1 per cent to 45.9 per cent on a turnout of 72.7 per cent to reject their union's proposed settlement with Southern, which had been announced on 2 February.
Govia Thameslink Railway chief operating officer Nick Brown said: "Naturally we're saddened and hugely disappointed, as will be our passengers, with today's decision by drivers, particularly as the agreement carried the full support and recommendation of the ASLEF leadership. We now need to understand the issues which led to this outcome and we'll be seeking to meet with the union as soon as possible to see how we can agree a way forward."
ASLEF general secretary Mick Whelan said: "We understand and support the decision arrived at democratically by our members and will now work to deliver a resolution in line with their expectations."
The RMT is staging a further strike of its on-board members on Southern on 22 February, which had been announced after its own talks with GTR broke down on Tuesday.
After the ASLEF result became known, RMT general secretary Mick Cash said: "This referendum was entirely a matter for ASLEF and their Southern members. RMT has remained focused on the industrial and public campaign to protect the safety of the travelling public and to put access and safe operations before profits.
"RMT will now look to take that campaign into its next phase working with our sister rail unions, the wider trade union movement and the passengers who use the railway.
"RMT repeats the call to Southern to give the guarantee of a second, safety critical member of staff on their trains and to sit down with the unions in new talks around the issue of safe train dispatch."
The wider implications of the ASLEF result are not yet clear, but the possibility of fresh strife is dismaying some observers.
Rail Delivery Group chief executive Paul Plummer said: "This is a disappointing outcome that will worry hundreds of thousands of passengers.
"At the heart of this dispute are changes that will provide passengers with the better service they need and want. Where safety, jobs and pay are unaffected, the railway must be able to harness new technology and smarter ways of working to deliver the modern rail service the country needs."
David Sidebottom of Transport Focus said: "The hope that services would improve on Southern has now been dashed for their passengers.
"They have had enough of the on-going industrial action. They have faced months of lost time, lost money and deep frustration at not being able to rely on the trains.
"It is vital that all parties in this dispute get back around the table to bring the services back to normal as soon as possible."
Labour's shadow transport secretary Andy McDonald added: "Southern services are abysmal even without strike action, but the failure to resolve this industrial dispute is bad news for both staff and passengers.
"The Government and Govia Thameslink Railway have failed to guarantee passenger safety or accessibility for disabled passengers who face a loss of independence with the expansion of driver only operation services.
"For the sake of long suffering passengers, all parties need to get back around the negotiation table."
Reader Comments:
Views expressed in submitted comments are that of the author, and not necessarily shared by Railnews.
ASLEF and the RMT do not keep talking about DOO like it is a new concept. Yes DOO has been around for years, but trains (and platforms) are getting busier and longer.
It's the equivalent of having a small business plane, in the 1970's where the pilot is responsible for evacuating the passengers in an emergency and the powers that be saying that this is a safe method of operation. So a few years later they apply it to 737's. There are a few incidents, but the powers that be say look, it was listed as a safe method of working way back when, so we can now apply it to 747's (carries only about half the passengers of a 12 coach train) and it's still perfectly safe.
The guard's role is called 'safety critical' because it is.
You look into the reports, where a passenger is dragged by a DOO train and the blame is always laid squarely on the driver - never on the outdated door sensors, with 1970's technology, that allow drivers to take power with someone caught in the doors and certainly never at the door of the passenger, who has recklessly ignored the 'hustle alarm' and placed their arm in a closing door.

Why can't Southern adopt the Scotrail system - driver opens doors, guard closes them?

The current situation cannot be allowed to continue - people have lost their jobs over it.

Legal action is being taken by a group of commuters and this might be the only way to get action from the Government!

The issue that kicked this off is *not* related to the cost of employing a guard, or the 'safety' - the need for a guard. Essentially, 100 years ago, for safety it was considered a second pair of eyes on a train were a good thing.

This dispute - It is about cold, hard cash. Nothing else.

Cash from the DfT's performance regime contracts is paramount, and guards - considered more likely to cause delay minutes by stopping the job when an incident is noticed, were earmarked for removal by the companies as a way to push up the PPM percentage.

In addition, due to understaffing leaving fewer spare guards cancellations went up as a result of the companies own cuts.

I'm all for SOO. Staff only operation. No managers, directors, 'HR business partners', Senior Head of Legs, no... this function can nowadays be fulfilled by an inanimate box, as proven at one intercity company where we did not see a manager for over two years, and we were the best in the country at the time.

Why do Aslef and RMT keep talking about driver operated or driver controlled trains like it is a new concept?

It is fully proven having been in use for many years including on busy routes such as Thameslink, London Overground and London Underground.

This needs to be an evidence based decision.
What is the relative safety record for DOO, DCO and 2 man operation?
If it is unsafe, why does the Health and Safety Executive and other safety related organisations insist on it?

If there are certain criteria needed - like on board video of a particular quality, or station staff on platforms if of a particular size etc.

But is not reasonable for Aslef and particularly RMT to simply keep saying no DOO under any conditions.

Driver only, Driver controlled, whatever name you put on it is bad for safety, bad for passengers especially the less able, bad for staff both the Guard/Conductor and the Driver. Well done to the ASLEF Drivers who voted against the recommendation of the ASLEF executive who have done a U turn. This is about cost reduction and is clearly driven by the Government just look at all the new franchises they mostly have a commitment to have a percentage of Driver only operation within them by a certain date, all aimed at boosting the profits of the rail companies most of whom are based abroad and some are part of other countries state railways, what a mess.