Posted 16th March 2017 | 3 Comments
Merseyrail guard on safety charge is acquitted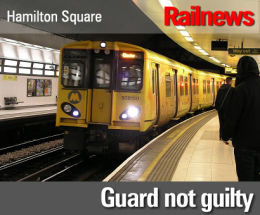 UPDATED 13.10

A MERSEYRAIL guard accused of endangering passenger safety has been found not juilty by a Crown Court jury. The verdict was unanimous.
Martin Zee, of Runcorn, had been prosecuted after an incident in which an 89-year-old passenger fell from the platform at Hamilton Square, suffering injuries to her face and ribs.
The prosecution had alleged at Liverpool Crown Court that Martin Zee had not fully carried out the procedure for closing automatic train doors, and that in failing to do so he put passengers at risk.
But defence counsel said that the incident happened because there are several blind spots along the curved platform at Hamilton Square. The court was also told that there was a 'fundamental failing' in Merseyrail's procedure because a guard had to turn his back on the platform and the CCTV monitors before closing the doors.
Neil Fitzgibbon, for Mr Zee, told the jury: "It is a fundamental failing in the system, because guards have to turn their back on the most risky aspects of the railway.
"It is a very sad and terrible accident, but a culture in recent years has developed. 'Someone is to blame, someone must pay the price, there must be a scalp.' When In actual fact, it's been an accident."
The verdict has been welcomed by the RMT, which said the case should not have been brought.
General secretary Mick Cash said he "condemns the Crown Prosecution Service for bringing this outrageous prosecution which the union believes served no public interest whatsoever.
"The prosecution of Martin Zee has caused untold stress to both him and his family and has had a corrosive impact on the entire rail industry.
"No one should face prosecution for simply doing their job and we expect that lessons have now been learnt and that there will be no repeat of the appalling treatment of Martin."
A spokesman for British Transport Police responded: "Train guards have a duty of care to those who travel on their services.
"When it is suspected that this duty of care may not have been satisfactorily met, it is our duty as a police force to investigate and present the evidence to the Crown Prosecution Service.
"As in this case, it then makes a decision on whether to progress the matter to the courts."
In a statement, Merseyrail said: "Merseyrail's priority is to ensure that passengers are safe, and we are deeply sorry that Mrs Atherton was hurt that day in July 2015. Similarly, we are both relieved and pleased that Martin has been cleared of the charge against him.
"Both our internal investigation and that of the Office of Rail and Road, the independent safety regulator, found that there was no case to answer.
"The door closure warning alarm is in place to alert passengers to the danger of closing doors and we rely on passengers heeding that warning and not attempting to board or alight while the doors are closing."
Reader Comments:
Views expressed in submitted comments are that of the author, and not necessarily shared by Railnews.
It would seem that CCTV covering the whole Platform and available to the Driver would be the best option.

Hold on a second, according to the DFt and GTR guards aren't needed on trains judging by this case they are needed more than ever