Posted 10th March 2017 | 6 Comments
Merseyrail loses DOO strike challenge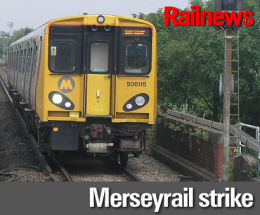 A STRIKE over driver-only operation is set to go ahead on Merseyrail, after a court challenge to stop it failed.
The RMT has called a walkout for 13 March in opposition to plans for the region's new trains to run without traditional conductors.
Merseyrail is a devolved franchise, owned by Abellio and Serco, which is controlled by Merseytravel PTE.
The operator said: "Our challenge through the High Court to stop the RMT strike action on our network has not been successful. This means that the strike on Monday 13 March will go ahead.
"We argued that the decision to order a new train which would operate without traditional guards, was taken by council leaders and councillors in December 2016 and that Merseyrail had no choice but to implement these plans, and could therefore not provide the guarantees the RMT has been looking for.
"We are doing all we can to provide a service on Monday which will be as comprehensive as possible, under the circumstances."
RMT general secretary Mick Cash has welcomed the decision: "This is an important victory for the union. However, it is frankly ludicrous that Merseyrail have been wasting important time and money on bogus legal challenges this week when they should have been sat round the table with the union negotiating a safe and sustainable settlement to this dispute which gives the travelling public the guarantee of a guard on their trains. The strike action goes ahead," he said.
The new fleet has been ordered from Stadler, and should be in service within three years.
Reader Comments:
Views expressed in submitted comments are that of the author, and not necessarily shared by Railnews.
Can someone explain why a 1 hour 5 minute trip on a London Underground sub surface train (Amersham to Aldgate) does not need a conductor, while a 1 hour 4 minute trip on Merseyrail from Southport to Hunt's Cross must have one?

Similar to the GTR Southern strikes that caused many services to be disrupted and cancelled with most services not having enough trains to operate which lead to bus replacements and alternative arrangements for passengers who were affected by the Southern strikes last year and early this year.

Unfortunately a lot of the blame for all these DOO strikes seems to lie with the devolved administration in Scotland, as presumably it was they who ordered Scotrail to cave in to union pressure and scrap their DOO expansion plans, creating an expectation elsewhere that suffifient industrial action would eventually achieve the same at very similar results

Douglas. Surely, comparing DOO on trains with one-man buses is like comparing apples with bananas. On a bus, the driver has only one door to control, through which all passengers board and pay their fares or show/scan their travel passes. On a DOO train, he/she may have up to 20 doors (depending on train length) to monitor and safely control. At stations where platforms are curved and line-of-sight may not be possible, problems that might result in safety concerns could arise - even if mirrors and high-tech CCTV systems in both driver's cab an on the platforms are installed!
[Strictly, many buses have two doors -- some London buses have three.--Editor.]

I thought that DOO was mandatory....seems to me like Merseyrail probably have a point and the RMT action is pretty spurious. Looking at the spec these new trains have loads of good safety features

You don't have a second person on a bus so I can't see what the difference is for a regional franchise like Merseyrail