Posted 23rd February 2016 | 12 Comments
HS2 Bill Committee report has 'failed to deliver'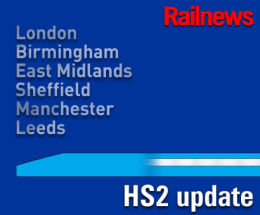 THE final report from the Parliamentary Committee which has been considering the Hybrid Bill authorising Phase 1 of HS2 has 'failed to deliver', according to critics.
The Committee heard nearly 1,600 petitions against the Bill, and its final recommendations include a longer Chilterns bored tunnel with a north portal at South Heath, greater noise protection for Wendover and amendments to the discretionary compensation schemes.
The Committee is also calling for a remodelled maintenance depot at Washwood Heath in Birmingham to make the most of local job opportunities and better construction arrangements at Hillingdon in west London.
The purpose of the Committee was to hear objections to particular provisions, but not to consider opposition to the Bill in principle.
The Committee was chaired by MP Robert Syms, who said: "With this report on Phase One of the High Speed Rail programme, we have endeavoured to add substantial environmental, social and design benefits to the scheme, in balance with good use of public money and a viable engineering design."
The conclusions have also been welcomed in Whitehall. Transport minister Robert Goodwill said: "We will consider carefully the recommendations in the report and respond shortly. I also recognise the demands this process has placed on petitioners. We have listened to those affected by the scheme and in many cases we have been able to make the changes they have been calling for. I am happy to say that HS2 remains firmly on schedule, and today's report marks another significant step towards getting spades in the ground for this transformational project."
The main criticism so far has come from promoters of alternative proposals, rather than the scheme's traditional opponents.
One promoter, Lord Tony Berkeley, who backs the 'Euston Express' concept and also chairs the Rail Freight Group, commented: "Euston Express is disappointed that the Commons Select committee chose to ignore the inaccurate evidence given by HS2 about our Euston Express scheme. E Ex puts all HS2 and West Coast Main Line trains on to the WCML tracks from Queens Park inwards and avoids the high cost, massive disruption and demolition to streets to the west of the line and at Euston itself. Euston Express, supported by a number of rail professionals, believes that the existing station can be adapted to accommodate all these trains without taking additional land."
The Rail Freight Group itself has expressed doubts about the implications for freight in the wake of the report, arguing that 'HS2 and Government have displayed a lack of ambition and urgency in confirming that use of released capacity on the West Coast Main Line would benefit rail freight'.
RFG executive director Maggie Simpson said: "HS2 is a vital project for rail freight growth but if we are to deliver the expected benefits for the sector, and the UK economy, we need clarity now on how released capacity will be used. We look forward to progressing discussions with HS2 and Government over coming months to ensure that a suitable framework is established giving the necessary confidence to the sector to support future investment."
The report has also received a bleak reception from HSUK, which has suggested an alternative route for a high speed line north of London mainly following motorway corridors and providing a slightly lower maximum speed of 360km/h rather than the 400km/h of HS2. The group condemned the report from the Bill Committee because it had 'failed to deliver'.
A spokesman for the group said: "It beggars belief that this committee, chaired incidentally by a Poole MP who has no dog in this fight, can blithely nod through a scheme that will have devastating effect on the English countryside and whose top speed is pure fantasy.
"We note it is buried within the report that Euston station and Camden alone will face 17 years of disruption. We doubt very much if many Camden residents are desperate to rush to the north of England by High Speed train.
"A ten-year-old with a Hornby trainset knows that these high speeds demand exacting track sophistication and that the costs rise exponentially as the proposed speeds rise. To be blunt even if HS2 ever gets built, the costs involved in delivering these high speeds would be prohibitive – not that the current government will be concerned, as they will be long gone.
"The other stunning failure in logic, and we lay this firmly at Chancellor George Osborne's door, is that instead of delivering businesspeople from London to the North to revitalise these economies, the opposite will happen. Northern business would simply come to London thus inflating that economy even further and creating ever larger regional discrepancies."
Meanwhile, an event is being held in Westminster today as part of the campaign by the City of Liverpool to be connected to HS2 by a 32km extension. Key figures at this event include National Infrastructure Commission chair Lord Adonis, the mayor of Liverpool Joe Anderson and chair of the Transport Select Committee Louise Ellman.
With the HS2 Hybrid Bill at the end of its Committee stage, it will now return to the Commons before being sent on to a Public Bill Committee. The Report Stage and the Third Reading will follow.
Reader Comments:
Views expressed in submitted comments are that of the author, and not necessarily shared by Railnews.
I can understand people's annoyance at how long this project is going to take to deliver – but good things come to those who wait.

This talk of following motorways ignores the big differences between road and rail transport in that roads can be built to hug the contours of the land with roads rising and falling with ease thus meaning bridges and tunnels are only needed if a major barrier like a river or mountains needs to be crossed. This is aided by the lighter weights road vehicles ( even 40 tonne lorries) have compared to trains be they passenger let alone 2000 tonne freight trains.

Railways work best when the run on the level and thus more bridges and tunnels are needed to allow this. Afterall, you don't think Victorian private rail companies would have gone to the expense of digging tunnels if they could have avoided them like roads do.

As for desruption at Euston I suggest you look along the road at nearby Kings Cross / St Pancras International where building work has been going on for near,y 20 years and development is still on going it's what big cities like London have done since Boudica burned down London when the Romans invaded!

With or without HS2 Euston Station needs a major upgrade both to cope with the massive rise in usage since it was rebuilt on the cheap in the 1960s when the passenger areas were rebuilt but almost nothing was done on railway approaches which need as big an upgrade as London Bridge is now getting. While the tube needs a massive upgrade with lifts and escalators and bigger concourses and connection to Euston Square Station.

Then once the station has been rebuilt the massive hole which is Euston can get an over site development similar to what is happening at Kings Cross .

All HS2 does is extend this regeneration westwards to include areas like the abandoned hospital site and northwards towards Camden Town .

Antis are now paying the price of thinking that shouting ""White elephant!" would work instead of a constructive alternative to cope with rail usage growth.

HS2 may be the best thing to have ever happened in Great Britain. Ideally, to retain the "Great" in "Great Britain", we need to have the high-speed trains that countries such as China and Japan has.

The reason no-one questioned the general route of HS2 was that virtually everyone who was slating HS2 a few years ago was slating either the concept of high-speed rail or the concept of rail transport outright. I would have loved the idea of an M1 alignment or a slightly lower speed to have been discussed in more detail, but HS2 opponents chose to drown out that argument with their own anti-rail arguments. That's one of the reasons I'm suspicious of this surge in support for HSUK now - I'm sure some of it is genuine, but I strongly suspect a lot of the support is really motivated by trying to delay HS2 to death, seeing as Plan A failed.

As for whether HSUK should be considered in place of HS2 now, the problem now is that we've had at least three years of detailed preparation for HS2 which would have to start again if we switched to a completely different scheme. If HSUK can somehow come up with a credible timescale from scratch which relieves the southern WCML before 2026 and reaches the north before 2033, I'll take this seriously. Otherwise, I suggest the best way forward is for HSUK accept it's too late to change course from HS1 phase 1, but come up with new plans that incorporate HS2 ph1 into their preferred network.

Oh, and properly cost city-centre stations if you want me to consider it credible.

Many transport professionals have slated the HS2 proposals because the design speed results in highly-inflexible routing and the need for so many tunnels. HSUK seems to have come up with some very practical proposals that are quite obviously high-speed, but do allow more flexibility - but the Government has fixed the game to such an extent that no-one can question the basis of HS2 but merely quibble about details.

I would like to see the House of Lords demand a proper evaluation of HSUK and other alternative proposals that could be implemented in less time than HS2 seems to require. A true national high-speed network would allow city-centre stations rather than back-of-beyond 'parkways' (can anyone pretend that East Midlands Parkway is a success?) so that rail travellers can complete city-to-city journeys without having to make too many connections..

I am the Campaign Coordinator for HSUK. Neither Quentin nor Colin made the remark about residents of Campden not being too fussed about travelling to the north. I made that comment and as a Scotsman who travels to and from London every week I can hardly be accused of being biased against the North.

The point I was trying to make was not that Londonders in general do not want to travel north but that the poor residents of Camden who face 17 years of disruption surrounding the HS2 Euston plans have no say in the matter. 17 years of disruption? Do you think that is reasonable?

Quentin MacDonald,

I am still open to arguments from HSUK, and the offer is still open that I could be talked round with a convincing argument. The problem as it stands is that HSUK's website appears to be aimed at journalists. There's enough detail in the proposals to make it look to a casual observer that some thought's gone into this, but it's when you get down to the details that there's problems. So many benefits promised by this scheme are dependent on claims that are not backed up with any evidence. That's not say it's wrong, but the onus is on you to provide this.

It's going to be far too complicated to go over everything in this comments sections (and I don't think Railnews would be terribly thrilled with that) but to stick to the issue raised in this article: Euston station. HSUK are making a wildly optimistic claim that you can divert London Midland and Overground services into Crossrail and use the released platform capacity for HS services without having to expand the station. I'll believe that when I see an illustrative platform occupancy chart.

I'm also not terribly convinced with the reason for the lack of maps. Okay, maybe you did draw some very compelling routes on some Ordnance Survey maps that you can't show us because you don't have a licence, but surely you can use either Openstreetmap or overlays in Google maps? I want to make up my own mind rather than be told that some maps I can't see prove how good the scheme is.

Otherwise, the suspicion lingers that the real agenda of HSUK is to create enough doubt in HS2 to get the scheme canned, safe in the knowledge that HSUK will also be canned as soon as we discover how much it really costs. It's really up to you whether I carry on thinking this.

Rather than incurring huge costs via the current proposal in long, high-speed tunnels, anti-noise embankments etc, we should reconsider the routing strategy. In fact the extra benefit in 200+ mph to Birmingham / Manchester would be small - they are too near to London and rail already has the lion's share of this traffic.

Yes we need extra capacity Rugby - London, but this can be achieved much more cheaply with a new conventional line using the ex-Great Central trackbed north of Aylesury / Ashendon Jcn.and then skirting to the west of Rugby to join WCML south of Nuneaton.

As for 200+mph, this would give much greater benefit / cost from London to Teesside / Tyneside / Edinburgh / Glasgow on an East Coast alignment, at distances where day - return journeys become newly viable. It would only need perhaps half the ECML mileage to be new-build 200 mph cut-off sections, largely through easy and open topography to allow Edinburgh and Glasgow to be within 2 hrs 45 min and 3hrs 15 min of London respectively, with Newcastle just under 2 hrs. Centres in Yorkshire would also gain some benefit, albeit a good deal less than the cities above.

I would like some clarifacation if possible on line speeds. It is my understanding that the Maximum speed allowed in any of the HS2 Tunnels will be 90 mph. Is that correct and if so I presume that will be the speed from Euston to the portal at South Heath. From there its going to be several miles before the Top Speed is reached - or has that been reduced as well. Certainly the original timings beetween Birmingham and Euston seem very optimistic.

Why is there STILL no reference to Liverpool regarding HS2...? Even today... as the early morning news, including BBC's "Today" programme on Radio 4 announced that Liverpool's Mayor is prepared to fund Merseyside's essential part in HS2's scheduled route plan. Demanding that his city - at the core of the World's First Passenger Railway pulled by Stephenson's Rocket locomotive, is historically entitled to be included in direct high speed rail connections to and from London. As it has been ever since the grand opening of the Liverpool & Manchester railway way back at the end of the Industrial Revolution in 1839...!!!

[May I plead in our defence that we mentioned today's event in connection with the Liverpool/HS2 campaign? And just as a matter of record, the L&M Rly opened in 1830, as the second passenger railway. Its place of honour in railway history stems partly from the facts that it was the first line intended for passengers from the outset (who were admittedly an afterthought on the Stockton & Darlington) and also the first designed exclusively for locomotive haulage.--Editor.]

Dear Chris Neville-Smith,
Quentin Macdonald from HSUK here.

HSUK has been created by professional railway engineers and is genuinely pro-High Speed Rail. By using a maximum speed of 360 km/h (224 mph) the UK will have a railway with a faster top speed than most other high speed railways in the world. A speed of 360 km/h requires a minimum radius of curvature or 5,700 metres rather than the 7,900 metres required for HS2's 400 km/h. HSUK's smaller radius of curvature allows us to follow the M1 all the way from London to Leicester without difficulty. This would be quite impossible using HS2's 7,900m.

Unlike HS2, HSUK is also able to follow many other transport corridors which allows services to interconnect regularly with the existing rail network. The result is a large number of journeys which see a journey reduction time of 40% or better. This simply cannot be matched by HS2.

Why do you imagine we are anti-north? We are based in York, firmly in the north and one of the cradles of the UK railway system. The design we have created has been fully mapped at 1:25,000 scale, all the way from London to Glasgow and in between connecting London Heathrow, Coventry, Birmingham International, Birmingham, Leicester, Derby, Nottingham, Sheffield, Stoke, Manchester, Liverpool, Leeds, Hull, Teesside, Newcastle, Edinburgh and Glasgow with a network of services to many other places besides.

We fully meet the aims and objectives of the Northern Powerhouse (NP). NP has specified journey times between Manchester, Leeds, Sheffield Liverpool Newcastle and Manchester Airport. HSUK is able to beat the specification by several minutes in every case.

So we are very pro-northern, living in the north and very pro-rail. I am sorry if the Railnews piece has convinced you otherwise. I did not think that we were masquerading as anything other than ourselves!

The reason we are anti-HS2 is that it is such a poor design which will be unable to deliver what is really required of new build high-speed rail in the UK and into the bargain HS2 will cost £20 billion more than HSUK.

If you have not already done so, please have a look at our website www.highspeeduk.co.uk and if you wish, do drop me a line at quentin@highspeeduk.co.uk

Sincerely,
Quentin Macdonald

[I fail to see how Railnews played a part in forming the original correspondent's opinion, or could have 'convinced' him of anything. He evidently gained his impression from the statements made by HSUK, which we quoted without comment. 'Convincing' people is not our job.--Editor]

Oh dear. Up to now, I was giving the benefit of the doubt and assuming HSUK genuinely pro-HSR, just wanting a different route to HS2. I might even have been talked round to that if a convincing enough argument was made.

The arguments they are making now are blatant arguments against any kind of HS line, not just HS2. As for their idea that Londoners couldn't possible want to go to the north, that is utterly contemptible.

Nice one HSUK, you've just convinced me you're an anti-northern anti-rail group masquerading as the opposite. Pretty much like most of the other anti-HS2 groups.