Posted 30th April 2015 | No Comments
New joint venture to bid for £900m HS2 work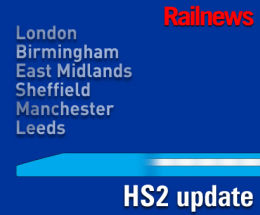 THREE leading engineering companies have announced that they have formed a new joint venture to tender for up to £900 million of enabling works on the first phase of HS2.
Dartford-based Laing O'Rourke Group, Spain-based FCC Construcción and J Murphy, which has its UK headquarters in Cannock, Staffs., have formed a consortium to be known as LFM.
The group said it "will apply a lean, value added strategy towards the bid framework, with Laing O'Rourke and Murphy initially targeting the enabling works contracts on the HS2 project, and FCC Construcción joining the team to compete for the main Tier 1 packages later in the year".
Nadia Savage, Project Director High Speed Rail, at Laing O'Rourke, commenting on behalf of the joint venture, said: "LFM combines international best practice high speed rail experience with offsite manufacturing expertise and a UK-based directly-employed workforce."
As the announcement was being made, the Prime Minister visited North Warwickshire, which the Conservatives won with a majority of only 54 in 2010 and where there has been vigorous opposition to HS2, which is planned to pass close to Coleshill, including a major delta junction connecting the spur line into Birmingham city centre.
Among local opponents of HS2 is North Warwickshire's former Labour MP and cabinet minister Mike O'Brien who is fighting to regain the seat on 7 May.
During his visit, David Cameron insisted "it is very important that HS2 goes ahead" and paid credit to Conservative candidate Craig Tracey who, he said, "is fighting to make sure there is really strong compensation for people who live near the line."
He added: "HS2 is about investing in the future of our country. It is going to add capacity, will be fantastic for the West Midlands and Birmingham and is part of the modernisation and re-balancing of our country."
He told the Coventry Evening Telegraph: "To reassure people who think it is going to take up too much budget, I would say that in the next Parliament we are going to invest three times more in other road and rail schemes, including those here in the West Midlands, as we are in HS2.
"For instance, look at the huge investment which is going into New Street station. So there is massive other investment which will take place at the same time as HS2, which is not pushing other schemes out."
• Economist and journalist Anatole Kaletsy called today for the so-called HS3 link between Liverpool and Hull – which could cut journey times between Manchester and Leeds to just 35 minutes – to be delivered before HS2.
Mr Kaletsky, who has written for The Economist, The Financial Times and The Times, claimed if a government was serious about building a 'Northern Powerhouse' it should build HS3 as a priority. He said improved connectivity would stimulate "the cross-flow of business activity" throughout the North.
Labour's Shadow Chancellor Ed Balls said recently he favours this approach, amid concerns over the cost of extending HS2 to the North West and to Yorkshire.