Posted 6th July 2015 | 12 Comments
Government's robust rejection of Lords' HS2 criticisms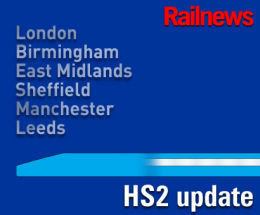 IN a robust response to criticisms by the House of Lords Economic Affairs Committee, the Government has said the case for HS2 is clear – and that the best upgrade alternative would only provide one more peak hour train compared to the current timetable.
In its 30-page response to the report published by the Lords' committee in March, the Government declares: "HS2 delivers the step change in capacity and connectivity we need to support future growth and help rebalance the economy," adding: "It is a vital part of the Government's long-term economic plan, strongly supported by the Northern and Midlands cities."
The Government also rejected any suggestions that people should be priced off the railway, and for charging "premium fares" for HS2 journeys: "Over 90 million passengers are expected to use HS2 each year once the full Y network is complete – not just a few business people."
It said the West Coast Main line is now the busiest mixed-use rail line in Europe. "Despite a £9 billion renewal and upgrade completed in 2008, the line is effectively full in terms of train paths, which restricts what services we can run and is impacting performance on both commuter and intercity services"
The economic case for HS2 was "clear and robust", with a benefit/cost ratio including wider economic impacts of 2.3, which was higher than for either the Jubilee Line Extension or the current Thameslink projects when approved.
The Government said HS2 "will create nearly 25,000 construction jobs and support up to 100,000 jobs around the stations. The Core Cites group suggest this figure could be as much as 400,000 jobs."
It was clear that "we need to invest in our railways. In particular, we need to address a significant capacity challenge on the West Coast Main Line."
The Government said: "For intercity services, even more so than commuter services, the issue is about both the number of train paths and the number of seats on trains. With the line full in terms of train paths, operators cannot run all the services they would like, which restricts the markets they can serve.
"Some sizeable towns in the North and Scotland such as Bolton, Blackburn and Dumfries do not have direct services to London, while other towns such as Telford and Blackpool have infrequent services. Considering its size, Liverpool is not as well connected as other cities."
The Government added: "Without action, seating capacity will be a real issue – even if passenger growth rates turn out to be lower than we have seen over the last 20 years."
And it warned that without HS2 one in four passengers using peak period commuter trains would be standing to and from London Euston within the next 20 years.
Responding to suggested HS2 alternatives, the Government said: "We have also analysed potential crowding levels if all intercity services are extended to the maximum 11 cars together with a first class coach converted to standard. This would provide 33 per cent more seats across the evening peak, yet with growth of 3.6 per cent per year, by 2033/34 one in ten passengers on those services would be standing. Nearly half of those would be standing for over an hour before the first station stop out of London – in some cases as far as Crewe or Warrington."
'Three passengers for every two seats'
"Crowding would be worse on Friday afternoons, when nearly one in five peak time passengers would have to stand, even with the additional capacity. During the busiest hour, demand would see three passengers wanting to travel for every two seats.
"Flexible pricing would not be able to address the problem as trains would be full across a sustained period of time – unless people were priced off the railway completely, which the Government does not consider to be an acceptable solution."
On capacity, the Government said: "HS2 not only slashes journey times, it provides a very significant increase in intercity and commuting capacity on the rail network," adding that "HS2 will also free up space on the existing rail network for more commuter and inter-regional services and long distance services for key towns and cities not served by HS2.
"Currently, capacity constraints limit what services can be provided along the length of the [West Coast] line as trade-offs are made between intercity and regional or commuter trains. The benefits from capacity released by HS2 will not be restricted to London commuter services, but will be felt by passengers across the country."
The Government added that Network Rail's forecasts suggest demand for freight services could nearly double by 2033, from 42 to 80 trains per day. "HS2 could also free up 20 freight paths per day on the West Coast Main Line, potentially more with detailed planning."
As for further upgrades, the Government said there would only be limited returns. "Only HS2 will provide the step change in capacity we need to address the capacity challenges facing commuter, intercity and freight services as well as major improvements in connectivity between major city regions. …. The best upgrade alternative to HS2 would only provide one more peak hour train path compared to the current timetable."

Opponents of the scheme have remained unimpressed.
Penny Gaines, who chairs the pressure group Stop HS2, said: "The Government's response to the Lords Economics Committee shows how disjointed then Department for Transport is. They haven't even attempted to answer many of the questions asked by the Lords, and the answers they have given have been demolished long ago."
"What's worse is this report completely ignores the announcements last week about the pausing and review of Network Rail improvement projects. The Lords asked whether improving regional rail links in the north should be prioritised ahead of building HS2. In this document, the Department of Transport claim they can do both, referring to the Northern Transport Strategy, electrification projects and the Trans-Pennine links, even though last week, the Trans-Peninne electrification project was paused and almost all other rail projects are under review. They've shown they haven't the money to do both."
Reader Comments:
Views expressed in submitted comments are that of the author, and not necessarily shared by Railnews.
When the recent fifth hourly trans pennine service was introduced, the entire existing timetable had to be recast. There is not any more capacity remaining to provide a direct Leeds Manchester service. This is the same argument we hear against hs2. The only way to provide faster services presently on existing lines.is by removing station stops. The only way to provide more services is by having more tracks. Put the direct main city services on their own dedicated high speed tracks and the existing lines can better serve the smaller catchment areas. It is not just paths that are released but also SEATS. Build HS2/3 asap and connect them to hs1.

Intercity routes in the North suffer mainly from inadequate trains rather than a lack of infrastructure.

Liverpool - Newcastle / Hull ought to be enjoying tilt - capable( for the twisting Manchester -- Leeds section ) , 125mph ( for north of York) Voyagers , whilst Manchester - Glasgow / Edinburgh should be using 6 - car Baby Pendolino's as were offered by Alstom at the time of procurement.

I don't entirely understand why HS3/ High Speed 'Trans-Pennine' is at all necessary.

if Manchester-Leeds is so important, why aren't there any Man-Leeds non-stops now ?

I estimate using 'Pendolino'/ 221 type tilting trains could shave around 25 minutes off non-stop Man-Leeds timings along existing lines. Much faster Manchester-Leeds services could be achieved tomorrow if desired.

HS3 is an expensive 'Rolls-Royce' solution to a 'Ford Fiesta' problem IMO.

There's also a "clear and robust" economic argument for the Government to build high speed rail North-first, starting with a step-change in east-west connectivity to power-up Mr Osborne's powerhouse concept: something HS2 will not do.

HS2 Plan B (maps on the hsNorthStart website) would do this by fast-connecting Manchester Victoria to Leeds via the M62 corridor, with the bonus that its 40-mile new link would also take half an hour out of cross-Pennine rail journeys from as far west as Liverpool or Bolton or Preston, to and from as far east as Hull or York or as far north as Newcastle. HS-UK will not do this, either.


As the line into Euston has less of a capacity and congestion problem than most of the other London termini, I'd still like to know who it was decided on the terms of instruction which led to the HS2 concept and route. The public sector doesn't allow instructions to be issued like that without the terms and parameters and budget being signed-off at a very senior policy level and budget-holder level.

One question that seems to present itself here ( to which I don't know the answer) :- Is the investment priority need for (a) enhanced service between centres of the 3 or 4 of our biggest conurbations , or (b) to improve journey opportunities to / from a greater number of medium sized centres ?

Whilst agreeing that HS2 needs to be connected to HS1, to Heathrow and use more classic compatible connections, we really cannot divert from using it to connect our 3 main cities - ie London-Birmingham-Manchester.

The M1 route is a far longer way to do that.
It's also a longer route from Birmingham to Derby, Sheffield, Leeds & York.

So whilst the Y is a better plan, it needs:
A through station at St Pancras Cross as an HS1 link (instead of a Euston dead end) as that would save £4.5 billion in (i) smaller station costs (through stations need half the platforms) (ii) a halved bill for new trains & depots (by extending existing 2030 Eurostar trains up HS2 and using HS2 classic stock to replace HS1 Javelins that will be life expired by the 2030s) (iii) no need of a huge Euston tube rebuild - as St Pancras Cross would link Euston with St Pancras, (iv) lower Crossrail 2 station costs - as St Pancras Cross would be the top floor of that new station.



Good points by David Smith and the Editor. When I first started to campaign for a UK high speed rail network, the reasons for a high speed network were to enable the strategic benefits of high speed rail to be achieved. These strategic benefits are 1) London to Scotland services faster than air, 2) Direct fast services from the Midlands and North to the near European continent with the advantage of the train going right into the city centre, 3) fast rail services from northern cities to Heathrow to bring the hub transfer business back to Britain and 4) high speed rail services between Heathrow and near European cities and airport to strengthen the position of Heathrow as a global hub airport. These seem to have been dropped by the wayside! And although we do need capacity, we do not need long lengths of new track. But as I said in another comment, the present HS2 plans are sub optimal. Telford is quoted as a town that could benefit from HS2. But the Telford - London service could be much improved without any extra capacity by extending the London - Birmingham trains to Telford and Shrewsbury and it only needs the passenger numbers to grow. Even with more Telford to London services over the WCML, the service from Telford to London will not be any faster via HS2 as the interchange time between New Street and Curzon Street will lose all the minutes gained on HS2. It is only if the London to Birmingham HS2 trains go on via New Street to Telford that Telford will gain any real benefit from HS2. And this is not yet in the HS2 plans, and that is why HS2 plans are so sub-optimal.

As a further comment, as far as the Northwest goes, I would have guessed the priority demand would be more trains to London ( including from extra places such as Blackpool,Barrow, Southport,etc.) rather than faster times.But maybe" Whitehall always knows best ".?

Whilst the costs of the Chiltern route from London to Birmingham are escalating due to increased tunnelling, the alternative route via the M1, proposed by High Speed UK, is becoming a much better option. HS2 will not relieve the West Coast main line as much as hoped because cities such as Coventry and Stoke will not be on the main HS2 route. HS2 will not relieve the Midland main line as much as hoped because HS2 calculations of usage are based on connection times between HS2 and local services that cannot be delivered on a real operational railway. This Government response is not robust at all because it sidesteps the genuine concerns of the Lords and does not answer the HoL questions adequately. Yes we do need more capacity, but HS2 is Highly Suboptimal 2 and misses many opportunities to do much better.

Why do Government only pose upgrade of WCML as the only alternative to HS2 ?

Other possibilites :-
1/ Gain extra capacity south of Nuneaton with a new line to lower speed standard than HS2, perhaps utilising part of the ex - Great Central formation ; there could be big cost savings as this would not require twin large bore tunnels under the Chilterns and the northwest London suburbs. Both Marylebone and Paddington ( via Ashenden - Grendon ) could be London termini ; Paddington could gain capacity for this arising from diversion of Thames valley trains onto Crossrail.

2/ Birmingham and Manchester already are well within day - return times of London and not in need of a big speed - up. Centres further north such as Teesside, Newcastle, Edinburgh ,Glasgow would see a bigger benefit from faster times to London, tipping the balance of advantage from air to rail. Perhaps any new HS infrastructure should follow an East Coast alignment incorporating at least 3 new 200 mph cut-off sections of 60 to 90 miles each .

[It seems that different people do not agree on what the problem is that needs to be solved. The GC would, as you imply, be slower -- probably much slower -- and one of the official objectives is to shorten journey times between London, the West Midlands (to some extent) and the north (to a greater extent). So the phrase 'Birmingham and Manchester already are well within day - return times of London and not in need of a big speed - up' does not reflect current transport policy. I am neither defending that nor condemning it, but your comment demonstrates why the HS2 debate becomes so difficult to resolve sometimes.--Editor.]