Posted 24th March 2015 | 21 Comments
Lords Committee gives thumbs down to HS2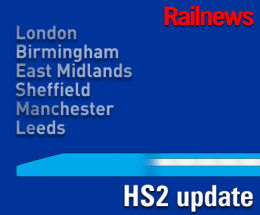 A HOUSE of Lords Committee has concluded that the Government has 'yet to make a convincing case' for investing £50 billion in HS2. But the DfT said the case for building the line remains 'crystal clear'.
The figure of £50 billion includes rolling stock and large contingency margins, but the report suggests that the 'huge' public subsidy to HS2, an estimated net £31.5 billion, conflicts with the Government's declared objective of making rail less dependent on public subsidy.
The Committee argues that such large expenditure should be considered against the background of financial restraint. It queries whether the users of the proposed line, mainly business travellers, should carry more of the cost than is currently proposed.
The Government has set two main objectives for HS2: increasing capacity on the railway and rebalancing the economy. but the report claims that it fails to make a convincing case for either.
It continues: "On capacity, full information on railway usage has not been made publicly available by the Government, on the grounds of commercial sensitivity.
"The evidence shows that long distance trains arriving at and departing from Euston are, on average, just 43 per cent full and even during peak times are only between 50 and 60 per cent full. Overcrowding is largely a problem confined to Friday evenings and weekends on long-distance trains and to London-bound commuter trains.
"There are less expensive options to remedy these problems than HS2 but these have not been properly reviewed."
The Committee agrees with the objective to rebalance the economy but disputes the claim that HS2 is the way to achieve it. The evidence from other countries, such as France, shows that the capital city is the biggest beneficiary from high speed rail. As a result, the Committee argues there is a 'strong case' for improving the transPennine links or building the northern legs of HS2 first, both of which could be a better way of rebalancing the economy than building the southern leg of HS2.
It also suggests that money could be saved by building the line for a maximum speed of 320km/h, rather than the proposed 400km/h.
The report points out that the cost-benefit analysis for HS2 relies on out-of-date evidence, some dating back to 1994.
It says the Department of Transport admits that fresh evidence is required and the Committee believes this should be provided before Parliament passes the HS2 enabling legislation. The Government's claim that the cost-benefit analysis placed HS2 in the high value-for-money category was disputed by a number of witnesses, who assessed it as being in the bottom 10 per cent of projects.
Lord Hollick, who chairs the House of Lords Economic Affairs Committee, said: "At £50 billion HS2 will be one of the most expensive infrastructure projects ever undertaken in the UK but the Government have not yet made a convincing case for why it is necessary.
"Overcrowding on the West Coast Main Line is largely a problem on commuter trains and on long-distance trains immediately after peak time on Friday evenings and at some weekends. The Government have not carried out a proper assessment of whether alternative ways of increasing capacity are more cost effective than HS2."
"We have set out a number of important questions on HS2 that the Government must now provide detailed answers to. Parliament should not approve the enabling legislation that will allow HS2 work to begin until we have satisfactory answers to these key questions."
In response, the DfT said the new lines would be 'transformational'. A spokesman added: "It is a vital part of the government's long-term economic plan, strongly supported by Northern and Midland cities, alongside our plans for better east-west rail links confirmed in the Northern Transport Strategy last week.
"Demand for long distance rail travel has doubled in the past 15 years. It is crucial we press ahead with delivering HS2 on time and budget and we remain on track to start construction in 2017."
Labour also supports the project in principle, although it has warned that there will be 'no blank cheques'. The Green Party and UKIP both oppose the plan.
Reader Comments:
Views expressed in submitted comments are that of the author, and not necessarily shared by Railnews.
For one argument, the lords are right: the HS2 should be built for a maximum speed of 320 km/h; a higher speed induces much higher costs in energy, maintenance of rolling stock and wear and tear of the tracks.
SNCF, RENFE and DB have discovered that fact.

Well Chris it appears the Economist is based in London...

Tony Pearce, do not trust The Economist's coverage on HS2 (or anything related to HS2) under any circumstances whatsoever. It is shockingly biased for a magazine that usually knows better. They are quite happy to swallow all the misleading figures supplied by anti-HS2 groups (such as quoting morning peak crowding out of Euston but deliberately ignoring afternoon peak), and make no attempt to correct their inaccuracies when they are pointed out.

Strangely enough, they don't appear to have a problem with Thameslink Programme, Crossrail, Crossrail 2, the Northern Line Extension or the mega-expensive tube upgrades, which easily add up to the cost of HS2 between them and connects London with London.

IMO, HS2 has trod on too many sensitive toes.

A much more 'sensitive' western route could have been taken using the 'Chiltern line' alignment, skirting the M40' corridor around Banbury and Warwick and into Birmingham via Short Heath, using largely existing transport corridors, and without much time penalty.

As I predicted 10 years ago, this is just turning into a feeding frenzy for the legal folks...........and, yes, this should have built by Blairs' administration 15 years ago......



In reply to your question re TGV costs I can't find my source. All I could find was the Economists report on last years figures which they reported ... French TGVs are admired the world over for their sleekness, speed and sheer French chic. But the 480 high-speed trains (Trains à Grande Vitesse, or TGV) that radiate around France from Paris are struggling to remain in the black. Most of the lines are running at a loss and even the profitable ones are not earning enough to cover their cost of capital. This is forcing SNCF, France's state-owned railway, to consider taking the axe to what has been a rare symbol of French technical and business success.

Best way to keep costs down on HS2 is by getting on with it rather than fiddling about talking. The quicker it's finished, the less it will cost. And as an aside, the nit in the Lords who said at £50 billion it would be the most expensive infrastructure projects ever undertaken in the UK forgot to deduct the cost of new trains which will be needed anyway. And he should be forced to stand on Euston/Manchester trains for a month as a penance, just remembered, Lords travel first class on expenses and don't have to mix with the lower orders like us........

It is presumed that the operations on the HS2 line will be subsidised, - SNCF has about £500 million subisdy a year. Where will that subsidy come from ? Out of the existing rail subsidy ? Or maybe extra taxes ? But with both main parties trying to reduce the huge taxpayer expenditure on the Railways by putting fares up each year - it would look as if there is a danger that HS2 will be run at the expense of the rest of the Railway.

(Presumed by whom? That's not the plan, as I understand it. The capital cost will be a matter for the public purse, but revenue should be sufficient for movement costs. The SNCF figure you quote is surely for its whole operation -- not specifically TGVs?--Editor.)

At last, a bit of common sense. But only half right. The HS2 line needs only to go to Birmingham to be cost effective. Beyond that, it's the law of diminishing returns. Spend the money saved on East West connectivity across the North. No need then for expensive new stations in pet cities like Leeds and Manchester.

Is it about capacity or very high speed lines ?

Same question could have been put to Brunel when he wanted to build his broad gauge GREAT WESTERN RAILWAY which allowed speeds unknown at the time just to get to London in hours instead of days ...!

The bill for HS2 gained a massive majority in the commons who the people elect and all this shows its time to abolish the Lords . I in fact checked this Lord and he has an history of being against HS2 and even features in Anti HS2 group site ...

Oh the £50 billion is for full HS2 project London to Leeds and Manchester and includes a massive contingency !

We tried to upgrade WCML and spent billions yet without Pendolinos it would still be largely a 100 mph railway ...

As for passengers leaving Euston well this usually omits London Midland and Overground trains which are then joined by Southern trains and massive number of freight trains as capacity is about number of trains and not number on trains !

Regrettable we cannot vote out those NIMBY Lords.

This is typical of why nothing ever gets done on time in this country. More delaying causing costs to go up. Why can't the politicians just get on with it? It would be a lot cheaper in the long run.

Is it about capacity or very high speed (VHS) ?

If WCML capacity, then as the Lords report points out it cold be done a good deal cheaper if VHS isn't needed ( mainly due to not needing expensive tunneling under NW London and the Chilterns). VHS is largely superfluous for London-Birmingham/ Mancherter, these being too short for usehul time savings.

If VHS, then it may be better to consider London- Teerride/ Newcastle/ Edinburgh/ Glasgow as distances which would give times that could lead to new day-return opportunities and fresh competitiveness with air. Centres in Yorkshire would also benefit as spin-off. Roughly half the existing ECML mileage could be resignalled for 140 mph,with the remainder bypessed by a few 200mph cut-offs.

While i generally consider select committees as being a good thing considering all the evidence etc. i cannot help wondering how much of this is politically motivated with cross party politics rather than lord's with no axe to grind giving due consideration. However, we must settle for the fact that all the available has been considered and we have not seen this.

With regard to alternatives, all that money wasted for the current consultation, wait until tens/hundreds of thousands of peoples homes have to be bought and demolished for widening current lines! Well done hundreds of NIMBYs. You have helped affected tens/hundreds of thousands of people.

The report by the House of Lords committee says far more about how out of touch they are with the need to modernise the UK than any observations they make about value for money.

The report seems to agree that extra rail capacity is needed, and that the economy needs rebalancing and north of the country needs to be revitalised, yet it misguidedly argues that HS2, as planned, is not the answer, rather it comes out with the poor alternative that existing lines should be upgraded etc.

We all know that roughly as much money is to be spent over the same period on upgrades where possible, but they rarely give the same improvements, or the additional capacity, that a new line will give. It is absolutely right that the "classic" lines need modernising and electrifying where feasible, but that is a very slow process and causes years of travel disruption and ultimately can cost around the same as building a new route.

HS2 brings such a step change to rail in this country that clearly some find it hard to grasp. We now have a chance to utilise the most up-to-date technology in rolling stock, infrastructure and communications to build a railway fit for the next 100 years or more. It is relativity cheap to build as the cost is spread over a 17 year programme, it will create 10,000's of new skilled and well paid jobs both in construction of the route, stations and trains as well as finally the operations.

All the cities on the route, Birmingham, Manchester & Leeds are extremely keen for the project to be completed quickly, and many others such as Liverpool, Glasgow and York are just as keen that the High Speed network is extended to their cities as soon as possible. They all realise the huge potential that this brand new high speed rail network has to regenerate their cities. Putting a final cost benefit on these eventual massive real improvements clearly is well beyond this House of Lords committee.

We desperately need leaders with a good vision of the future and a sense of urgency about achieving the modernisation that Britain must have to compete in the world. HS2 is just the start of that modernisation project and no group, who clearly prefers the status quo, should be allowed to push us off course.



Trains leaving Euston in the peak only 50 to 60 % full. Not my experience travelling to Birmingham. People standing does not suggest a train with spare capacity.

And I note the latest trend for banging on about Manchester. Manchester and the north is having heavy investment with electrification on many routes. Carry on as planned with HS2 and allow Birmingham to get some much needed relief.

The problem is that the average loadings of 43% is now (or more worryingly maybe a few years in the past), HS2 is looking at capacity issues for some time in the future. Based on passenger growth of 2.5% (used in the HS2 business case, but bearing in mind that passenger growth has been about 5% year on year since 2009) that with 16 years of that level of growth results in 64 out of 100 seats over the whole day being full rather than the "quoted" 43 out of 100.

The entire HS 2/3 plan and more besides could be made on the 50 billion budget...and it should be provided in the form of a loan, like the modernisation money was. Public/private ownership and competition rules are just window-dressing to me, they need to start improvng capacity problems by buildingbetter trains which they could do immediately...and by they I mean our self-chastized government.

Or indeed, start hs2 in the north!

The trouble with hs2 is its too little too late. It should have been built 30 years ago when the channel tunnel was being built. The french has a high speed rail network ready for opening day, what did we have? A terminal temporarily built in the midst of a slow suburban network, and a motorway often used as a car park and holding area! The plan now is very london centric, with the major stations en route all being parkways. Its not what the country needs. We do need hi speed, but it should be serving city centres, not parkways. There is potential development space in manchester, leeds, newcastle, sheffield, birmingham and in other cities im sure that can be used for centrally placed stations which are alongside or in easy reach of the existing rail stations so there is no excuse not to, plus the development potential the new stations will offer also cannot be ignored. There are plenty of existing active and closed rail and motorway corridoors that can be made use of which need to be looked at more, especially of the great central and woodhead routes. The current hs2 plan, tho needed, doesnt really consider all route possibilities and conurbations miss out due to its pro london routing.

A high speed network is needed, and fast. We are severely falling behind europe and even china in our transport and economic infrastructure. Apart from the gaps in the A1 we are too heavily motorwaycentric. Im not convinced that the current hs2 follows the right route, it starts in the wrong place and doesnt take other routes into consideration for future growth. But something needs to be done as the existing network is bursting out of the seams, and it disappoints me as a member of traincrew when i have to leave passengers behind because my train is full.

"The Committee argues that such large expenditure should be considered against the background of financial restraint."

Oh goody. Cuts end in 2019, vast majority of expenditure takes place afterwards. Problem solved.

I suggest that developing the Railways around Machester and the rest of the North might be the first place to start instead of HS2.