Posted 1st July 2015 | 8 Comments
Heathrow plan involves rail upgrades, but no HS2 spur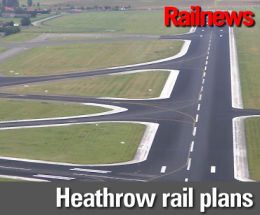 THE Airports Commission has supported proposals to build a third runway at Heathrow, in the face of rigorous opposition from environmental groups and politicians, including Boris Johnson.
The report says a new runway would cost £17.6 billion but boost the economy by £147 billion. Major transport upgrades costing some £5 billion would be needed to cope with the additional demand. Some new rail schemes -- particularly Crossrail -- are already in progress.
The Commission also envisages direct railway connections from the west and south but rules out a spur from HS2 at Old Oak Common, saying there is no robust business case and that such a link would be "likely to attract only a small number of passengers, carry a high capital cost and represent an inefficient use of HS2 capacity". The Commission said it did not receive any 'persuasive arguments' in favour of a high speed spur during its national consultation.
It does however favour the planned Western Rail Link from the Reading direction, which would involve a new western-facing junction on the Great Western Main Line, and also a Southern Rail Access link, which would connect the airport to London Waterloo and other destinations such as Richmond, which it says "are currently poorly linked to the airport by public transport".
Diagrams in the report also suggest that the Piccadilly Line would be 'upgraded', but no details are given.
The Commission chairman Sir Howard Davies said that the alternative of a second runway at Gatwick was a 'credible' option but was less able to provide connections to long-haul destinations and would lead to lower levels of economic growth.
Heathrow Airport Limited welcomed the report, saying it would now work with the Government to 'deliver expansion for all of Britain'.
Meanwhile the Government has yet to react in detail. In a holding statement, the transport secretary Patrick McLoughlin said: ""My department has received the final report from the Airports Commission and will now consider that advice in detail. As a nation we must be ambitious and forward looking. This is a once in a generation opportunity to answer a vital question. I will make a statement to Parliament later today in which I will set out the process for that decision to be made."
The Mayor of London and MP Boris Johnson said the plans were 'catastrophic'. He wants a new airport to be built in the Thames Estuary instead.
Reader Comments:
Views expressed in submitted comments are that of the author, and not necessarily shared by Railnews.
The 'Free Vote' in Parliament card is David Camerons' 'out' card on the 3rd runway @ LHR.

I think he already knows that even with the Tory majority he has, there are enough Labour, SNP and northern Tories to get this voted through.

There will be some more peripheral 'tweaks' to the outline plan to mitigate noise and air quality to make it appear to be a completely different plan to the one he referred to with his 'no-ifs no-buts' pledge, but this will now go ahead IMO.........

All I want to say is that a connection from Heathrow out west is long overdue; one should not have to travel into London then out again just to go West, especially as the HeX is now a staggering 35 quid return.

Heathrow high speed rail station should not be a dead end but should cater for through traffic to boost passenger load. If Heathrow were made into an interchange with other lines to the south, it would carry far more than 2000 passengers a day! In our competitors airports, high speed lines serve the airport terminal without requiring another change of trains. That is the 'best practice' standard that Heathrow must achieve to meet international competition. What is really required is a 360 degree rail connectivity plan to all major towns and cities in the UK.

I think I agree that building a new double-track line that does nothing but connect with HS2, with a likely maximum of 2 tph, isn't a sensible use of money when there's already at least one double-track coming from roughly the same direction.

However, if you're building new lines to the west and south, would it not make sense to connect the GWML link to HS2 (or at least leave the option open) so that GWML and HS2 trains can share the tracks to Heathrow. And if we're building a line to the south as well, that gives us an option to eventually have HS trains directly serving the south coast.

An HS2 spur is not mentioned because it is not needed.* Only about 2000 passengers per day transfering to LHR does not justify such an investment.

On the other hand, if the Reading to Heathrow were extended to firstly Gatwick then Ashford then you could have the high speed rail conections to Paris, Brussels, Cologne and Amsterdam.
These would bypass that bottleneck which is London, providing a connection point for western and northern passengers at Reading while increasing the alternatives from the two principal airports to "near" Europe, thus helping to ameliorate the throughput of future increased levels of passengers.

[*Strictly speaking it is mentioned in the report, which explains why such a spur is ruled out.--Editor.]

Surely the best way to avoid this decision being delayed would be to put it to a free vote in Parliament to see if can amass a majority like HS2 has done . Then if it gets a yes vote then progress can begin .

If parliament votes against a 3 rd runway at Heathrow then option of a 2nd runway at Gatwick would be put to parliament .

If both fail then many thousands of jobs will be at risk as airlines miove to airports in mainland Europe !



Anyone who lives near Heathrow, as I do, knows that the M4 and M25 near to Heathrow are a nightmare. All professional drivers like coaches and lorry drivers ignore their SatNavs and take a diversion via Bracknell and M3 to get round the inevitable jams. The M25 is often totally non-moving at the Heathrow junction. The Politics of the region around Heathrow is one where no MP dare vote for the extra runway. It would just be Political Suicide whatever Party they represent. So whatever the economic case I think the extra Heathrow runway is dead in the water. I'm far enough west of it to be really affected and enjoy quietly seeing the planes merge and get into line from the West from 4 am onwards. If I were a beeting man I would put my money on the Gatwick 2nd Runway being eventually built.