Posted 13th July 2015 | 5 Comments
Sheffield-Leeds HS2 route 'to be shared with HS3'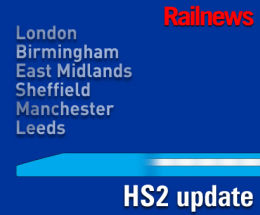 A CLEAR indication that the north-east leg of HS2 between Sheffield and Leeds could be developed early, in conjunction with plans for the 'Northern Powerhouse' and HS3, is given in a new government report.
The 'Rolling Stock Perspective' document – published by the Department for Transport and introduced by Rail Minister Claire Perry, who describes it as "a first issue of a perspective from the Department on rolling stock" – also discloses that procurement of new high speed trains in readiness for the opening of HS2 in 2026 will begin 'around the end' of next year.
The DfT's report states: "HS2 Ltd continues to consult and engage worldwide with relevant rolling stock manufacturers, including those with UK assembly capabilities, to inform its procurement strategy. It is anticipated that the procurement will commence around the end of 2016 with high-speed services commencing in 2026.
"In addition, we are looking at the development of rail between the city regions of the North to support the Northern Powerhouse, including the shared use of HS2 tracks, which would almost certainly require new rolling stock. This is part of a Government commitment to expanding connectivity in the North of England and would require rolling stock suitable for these services."
It is now clear that deferment of North Trans Pennine electrification – which was actually well known more than a month before the recent statement to parliament regarding Network Rail's problems with cost control – is related to the future long-term strategy for east-west rail links in the North.
As Railnews has reported previously, one option that is being closely examined by HS2 Ltd, under its chairman David Higgins and in conjunction with the new Transport for the North authority – which was recently granted £30 million start-up funding in the Summer Budget – is an entirely new line from east of Manchester, then passing through a new tunnel under the Pennines north of the original Woodhead Tunnels, before joining the Sheffield-Leeds leg of HS2 at a delta junction.
With a top speed of 225km/h (140mph) on the Trans Pennine leg, this could enable journey times between Manchester and Leeds or Sheffield of just 30 minutes – the stated aim of Transport for the North.
HS2 Ltd is also examining how the existing Leeds City station might be expanded to handle both HS2 and HS3 trains in place of the original plan for an HS2 terminus at New Lane. This could be achieved by having many fewer train services starting and terminating at Leeds – instead, joining them up and operating them as regional 'through' services.

Across the railway network as a whole, the Rolling Stock Perspectives report estimates that between 2,824 and 3,934 additional vehicles will be needed by 2024, helping "to demonstrate the need for new rolling stock for passengers – under any scenario there will be growth."
Reader Comments:
Views expressed in submitted comments are that of the author, and not necessarily shared by Railnews.
The solution to Leeds is a relatively simple one IMO.

Build a new chord/link from Outwood, just north of Wakefield to Cross Green in east Leeds, allowing suburban services from the Wakefield/Doncaster direction to run into Leeds from the east, and link them onto westbound suburban services to Bradford/ Skipton/ Ilkley etc.

This would be much cheaper than the proposed HS2 'branch' and terminus into New Lane, and open up new rail links within West Yorkshire.

Whilst were doin it; It would also be worth considering a new rail/bus interchange at York Road in East Leeds

Isn't the best way to now link HS3 onto HS2 to re-open 'Woodhead' ? The trackbed is obviously already there; all you'd need to do is shift the electricity cables, and build a new link from west of Penistone to Wakefield.

My hunch from all of this is that the Leeds-Sheffield stretch of HS2 will be brought forward (as they are already doing with Lichfield-Crewe), with a westward branch tunnelling under the Pennines. If this joins the Transpennine line on the edge of Greater Manchester, I'd also guess it would join the existing line to Leeds just north of Sheffield, so that services to Manchester and Sheffield can go further.

Leeds is a bit harder though. As it stands, Leeds Park Lane will be a terminus station, but most Transpennine services go further than Leeds. Changing at Leeds would eliminate the time-saving. Routing trains through the existing station would probably mean adding trains to the capacity-constrained Leeds-Wakefield line. Only other option would be to do the north-east branch (either all to way to Church Fenton or joining the current line before then) and have a mixture of trains that either terminate and Leeds or miss it completely.

This would take ages though. I don't think TP electrification can wait that long.

It is good that HS2 are looking at expanding the present Leeds station for HS2 and HS3, rather than the separate 'white elephant' station that would deter people from onward rail journeys.
But HS3 will not work unless the HS3 station is in Sheffield city centre. Meadowhall is a dead loss for creating jobs, less than one third of the jobs of a city centre station for HS2, and would attract far less passengers. If the high speed trains do not access the city centre, they will not deliver jobs.

"having many fewer train services starting and terminating at Leeds – instead, joining them up and operating them as regional 'through' services"
The difficulty with that is there are many more trains entering from the west of Leeds station than the east (thus 6 lines west, 2 lines east) and it is the train movements in and out which are critical, rather than the actual platform occupation. It could be done, but it will probably require a Reading-type solution, or, more correctly, a Zurich-type solution.