Posted 13th November 2015 | 3 Comments
Network Rail report fuels privatisation debate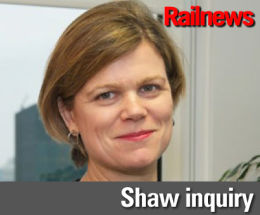 A PRELIMINARY report examining options for the longer-term structure of Network Rail has sparked opposition to any form of reprivatisation.
The report sets out the rough scope of an investigation being led by HS1 chairman Nicola Shaw.
Although it comes to no conclusions at this stage nothing is ruled out including more private sector involvement, and some changes do seem to be inevitable.
In her introduction, Nicola Shaw says: "At the end of this work, I would like to be able to propose changes to Network Rail's structure and financing which will, among other things, help Britain: to develop economically and socially."
Nicola Shaw has been appointed following the emerging crisis at Network Rail this year, in which it became apparent that its project planning and costing methods were in disarray. This led to the temporary suspension of some electrification schemes in late June. Although these have now been restarted, they have been delayed by up to four years.
Network Rail, which receives a Direct Grant of some £4 billion annually, became a wholly public sector body in September 2014. Following the revelations that its projects were in trouble the transport secretary Patrick McLoughlin ordered several top level changes, including the replacement of Professor Richard Parry-Jones as chairman by Sir Peter Hendy, and the appointment of Richard Brown as a special director effectively representing the Department for Transport on the Network Rail board.
Several inquiries have also been ordered. Sir Peter Hendy is concentrating on rescuing the current enhancements programme, and his report is expected shortly.
Meanwhile economist Dame Collette Bowe is analysing how the enhancements programme for Control Period 5, which is in progress and runs until 2019, could have been improved. She is due to make recommendations intended to improve the future planning of major investment.
Nicola Shaw was then given the task of reforming Network Rail in the longer term, with the key aims of developing the railway while also keeping Network Rail's finances in balance.
However, there appear to be some limitations. The report explains: "The Report Team has not been asked to consider, nor will it be recommending, financing options purely because they would reduce public sector borrowing or debt."
Even so, various types of private sector involvement will be considered, including full or partial privatisation at the parent company, sales of 'non-core' assets such as property, depots and car parks, various concessions similar to the one sold to HS1 Ltd, and various types of public-private partnerships or joint ventures. Another option is some funding of Network Rail by devolved governments and other regional bodies, such as Transport for the North.
The possibility of any form of private sector involvement has sparked opposition.
TUC general secretary Frances O'Grady welcomed the report's recognition that unions should be involved in industry planning, but continued: "Our message to policymakers is clear – we would warn against a return to the days of privatised rail infrastructure which resulted in years of under-investment. The last thing the travelling public needs is more fragmentation of our rail network and more money being siphoned off to shareholders."
Shadow transport secretary Lilian Greenwood said: "This report opens the door to the total privatisation of Britain's railways. Network Rail needs to improve but more fragmentation and more privatisation are the last things we need.
"The last time the Tories sold off our rail infrastructure it was a disaster that put passengers in danger. There can be no going back to the dark days of Railtrack.
"We need a plan to improve the railways based around more integration and taking the franchises into public ownership, but these proposals would instead risk a repeat all the worst mistakes of the recent past. Labour will oppose them every step of the way."
The Rail Delivery Group, representing operators and Network Rail, expressed no firm opinion. Chief executive Paul Plummer said: "It is crucial that this review helps to deliver a railway that is even better at meeting the needs of passengers, freight customers and the wider economy. Therefore, we welcome the review and are actively supporting it."
In her introduction, Nicola Shaw also invites opinions and suggestions, saying: "Please do contribute – let us know if we have missed things, and whether there are other aspects we should consider – only with everyone's best brains on this will we find the right way forward."
Her conclusions and recommendations are due to be published in the spring.
Reader Comments:
Views expressed in submitted comments are that of the author, and not necessarily shared by Railnews.
NR needs better leadership and accountability, not further fragmentation. A repeat of the Railtrack fiasco would be even more devastating on today's busier and more essential railway. More and better integration of all railway sectors is needed, not more interfaces.

Railways like the NHS and Schooling are a Social Service basically funded by the Government from Taxation, and always will be. Governments can try to cut costs of the service like charging for spectacles, teeth and hearing aids for the NHS, and trying to get as much money as it can in the way of 'fares' for the Railways. It can 'outsource' certain jobs to the private sector which should be able to make a profit out of increased efficiency, whilst the Government doesn't have to pay as much. Having worked for both Government and Private Organsiations the main difference was that I was trusted much more and checked much less in the Private Sector. So form keeping and extra staff costs to 'check' were substantially reduced. It was also much more pleasurable to work for the private Company, and I think I gave more because I was 'trusted' more. Staff morale on the Railways also seems to be so low because of all the strikes called and voted for. Workers don't seem to think that it's 'their' industry. I have often thought the John Lewis model of worker-ownership is the best one, - and it would be interesting if at least one Plan could include one looking at the Railways being 'owned' by its employees in such a manner.

The way NR's CP5 settlement was determined and the continuing fallout from the cost escalation in key investment projects have obviously opened the door to another wholesale re organisation of the way the industry's infrastructure is managed.

Let us not forget the disaster that was Railtrack. It's rising share price & subsidy enhanced financial returns belied a company that had increasingly lost sight of the condition of it's infrastructure and was sweating it's assets, for example cancelling or postponing signaling renewals, rather than pursuing investment.

The collapse of Railtrack cost the industry a heavy price. Since the creation of NR, with support and commitment from successive governments, the industry has benefited from a stable financial settlement enabling it to address the backlog of renewals and invest in enhancements to meet a growing future. NR may not be perfect but despite setbacks an improving infrastructure has evolved.

The industry is no stranger to reorganisation but we should guard against reorganisation for it's own sake. It takes it's toll on personnel and is reflected in performance and productivity. Already successive chief executives NR have centralised and devolved power according to their whim. Lack of stability is costly and takes it's toll on performance and efficiency.

As the respected BR General Mamager G Feinnes wrote in the 1960's 'when you reorganise you bleed'. Since then the industry, assisted by meddling usually ill informed politicians. has been very good at bleeding.