Posted 12th June 2015 | No Comments
ORR investigates Network Rail's 'slow start'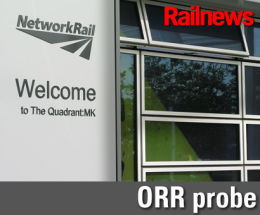 THE Office of Rail and Road has issued a critical assessment of Network Rail's performance in 2014-15 -- the first year of Control Period 5. The company, which became a government body last September, is committed to a £12 billion programme of network upgrades as well as improving performance, but targets are being missed. As a result, the regulator has launched an investigation into what is going wrong.
Passenger and freight traffic is continuing to rise, but it has already been announced that Northern Transpennine electrification between York and Manchester has been put on hold indefinitely while the scheme is replanned, while other work, such as Great Western electrification, is also facing problems.
At the end of 2014-15 Network Rail had missed 30 out of its 84 planned milestones, with some projects facing delays or rising costs, and the ORR will now be investigating whether the company is planning its projects effectively.
Maintenance, too, has fallen behind schedule. The ORR said that Network Rail achieved 'far less work than it planned for the upkeep of the network, and while train service performance is good in some sectors, punctuality and reliability is below expectations on some routes (notably Southern, Thameslink and Scotland)'.
As a result, the ORR is now turning its spotlight on Network Rail's recent achievements, which means that the company's performance and its progress with enhancements will both be examined. The regulator said that 'the investigations will be looking to identify key issues the company needs to address to help it achieve the targets it agreed to for CP5 by 2019'.
ORR chief executive Richard Price said: "Britain's railways have seen sustained investment and a record rise in passenger numbers as well as freight activity in recent years. This is a real success for the industry which has improved reliability of the network and services over the past decade.
"Network Rail has made a slow start in delivering on its enhancements and performance targets for CP5 and we have asked it to demonstrate how it plans to get back on schedule to deliver on its commitments to 2019. The company is also falling short of its own targets on completing renewals works for the upkeep of the rail network. While there is good performance on the East Coast Mainline and the freight sector, overall reliability on some routes such as the Southern, Thameslink and Scotland routes are below requirements.
"ORR is investigating Network Rail's performance improvement plans and delivery of enhancements. This work will help identify the issues the company needs to address to improve train performance, increase capacity and deliver on its commitments to passengers."
When Network Rail published its financial results this week, it reported that it had invested a record £3.4 billion in the network in the first year of CP5 -- twice as much as five years ago. Most of last year's investment, almost £3 billion, was used to replace worn out infrastructure and equipment.
In response to the ORR's announcement, a Network Rail spokesman said: "Network Rail has recognised the scale of the challenge and has been openly reporting performance data regularly. There are clearly opportunities to improve following decades of under investment in the rail network.
"However, it is worth highlighting that we operate the safest passenger network in Europe and the railway asset reliability is the best it has ever been. The increase in passengers means that more people are getting to their destination on time then ever before. Network Rail's new leadership team, under CEO Mark Carne, is committed to deliver the pace of change required to build a better, more modern network that passengers and businesses can rely on."
David Sidebottom, passenger director at watchdog Transport Focus, added: "Passengers tell us that punctual trains are their main priority. More than anything else, what they rely on the railway to deliver is a way of getting them to work, home or further afield in a timely and reliable way.
"Passengers welcomed news that there would be investment in schemes to deliver on their priority areas for improvement. It is disappointing that these are behind schedule. It is now vital that Network Rail is even more focused on delivering a good passenger experience through times of disruption due to these works."