Posted 1st September 2014 | 7 Comments
Unions demonstrate as Network Rail passes to public sector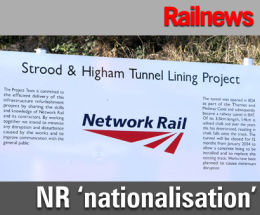 UNIONS and transport campaigners have been staging a demonstration today outside the London headquarters of Network Rail at King's Cross as the company passed wholly into the public sector.
The not-for-profit company is now a government body following a change in the way its debt is classified for statistical purposes, but the Department for Transport has denied that the change amounts to full nationalisation, while reports have been circulating that ministers are uncomfortable with the company's new status.
The major issue which is said to be furrowing brows in Whitehall is Network Rail's £34 billion debt, which is set to rise to some £40 billion by the end of the present Control Period in 2019.
The Department for Transport and the Treasury have been considering how Network Rail should be controlled in future. One early result was a low-profile statement on 23 April this year that "the Government has now determined that, in future, value for money for the taxpayer will best be secured by Network Rail borrowing directly from the Government, rather than by Network Rail issuing debt in its own name".
Network Rail's borrowings will now appear on the public balance sheet, and it is this change which is apparently worrying ministers, who are reported to be discussing a possible u-turn which could be achieved within two years.
However, union leaders say the reform should be a springboard for returning the railways to complete public ownership.
Labour has already said that it would allow a public sector body to compete for future franchises alongside the major transport groups.
But RMT acting general secretary Mick Cash responded: "The recognition of Network Rail as a fully-fledged public body, under public control and ownership, should be seen as the springboard for taking the entire rail network back into the public fold. Any attempt by the right to use this as an opportunity to argue for dragging us back to the lethal days of privatised rail infrastructure under Railtrack will be fiercely resisted.
"The truth is that if the vast sums sucked out of our railways by the private train companies was reinvested in infra-structure, capacity and staffing under a publicly-controlled body we could end the two decades of private profiteering, fragmentation and under-investment which has dragged our railways into the slow lane while charging some of the most extortionate fares in Europe."
Network Rail has made no announcement to mark the change today, but earlier its chief executive Mark Carne said the change meant "greater accountability and transparency to parliament, the tax and farepayer, who rightly deserve to better understand the value of their significant investment in Britain's booming railway".
Some industry observers are remaining doubtful. David Moore, specialist rail partner at law firm Clyde & Co, told Railnews: "Network Rail would like us to believe that the change in its status is something and nothing. They could be right but the reality is probably that some changes are afoot and that it will be some time before we know what they are.
"The DfT have said that they will exercise more control over value for money, which implies less rather than more freedom for Network Rail. The final shape of the arrangements will be set out in an agreement (to be agreed) with a Rail Delivery Authority (to be established) following the passage of legislation (to be enacted). Executives at Network Rail must be returning after the summer wondering what the future holds"
Meanwhile Network Rail opened two more new platforms at London Bridge station this morning as a nine-day part closure of the railway was completed on time. Over the past nine days more than 1,200 engineers worked around the clock through one of the wettest and coldest bank holidays on record, to bring two new platforms into service, lay new track and install a state-of-the-art signalling system. At the same time a triple-track Victorian bridge on the approach to the station was completely rebuilt.
Reader Comments:
Views expressed in submitted comments are that of the author, and not necessarily shared by Railnews.
Despite all the problems Network Rail is having across the UK with all public financial Debt problems everyday with all the tram operators & all the train operators & all the freight train operators & all the high speed train operators running their own rail services & also a running public transport network operation & rolling stock & locomotive operation everyday with their own workforces & management controlling the railway safely as normal for the travelling public to travel everyday & to get to work safely with & using with our lifestyles normally & to get to a football match every weekend & regarding the distance we are travelling to the football match would the transport secretary & prime minister consider building 6 new train factories for a rail network & tram network & carriage & wagon network like Derby works with Bombardier & Crewe works & Swindon works & Eastleigh Works & Doncaster works & Springburn Works & creating 1 million jobs like car factories making cars & train factories making trains & trams & high speed trains & which all the train operators on the rail network at the moment do not at the moment have any in the UK building anything or even operating or built anywhere at all with UK workforces & management or continental operators like Japan & Hitachi now creating & developing their own ideas & manufacturing sites & factory with expansion & something & creating jobs like a car industry & more competitively for an operator & better facilities for an operator & manufacturer to build & order their trains & rolling stock & if all operators & orders urgently now what is the prime minister doing with the transport secretary with no production line building any train at all!

The netwrok should never have been parceled up as it was under privatisation. The track and train operations should have been bundled together, with the operators provided with investment targets to be adhered to. This would have covered maintenance and investment. The industry is still too fragmented and inefficient but successive governments have not been willing to do anything other than tinker. Yet we need government investment in order to get anything done to improve the situation. Our system is in dire need of modernisation and expansion.

Better that Mr Lutz then the present situation where private TOCs,Banks, ,Investment companies and NotWork Fail's sub contarctors who look on the railway as an open cheque book.

Network Rail was originally set up as a not for profit body with a mandate that any profits made should be invested in the railway.

Last year network rail returned a profit of around £2 billion before tax and £1 billion after tax so real question is " should profit be reinvested in network to reduce costs of railway or be used to pay off debts and thus remove a billion from rail investment ? ".


So what debts does the Highways Agency have and how can they repay them without charging users to use motorways ?

Even TOCs are now paying more to the government than they receive .

The main danger oddly is railways generating profits that end up subsidizing roads ands that's why a solution to the money go round set up under privitisation is needed to ensure money earned by railways stay with railways !

Government Debt is £1,316,000,000,000 and rising by the second. It is over 90% of GDP - and one of the highest in Europe including countries like Greece. The major thrust of Government Economic Policy is to stop the Debt growing and then repay it, - even though thats looking like 20 years away. So now Network Rails Debt is added to it as well. But the real problem occurs if the national debt can't be got under control - and it's taking an awful lot longer than predicted. Cutting - or even slashing - Railway Borrowing and Investment - is now an option as well to help the Government meet its financial targets. A worrying prospect.

So straight away it is back to the bad old days of BR with the nation and commuters being held to ransom by the self-serving union reps.

Next we will be back to passengers having to travel in the cabs to make sure that trains complete their timetabled journeys.