Posted 13th October 2015 | 4 Comments
Network Rail crisis to come under spotlight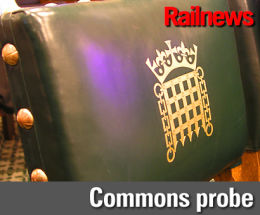 THE continuing budget crisis at Network Rail is to be probed by a House of Commons committee. The Public Accounts Committee said it will hear evidence from several key officials on 21 October as part of its inquiry into Network Rail's investment programme.
Those to be questioned are the Department for Transport permanent secretary Philip Rutnam, Network Rail chief executive Mark Carne and ORR chief executive Richard Price.
The overruns in the costs and timetables of Network Rail enhancements meant that some electrification schemes had to be 'paused' in June while the situation was re-assessed. NR's new chairman Sir Peter Hendy has advised transport secretary Patrick McLoughlin that projects to electrify the Midland Main Line and the North Transpennine route can now restart, although full completion will be delayed by several years.
The National Audit Office has prepared a memorandum on the problems, which it has sent to the Public Accounts Committee. This note pulls no punches about the continuing disagreements between Network Rail and its regulator the ORR, after the regulator had made its 'final determination' of Network Rail's budget between 2014 and 2015. NR had reacted to the draft determination by labelling it "unbalanced and therefore unrealistic ... ORR's current assumptions mean failure [to achieve the required savings] is highly likely".
When the final figure was announced NR accepted it, but 'raised concerns around several areas, such as the treatment of ongoing projects 'rolling over' into the current planning period'.
The NAO has now commented: "Network Rail's 'civils' renewal plans for the last three years of the planning period have not been approved by the Office of Rail and Road. At the time of the Final Determination, the Office of Rail and Road felt Network Rail had not explained why it was necessary to carry out so much more work. To give Network Rail more time, a new Civils Adjustment Mechanism was designed to allow scrutiny of the amount of work and cost at a later date. The Office of Rail and Road had planned to complete this work by September 2015, but has told Network Rail that the evidence Network Rail provided was not sufficient."
The Committee is expected to demand more detailed explanations from the three parties mainly involved, which are the DfT and ORR as well as Network Rail. NR is a government body with a special director on its board who represents the DfT.
MP Meg Hillier, who chairs the Public Accounts Committee, said: "Rail infrastructure is an area of considerable concern for the PAC.
"In the last Parliament we examined a number of major rail projects sponsored by the Department for Transport, including HS2, Thameslink and Crossrail. We found the Department lacked a clear strategic plan for the rail network, and it was unclear how the Department makes decisions about which programmes to prioritise for investment.
"Now at last we are able to look in detail at how Network Rail is spending its share of taxpayers' money. It's important to establish the facts about Network Rail's performance and assess the value for money. With huge investment planned and multi-billion pound contracts being signed, we need to make sure the taxpayer is getting a good deal on what is much-needed improvement works.
"Planning and implementing large-scale rail projects is complex and expensive, and typically comes with the promise of significant economic and other benefits for the public. In particular, the Government has made clear its intentions to establish a 'Northern Powerhouse' as part of wider regional devolution.
"The decision to pause electrification work on the Midland Main Line and Transpennine rail route, and prioritise the Great Western Main Line project, has clear implications for taxpayers and the PAC will be holding Network Rail and the Department for Transport to account."
Reader Comments:
Views expressed in submitted comments are that of the author, and not necessarily shared by Railnews.
And what about the millions spent on re-signalling the line through to Immingham? due to be finished in December just in time for Scunthorpe Steel Works to close brilliant timing!

It seems there is little doubt the three incarnations of infrastructure since the mid 1990's have all been flawed. First a private monopoly with little incentive to prioritise safety and then an organisation having no real focus on cost -effectiveness that is now under DfT control with all the attendant downside of that.
If only NR were to be constituted in a properly thought through manner, perhaps it would perform competently.

If David Cook is correct, does this just not confirm the incompetence of Network Rail? As part of the initial planning process, should it not have scanned the areas adjacent to the track to see just what was buried beneath the surface? Its normal for road/pavement enhancement works, so why not with rail as well if plans are not in existence which show where signal cables/etc are buried?

One of the problems that keeps getting mentioned is the Great Western main line electrification. One of the initial problems seems to have been the machine that would have put up the gantries kept hitting buried signal cables as the cables were buried a bit haphazardly, probably due to the speed at which the job had to be done originally. Having got the trains on order for GWR, it seems logical to me to put the whole effort into manually putting gantries up which takes more manpower and is slower. It must then be very frustrating for Network Rail to then be criticised for this. In future it will take forever and a day to get anyone to commit to any timetable for improvements. Which is why building brand new railway lines is so attractive (HS2 v endlessly upgrading WCML comes to mind)......