Posted 7th August 2015 | 3 Comments
Network Rail comes under fire for 'systemic weakness'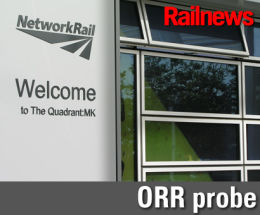 THE Office of Rail and Road has warned Network Rail that it may be in breach of its licence, after the regulator uncovered major flaws in the way projects are costed, managed and carried out.
In a letter to NR group strategy director Paul Plummer, the ORR's director of railway planning and performance Alan Price said "our preliminary view is that NR may not have done, and is not doing, everything reasonably practicable to comply with condition 1 of its network licence in relation to the delivery of its enhancements programme".
A review has been under way for more than a year: the ORR first raised concerns about 'the high number of slipping and/or missed milestones' in July 2014.
It emerged in June that NR's budget for the five year control period which started last year will not be enough to finance all its enhancement projects, particularly some electrification schemes. The transport secretary announced that two would be 'paused' in June, having told MPs that he had only known about problems affecting one of them -- electrifying the Midland Main Line between Bedford, Nottingham and Sheffield on 15 June, some time after the general election.
The ORR has now analysed some of the main failings, and discovered that NR has been missing a substantial proportion of its regulated outputs so that, for example, NR missed 16 out of 44 'GRIP 3' stages, which is when a development scheme has been narrowed down to a single option. The later GRIP 6 stage marks completion, with the new or upgraded infrastructure ready for use, and at this stage NR missed 14 out of 40.
The reasons are mixed, said the ORR, but include poor setting of project requirements, inadequate governance and inconsistent consideration of safety issues. In addition, 'the accountabilities of the client, sponsor and deliverer are blurred, as projects move through their lifecycle,' while 'cost estimation and risk functions are not adequately resourced or governed'.
Other weaknesses include 'no defined framework, tools and techniques for managing complex infrastructure programmes', which means that project deadlines slip, costs overrun and performance is damaged.
Such problems have emerged repeatedly over the past few months, with the electrification of the Great Western Main Line in particular known to be running behind schedule. The permanent secretary of the Department for Transport warned the Commons transport committee recently that there was a further financial risk in this case, because electric trains for the route have been ordered from Hitachi and will arrive whether or not there is an electrified railway for them to use.
The ORR continued: "We consider that the wide range of identified weaknesses indicates that NR's project development and delivery weaknesses are systemic, rather than the result of individual project failings or adverse circumstances. This is also evidenced by the wide range of causes and the scale of the required longterm improvements that NR needs to develop and embed into its business."
Network Rail will now have an opportunity to respond to the ORR's findings and offer explanations or mitigation if it wishes to do so.
Francis Paonessa of Network Rail, who is managing director infrastructure projects, said: "Since 2009, Network Rail has successfully delivered over 5,000 projects worth more than £15 billion. The projects set before us for our current five-year funding period to 2019 were bigger and more complex than ever and required a step-change in delivery – both for the company and its supply chain.
"Despite this challenge, over three-quarters of our regulatory project milestones have been delivered to time or within weeks of target. But we know we can and must do better which is why, earlier this year, we set up a special Board-led task force to strengthen our major project delivery. The task force has produced a detailed improvement plan that is already underway and good progress is being made."
There is already an independent review under way of how Network Rail plans and manages its enhancement projects, which was commissioned by transport secretary Patrick McLoughlin and is being led by economist Dame Colette Bowe, while the company's new chairman Sir Peter Hendy is also carrying out his own assessment, having replaced Richard Parry-Jones recently.
Reader Comments:
Views expressed in submitted comments are that of the author, and not necessarily shared by Railnews.
There have been many cases of conflicts of interest within Network Rail and Network Rail takes this issue very seriously. Both BTP and Network Rail are working diligently and collaboratively to investigate all cases of alleged bribery and corruption; prison sentences have been handed out to those caught and convicted and rightly so as we do not want these individuals working within the rail industry as there criminal activities are against the law, and this is public money funded by the tax payer

It is amazing that an organisation that spends so much money with so many different suppliers has not had one single case of corruption,ie suppliers paying or incentivising NR staff to inflate the bill. You might expect such a huge outfit to have one or two bad apples. But none! - has anyone,NR very top bosses,transport police,outside police,forensic accountants, bothered to probe relationships to see for example why some structures cost 5 times more than in the outside world?

It appears that a problem here is successive structures that have produced (different) flawed incentive regimes.

A private monopoly, Railtrack had primary accountability to shareholders, with inadequate incentive to prioritise safety. Then NR (mk 1) was in the charge of its stakeholders - a good idea for a natural monopoly but lacking incentive for management to pursue financial efficiency / profitability.

Now we have effectively renationalised NR mk 2 with all the negative incentive structures that can invvolve. However it ends up, we need to give NR's management the right balance of incentives - after all, it is these people who can bring success.