Posted 6th March 2015 | 12 Comments
Bold plans revealed for more northern electrification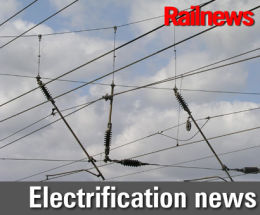 A TASK FORCE has set out its priorities for more electrification in the north of England, and has presented its findings to transport secretary Patrick McLoughlin during a visit to Sheffield.
He had established the Northern Electrification Task Force to advise the government on the priorities for future rail electrification in the north. It consists of local MPs, council leaders representing Rail North, and officials from the Department for Transport and Network Rail.
It has named 32 lines, 12 of which are in the highest priority 'Tier 1'. They are Calder Valley, Liverpool to Manchester via Warrington Central, Southport/Kirkby to Salford Crescent, Chester to Stockport, Northallerton to Middlesbrough, Leeds to York via Harrogate, Selby to Hull, Sheffield Meadowhall to Leeds via Barnsley/Castleford, Bolton to Clitheroe, Sheffield to Doncaster/Wakefield Westgate, Hazel Grove to Buxton and Warrington to Chester.
MP Andrew Jones chaired the Task Force. He said: "It is a comprehensive report detailing where we think the priorities lie for rail electrification in the north. We have placed economic growth at the heart of this project and been working on the premise that all the lines of the north would be electrified, it is only a question of when. This report details where it should start.
"The work has been a real team effort. The Taskforce has brought together different political parties, different regions of the north and different tiers of government. It is a report from the north for the north."
Welcoming the report, the transport secretary said: "Between 2014 and 2019 more than £38 billion is being spent to improve and maintain our national rail network as part of the government's long term economic plan. Electrification of the railways is a key part of that investment programme, with work underway across the north, the Midlands, and into south Wales. The electrification programme is central to our ambitious plans to transform the rail network across the country. It will enable the modern fleet of electric trains to run on the network, providing faster and more reliable journeys.
"I am grateful to the members of the task force for their work. I want to see a rolling plan for further electrification and this study will have a vital part to play in setting the agenda for 2019 and beyond. Network Rail will take the task force's findings into account as it develops its nationwide plan to improve the nation's railways."
The DfT said the task force's recommendations will now be considered by the government 'as part of the development of a comprehensive transport strategy for the north of England'. An interim report on the north of England transport strategy is due shortly, while in a related development Network Rail is expected to publish its updated electrification RUS by the end of the month.
Reader Comments:
Views expressed in submitted comments are that of the author, and not necessarily shared by Railnews.
The best generals fight the next war not the last. Stop looking backwards and embrace the future. All lines should be electrified eventually


"Where is the value for money in all of these vanity projects? I hope we get back to reality soon after the election."

It's new DMUs that have no value for money given how they would need a lifetime of around 30 years and that's before considering present EU emission standards that make it difficult to produce new DMUs to fit our restricted loading gauge !

Far better to get by on converted D78s until electrification releasing large numbers of emus in a few years time !

In fact Trams could be far better vfm on some routes as Manchester has demonstrated and perhaps there is a case to re-use 1st generation trams being replaced by new trams on Birmingham network on lines with pacers ?

While the recent trails of a battery powered emu suggest another way forward in a few years time.

@"Um, electric trains are cheaper to run than diesel ones?"

Opex is reduced by about 30% at 2013 prices with conversion of services from diesel to electric, however someone has to borrow the money for the capital investment and make the calculations of the costs against potential revenue. On that basis, not all of the suggested tier 1 schemes even make the list.

This is a fantasy list, and once the election is out of the way, ALL the proposals made, going back to the end of CP4, need to be reviewed.


@ 'PVWB San Francisco'.....

......why would you possibly want to spend hundreds of millions on reopening Buxton-Matlock, when there is no current direct service from Derby to Manchester anyway, yet a perfectly decent under-utilised Derby to Manchester routing available via Chesterfield, Dore and Edale ?

Far higher priorities IMO. Spend the money where there are more humans than sheep......

"Where is the value for money in all of these vanity projects?"

Um, electric trains are cheaper to run than diesel ones?

So if we can electrify to Buxton, can we please re-open Buxton to Matloc?

Surely one of the top priorities in the northwest should be the wholesale conversion of the Manchester south east suburban dmu network and the Merseyrail network to 'Metrolink' style tram operation. They are perfect networks for tram conversion.

We have to get rail operating costs down, and converting 'heavy' rail suburban operations to 'light' rail tram services has to be the right way forward on so many levels

It's worth reading the report in full because it's reasonably objective. The prioritisation process looks sensible and will tend to remove any special pleading. My only complaint is that nothing seems likely to happen until CP6, which is far too late for the needs of Calder Valley and Warrington. Oh, and what about the rolling stock? London's cast offs will be 40 years' old by then!

Where is the value for money in all of these vanity projects? I hope we get back to reality soon after the election.

Mmm. I am, of course, a cynic. I shall believe in all these wonderful plans when the politicians allow the first shovels go into the ground. On the other hand, judging by the glacial progress being made on the Great Western wiring, perhaps it would be better to believe in it when it is all finished! However I shall probably be dead by then! We shall see. But wouldn't it be so nice to have a pleasant surprise!

This would be brilliant, especially if it is going to be finished in CP5. The north needs more electrification and investment, and ultimately more electric train services which are quicker and more efficient.

one line that needs desperately doing is the tyne valley line before the new east coast trains come on line as its the only diversion route to Scotland between west and east coast the no of times electrics are diesel hauled through this line is unbelievable and i should know i have to signal them and you could then replace the crap pacers with electric