Posted 8th January 2020 | 5 Comments
Survival of South Western Railway franchise in 'significant doubt'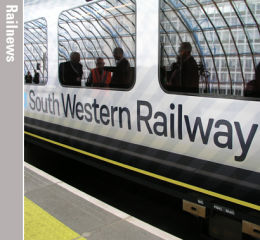 THE South Western Railway franchise could be nationalised this year, after new accounts revealed a loss of £137 million in the year to March 2019.
The directors have also warned that cash support of £146 million from SWR's owners FirstGroup and MTR would probably run out this year.
The accounts conceded that there is 'material uncertainty that may cast significant doubt on the company's ability to continue as a going concern'. Auditors Deloitte have signed the accounts but emphasised the directors' statement.
SWR has been in talks with the Department for Transport for many months over how much compensation is due for delays caused by Network Rail and also because the franchise contract is increasingly being seen as unfair.
Because of this, the directors pointed out that all was not lost, saying: 'The directors have a reasonable expectation that the discussions with the DfT will have a positive conclusion, and that the company will continue to operate.'
It is possible that the present contract could be replaced by a short-term agreement while various matters are resolved.
RMT general secretary Mick Cash said: 'Rather than allowing South Western Railway to collapse into chaos RMT is demanding that the existing operator is stripped of the franchise with the public sector taking over as soon as possible. The alternative is Britain's biggest rail franchise crashing into the buffers with dire consequences for passengers and staff alike.'
Meanwhile, 70 per cent shareholder FirstGroup said: 'SWR's recent performance has been affected by issues including infrastructure reliability, timetabling delays and industrial action. We continue to be in ongoing and constructive discussions with the DfT regarding potential commercial and contractual remedies for the franchise and what happens next, in order to ensure we reach the right outcome for the government, our shareholders and our customers.'

Analysis
Sim Harris
SWR has been struggling almost since the franchise started in August 2017, and profits reported by the previous operator Stagecoach Group have become losses.
There have been several unrelated problems which have combined in a perfect storm for the company. One is the long-running dispute with the RMT over train staffing and the role of guards, which led to an almost continuous strike for the month of December. Infrastructure problems have also affected performance, but a condition in the franchise agreement is perhaps the biggest negative factor.
This is known as the 'Central London Employment Mechanism', and it is intended to balance likely demand from commuters with the number of jobs which exist in the the City and West End, affecting the payments due to the DfT. This mechanism is said to be seriously flawed, and it has sparked further protests from Greater Anglia, which has also needed cash support from its owner Abellio, the international arm of Dutch Railways.
So far, the DfT has remained rigid in its refusal to renegotiate the terms of existing franchises, but neither will ministers welcome another major franchise returning to public ownership after the collapse of Virgin Trains East Coast, which has become state-owned LNER.
One possible light at the end of the tunnel is being waved by Keith Williams, whose 'root and branch' review commissioned by the DfT is due to be published soon. He has already said that the present franchise system is no longer offering a good deal to passengers or taxpayers, but it is not yet known what he is going to suggest as a replacement.
Reader Comments:
Views expressed in submitted comments are that of the author, and not necessarily shared by Railnews.
I just hope Williams recommends an end to the universal franchising system, and puts public accountabilty in the hands of effective competition where feasible,and where not, with natural monopoly operations answerable through local direct democracy. Central government is just structurally unsuited to this role.

Once again we have seen 'speculative' promises when bidding for a franchise that never ever materialised. This is disgraceful and equally so are the actions of those that were involved in allowing out to happen. Outright duplicity that was accepted by those that should know better, both parties should be ashamed!
SWT (Stagecoach) you never deserved to lose your business due to lack of performance this was pure politics at its worst.

So let's get this straight.
The RMT (forever unhappy with anything) call a month of strikes related to DCO, which was specified by the government/DfT in the franchise agreement, and Mick thinks taking SWR into the public sector is going to change that? Logical thinking doesn't seem to be a strong point with RMT leadership. Oh and by the way Mick, how does a £137 million loss fit in with your constant crying about profiteering TOCs ?

Both the DCO/Industrial Inaction and infrastructure problems from government controlled Network Rail are down to government's inability to manage anything with the railways.

Problems with the Central London Employment Mechanism causing problems for SWR and Greater Anglia? Not surprised considering that was another DfT construct.

The problem isn't the TOC's (for the most part), it's the government.
It's long past time for the DfT to be stripped of responsibility for the railways and bring back an SRA 2.0 to deal with them. And of course the forever on again/off aagain funding tap nonsense from the Treasury needs to be resolved once and for all - a constant source of escalating costs when industry can't reliably plan on anything and staff accordingly. Maybe the answer is to put the railways under control of the RMT as hey seem to have an answer for everything.


I seem to recall there was some surprise when SWT (Stagecoach) lost the franchise. Given all the challenges appear to have happened since then, you have to question the original decision to ditch SWT.