Posted 5th September 2017 | 2 Comments
International launch for South Western Railway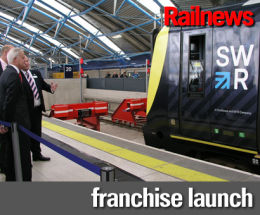 A NEWLY-LIVERIED electric multiple unit has marked the formal launch of South Western Railway, when invited guests, including the transport secretary, saw a Class 444 set arrive at Platform 21 in the former international station at London Waterloo.
The launch was later than is usual for a new franchise, but although SWR took over from Stagecoach's South West Trains at 02.00 on 20 August, it was not possible to celebrate the changeover at Waterloo until the August blockade had been completed and a spare platform was available.
FirstGroup and MTR, who jointly own the new franchise in the proportions of 60:40, will now be running the contract as a joint venture until at least August 2024.
Apart from the transport secretary Chris Grayling, other key figures at the event included FirstGroup chief executive Tim O'Toole and MTR chief executive Jeremy Long. All three were welcomed by SWR managing director Andy Mellors.
Tim O'Toole told Railnews that the First/MTR partnership is a more than merely a financial one. He said: "We are already gaining from MTR's great experience as an operator, particularly of Metro and commuter services, and we are discussing many operational matters together."
SWR also marked the day by making a marketing announcement: 100,000 advance tickets have gone on sale at half price to launch the franchise.
Managing director Andy Mellors said: "We are delighted to introduce our new brand today with the first fully-liveried train pulling in to the Waterloo International Terminal – a fitting setting for such an event as it will be an integral space for our plans to deliver longer trains and more capacity for passengers.
"It was great to officially launch the brand in front of key stakeholders from across the network and many of our South Western Railway employees. We've had a challenging couple of weeks with the completion of the August Waterloo upgrade works but we're now looking to the future."
Staff at the event were presented with souvenir gold-coloured drivers' keys, and Andy Mellors singled out the staff for especial praise, thanking them for their work for SWT and the contribution they are continuing to make at SWR.
FirstGroup chief executive Tim O'Toole added: "Our experienced leadership team, working alongside thousands of our dedicated SWR colleagues, will deliver the tangible improvements that customers and stakeholders told us they want including new and better trains, more seats and services, quicker journey times, improved stations and more flexible fare options."
The next major change will be in December 2018, when a radical timetable overhaul will include earlier and later trains, as well as up to 400 more services on Sundays.
A more immediate challenge will be to resolve a new dispute which has already arisen between SWR and the RMT, because the union is concerned that DOO or DCO working could be on the agenda. SWR has said that there are no plans for this, and that any changes would be 'subject to consultation in the normal way'.
Reader Comments:
Views expressed in submitted comments are that of the author, and not necessarily shared by Railnews.
First now have a monopoly on South West services. The worst franchisee in the country has been allowed to take over competitive services.
Anyone who believes they won't exploit it is a fool, no matter what First say or promise.