Posted 4th December 2019 | 5 Comments
RMT sets out proposals for new SWR peace talks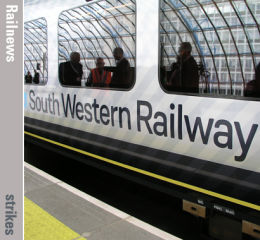 Updated 11.05

THE RMT has taken an unusual step in the South Western Railway dispute, by setting out a 'framework' for talks to restart. The RMT has also asked for the help of ACAS once again.
The strike of RMT members on SWR has entered its third day, and unless a solution to the dispute over the future responsibilities of guards is found, the walkouts are set continue almost without a break until 1 January. The strikes have been causing disruption and serious overcrowding on the busy South Western Railway network.
In his letter to the company, RMT general secretary Mick Cash says: 'I am writing to you today to ask for your agreement to reopen talks around an operational framework that would allow for the action called for December to be suspended. Obviously, it would be in the interest of all concerned to try and reach a negotiated agreement and I have today written to Sir Brendan Barber at ACAS asking him to use his good offices to conciliate.
'In respect of dwell times – which you raised as a core issue in objecting to the union's proposals in earlier talks – it is our view that adding three or four seconds' dwell time at each station to ensure the safest method of working and despatch is surely a small price to pay to guarantee the safety and accessibility for all which is the issue at the heart of the dispute. Safety must come first in all instances which, as you know, is our guiding principle.
'As the union has said repeatedly there is clearly a deal there to be done which would cost your company nothing and which would give the safety and accessibility guarantees at the platform/train interface that we have been seeking.
'I would welcome your immediate confirmation of your agreement to attend these urgent discussions under the auspices of ACAS.'
South Western Railway said: 'We're pleased that the RMT wants to come back to the table. But we need the RMT to show they are serious about ending these strikes in a way that works for passengers.
'They need to explain exactly what do they want instead of the written agreement they took away from ACAS last Thursday, and offer a new solution that safely delivers over 10 million more passenger journeys on-time every year.
'We want a guard on every train with a safety critical role. But we want to enable guards to spend more time helping people in wheelchairs and with buggies get on and off the train, walking up and down all the carriages and ensuring the safety of passengers at times of need.'
Reader Comments:
Views expressed in submitted comments are that of the author, and not necessarily shared by Railnews.
This strike is going to end in tears.

If Boris wins on Thursday, he'll probably bring in a law as they have in France, Germany and other countries for the Unions to provide a minimum service. I can't see them giving up industrial action

If Corbyn wins, will South Western Railway hand back the keys to the franchise, in the face of orders from Corbyn to bow to all the unions demands or be nationalised?

I'm glad, that my commute is ten metres between my bedroom and my office.



There is something called 'the bigger picture' in all these political RMT strikes, that are aimed at renationalisation and setting in stone 1930s working practices, forever, to retain Cash's industrial 'muscle'. When Cash and co. call industrial action, rail users are deterred from using the safest mode of transport available, and are displaced to the roads. It will only take one death or serious injury to happen during a road journey that would otherwise be by train, for rail industrial action to be banned completely. Ideally Cash himself would also be held personally responsible. "This strike is all about safety." .... Do us all a favour!.... See the bigger picture!!
[Moderated to remove abuse.]

RMT SHOULD have "accepted under protest" & gone for a station-by-station, at all times of the year ( As regards lighting angles, for instance ) evaluation of the new procedures … & dragged it out for as long as possible, whilst actually making improvements.
I think the protracted strike was a serious mistake & also that RMT fell into an obvious Heffalump-trap set by BOZO & the tories, more fool them

Yet again it appears there's nothing new being offered by the RMT to settle this dispute other than endless requests in various guises for SWR to capitulate to all their demands

Well Mick, looks like SWR has called your bluff. Let's see how many of your members stay on the picket line as it get closer to Xmas. A massive mis-calculation on the RMT's part.