Posted 10th December 2019 | 4 Comments
Three classes planned for Avanti West Coast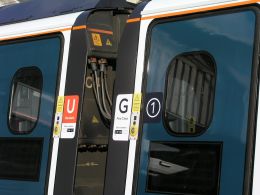 NEW Intercity West Coast operator Avanti has revealed that it is planning another class of travel, which would be inserted between Standard and First.
Passengers buying tickets for the intermediate 'premium economy' class would sit in first class areas but have fewer at-seat extras than first class ticket holders, with snacks, for example, rather than meals.
There have been three classes on Eurostar for a long time, and although British Railways finally abandoned the title 'third class' in 1956, moving it up to replace the virtually-unused second, BR Intercity did devise a 'Silver Standard' in the 1980s for passengers who were holding full-fare Standard tickets, without any discounts. They were given their own coach on board the train.
Full details of catering on board Avanti trains have yet to be spelt out, although Avanti has said that a buffet counter or 'shop' area will be retained, as well as at-seat trolleys. One major food supplier is expected to be Marks and Spencer.
Avanti West Coast managing director Phil Whittingham said passengers would get the 'bigger seat and better wifi and snacks rather than a meal'. Details of the new class and the fares which would be charged have yet to be revealed, although it will probably require National Rail and other ticket-selling websites to update their software, which has only needed to cater for two classes of travel on domestic services.
The new Avanti franchise owned by FirstGroup and Trenitalia took over from Virgin and Stagecoach on Sunday and was formally launched yesterday, when a special train carried guests from London to Glasgow.
Reader Comments:
Views expressed in submitted comments are that of the author, and not necessarily shared by Railnews.
Biggest backward step so far seems to be that when booking travel on Avanti West Coast you can't choose your carriage or seat. You get what they allocate you. No doubt they allocate all the bulk head ones first so no window to look out of.

Sounds quite interesting to me. It could give more choice to passegers, as long as the pricing is sensibly thought out.

On the Italian high speed lines, both competing operators ( Trenitalia and NTV Italo )have more than just two classes on offer. Of course , Trenitalia is part of the Avanti consortium.

If anybody is interested, You Tube has videos showing both operators' multi class interiors.

I don't really see the point in this, to be honest. Two classes has worked fine on the WCML for years. I hope the creation of this 'premium economy' class isn't an excuse to reduce the amount of standard class even further, it's already very busy on most trains!