Posted 14th November 2018 | 2 Comments
FirstGroup starts renegotiation of SWR franchise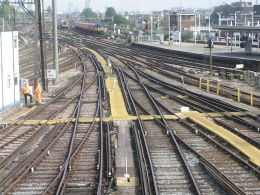 FIRSTGROUP has started talks with the Department for Transport over a rethink of the contract terms for South Western Railway.
Newly-appointed chief executive Matthew Gregory has highlighted problems with the Central London Employment clause, which plays a part in controlling the levels of premium or subsidy for operators on London commuter routes.
In its latest statement to the Stock Exchange for the six months to 30 September this year, First warns that the forecast profits from SWR are now 'uncertain', while SWR is also continuing its efforts to improve performance and settle the continuing dispute over on-train staffing with the RMT. This dispute makes its own contribution to reducing performance levels when services are disrupted by strikes.
However, it is the Central London Employment mechanism which appears to be causing much of the current concern. The CLE clause is intended to share the risks equably between the DfT and franchisees, but SWR is the second franchise to question its effectiveness within a few weeks, because Greater Anglia is also unhappy for the same reason.
First says: 'There is uncertainty regarding the outcomes of this mechanism over the remaining franchise term, which has the potential to significantly impact the profitability of the franchise. We are reviewing the effectiveness of this mechanism and whether it is functioning as originally intended by both parties.'
The company claims its continuing dispute with the RMT is 'unnecessary', saying: 'Our SWR customers have also faced considerable disruption to their journeys due to RMT's ongoing industrial action, which we view as completely unnecessary since no employees will lose their job. In fact we have guaranteed that a guard with safety critical competencies will be rostered on every train, and, given our plans envisage running more services, SWR will want more guards in future not fewer. SWR are focused on delivering a resolution of the industrial dispute in the interests of our passengers.'
Performance on SWR remains challenging for other reasons. First said the problems include 'infrastructure issues that began before we took over the franchise. An independent review chaired by Sir Michael Holden has set out a blueprint for Network Rail and SWR to return service to levels that our customers expect. As part of these plans, we are investing £5 million in performance improvements and next year the first of our £895 million new suburban fleet will arrive.'
In spite of the fact that last year included the launch of the new SWR franchise, of which FirstGroup owns 70 per cent and MTR the rest, First's adjusted operating profit from rail in the six months to 30 September this year fell back to £29.3 million from £31.1 million a year earlier. The operating margin also suffered, coming down from 4.6 per cent in 2017 to 2.4 per cent in 2018.
Reader Comments:
Views expressed in submitted comments are that of the author, and not necessarily shared by Railnews.
Before First Group/MTR teamed up and to form a new South Western franchise that became South Western Railway. Stagecoach did do very well when they first operated the franchise which South West Trains was formed from 1996-2017. And they replaced all of the slam door trains with the Class 450 and Class 444 Desiro fleet. Which are still the most reliable trains used on the South West franchise. Plus with ordering the 30 Class 707s for only short time that are due to be replaced by the Class 701 Aventra from 2021 as well replacing the Class 455 & Class 456. South West Trains will always be remembered.