Posted 24th May 2019 | 4 Comments
West Coast bidders start legal action against DfT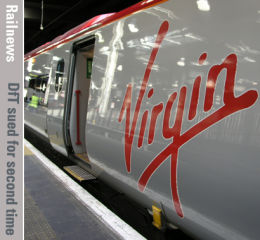 STAGECOACH GROUP has begun High Court action against the Department for Transport following the disqualification of the bid for West Coast Partnership.
Stagecoach announced this morning that a claim has been issued alleging that the Department for Transport breached its statutory duties under EU and English law when it disqualified the bid from Stagecoach and its partners SNCF and Virgin Trains on 10 April, on the grounds that it was 'non-compliant'.
Stagecoach is already suing the Department over the simultaneous rejection of its bid for East Midlands Trains. The company was also disqualified from the South Eastern competition at the same time.
In each case, the problem concerned the level of risk which operators are expected to take, particularly over railway pensions.
Stagecoach chief executive Martin Griffiths said: 'We believe the rail system should be about appointing the best operator for customers, not about passing unquantifiable, unmanageable and inappropriate risk to train companies.
'It is disappointing that we have had to resort to court action to find out the truth around the DfT's decision-making process in each of these competitions. However, we hope court scrutiny will shine a light on the franchising process and help restore both public and investor confidence.'
SNCF chairman Guillaume Pepy said: 'We are disappointed at how the DfT has handled the procurement process for the West Coast Partnership franchise. We strongly believe rail franchises should be let on a sustainable basis to those operators who offer the best services, the best trains, and the best customer experience in a cost-efficient manner.'
The third claimant is Virgin Group, whose senior partner Patrick McCall said the DfT's stance is 'extremely frustrating'. He continued: 'The reason our bid was disqualified has nothing to do with looking after passengers or running a good train service. Virgin Trains consistently tops independent customer satisfaction tables for long-distance franchises thanks to our continued focus on innovation and customer experience, and our fantastic people.
'The DfT has ignored this track record and instead focused on which bidder is reckless enough to take on various unquantifiable risks, such as pensions.'
The DfT is maintaining its earlier position, saying that 'Stagecoach was an experienced franchise bidder who knowingly submitted non-compliant bids. In doing so, they disqualified themselves.'
Reader Comments:
Views expressed in submitted comments are that of the author, and not necessarily shared by Railnews.
Why are people assuming DfT are at fault here? Just because uncompliant bidders are 'throwing their rattles out of the pram' and running off to throw money at lawyers, doesn't mean DfT and their own expert internal/external lawyers have got it wrong.

Before we bin the franchise system which has transformed the quality of GB rail, let's see how this plays out, shall we?

It's long past the time for an SRA v.2
The DfT have proven time and time again their utter incompetence in handling the franchising process (well, with basically anything to do with rail). I have an image in my head of a bunch of elitist chauffeur driven civil servants whose only experience with trains was reading Thomas the Tank Engine stories as children.

Stagecoach have a track record of winning Court Cases against the DFT.
Get your popcorn at the ready, this could be a right ruckass