Posted 12th May 2019 | 5 Comments
Now Grayling faces legal action from DB too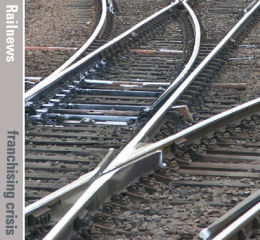 TRANSPORT secretary Chris Grayling is reported to be facing a second legal challenge following his decision to reject bids for East Midlands from Arriva and Stagecoach on the grounds that they were 'non-compliant'.
The Department for Transport rejected a total of four bids last month, three of them from or involving Stagecoach, because they attempted to modify clauses about pensions risk.
The fourth bid was Arriva's, and the company's owner Deutsche Bahn is now understood to be following the lead of Stagecoach by taking legal action which alleges that the DfT was in breach of its statutory duties.
Abellio was the only surviving bidder for East Midlands, and an eight-year franchise with the Dutch-owned operator was signed on 9 May, after an extended 'standstill' period.
Arriva's claim refers to the earlier High Court submission by Stagecoach as the same 'case type'.
Arriva said: 'We can confirm that we are seeking to obtain more information relating to how the bids for the East Midlands franchise were assessed,' according to the Sunday Telegraph.
The DfT is maintaining its stance that it does not comment on legal proceedings. However, a spokesman has confirmed its earlier statement that it has 'total confidence in our franchise competition process and will robustly defend decisions that were taken fairly'.
Reader Comments:
Views expressed in submitted comments are that of the author, and not necessarily shared by Railnews.
It'll be interesting to see how this pans out. DfT have excellent lawyers at their disposal. The decision on non-compliance would not have been taken lightly.

Meanwhile DB is trying to divest itself of Arriva. Not sure this will help the queue of buyers!

Franchising used to work when we had the SRA. Since it was taken in house by the Department for Transport, it has been nothing less than a disaster. Wether this is due to gross incompetence or something more sinister I wouldn't like to say, but it is obvious this is not a fit and proper body to run this process. Franchising should be put on hold until a competent independent body can be set up to run the process

Oh dear. That could spell even more trouble for Mr Grayling and he could even feel the pressure of possibly ending his job or to quit immediately as transport secretary. As he's feeling the pressure.

Is there anyone who isn't fed up with the franchise system?

These companies seem to have a sense of entitlement about making money from us.

It's time to move either to an open-access system or to full privatisation

It works for BT, where they are regulated closely where there is little competition, but have been able to invest billions of pounds into making the service better.