Posted 8th May 2019 | 2 Comments
Stagecoach to sue DfT over franchise bid rejection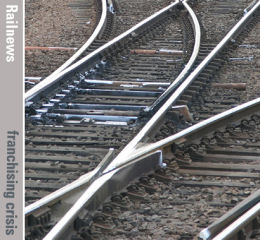 Updated 9 May 08.30

STAGECOACH Group is going ahead with legal action against the Department for Transport, after three franchise bids in which it was involved were rejected as 'non-compliant' by the Department last month.
The decision to reject the bids also affected Virgin Trains and SNCF, who had been joint bidders with Stagecoach for West Coast Partnership. In addition, it allowed Abellio to win the next East Midlands franchise by default after Arriva, which had been shortlisted for East Midlands along with Stagecoach, was rejected for similar reasons.
Stagecoach was also removed from the shortlist for South Eastern.
In each case, the 'non-compliance' is understood to have been concerned with what Sir Richard Branson of Virgin described as 'risks we cannot control – including the risk of funding unquantified additional pension liabilities'.
Stagecoach will allege that the DfT was in breach of its statutory duties in connection with the East Midlands competition, and warned that it may start proceedings over West Coast Partnership and South Eastern as well.
Stagecoach CEO Martin Griffiths said: 'We remain deeply concerned at the Department for Transport's procurement of the three most recent rail franchise competitions and the rationale behind its decisions.
'Despite our continued requests for full transparency around these matters, many fundamental questions remain unanswered. As a result, regrettably we have had no option but to commence legal action against the DfT to ensure the serious issues involved and the DfT's opaque decision-making are subject to proper public scrutiny.'
The DfT responded: 'Stagecoach is an experienced bidder who knowingly submitted non-compliant bids on all competitions. In doing so, they disqualified themselves.
'We do not comment on legal proceedings. However, we have total confidence in our franchise competition process and will robustly defend decisions that were taken fairly following a thorough and impartial evaluation process.'
Labour's shadow transport secretary Andy McDonald said: 'Tory ministers dismissed Labour's warning that their bungling of the East Midlands rail franchise would result in the government being sued yet again. This is following Chris Grayling's decision to award a contract to a ferry company with no ships, which has already cost taxpayers over £80 million in legal action.
'Chris Grayling's incompetence is breath-taking. It has thrown our transport networks into chaos and cost taxpayers tens of millions of pounds. Theresa May is the only person in the country who is still pretending to have confidence in this calamitous transport secretary, and it's costing us a fortune.'
Reader Comments:
Views expressed in submitted comments are that of the author, and not necessarily shared by Railnews.
No one likes bad losers. Cheerio Stagecoach.