Posted 29th April 2019 | 3 Comments
SNCF may challenge Chris Grayling in court over pensions row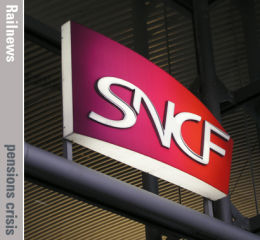 THE rejection of four franchise bids over pension liabilities could lead to a legal challenge from the national French operator SNCF.
The Department for Transport announced on 10 April that bids from Stagecoach for East Midlands, South Eastern and West Coast Partnership had been rejected because they had attempted to change the conditions in the Invitations to Tender concerning liabilities for railway pensions.
Arriva, which is currently owned by Deutsche Bahn, was also barred from the East Midlands contest for the same reason, leaving the Dutch firm Abellio as the winner by default.
West Coast Partnership is set to replace the present Virgin West Coast franchise in March 2020, and the contract will also include responsibility for operating the first phase of HS2 from 2026.
SNCF had joined the bidding for WCP with Stagecoach and Virgin amid hopes that its long experience with running TGVs would be useful.
It is now reported that SNCF may not accept its rejection without a fight, and could mount a legal challenge.
Stagecoach and Virgin are already considering going to court over the DfT's decision.
Richard Branson of Virgin said: 'We're baffled why the DfT did not tell us that we would be disqualified or even discuss the issue – they have known about this qualification in our bid on pensions for months. We can't accept a risk we can't manage – this would have been reckless. This is an industry-wide issue and forcing rail companies to take these risks could lead to the failure of more franchises.'
SNCF said: 'We are disappointed by DfT's decision to disqualify our consortium from the West Coast Partnership competition. We are frustrated that the main differentiator amongst bidders is their appetite for taking on risks – such as pensions – they can neither control nor manage, rather than their ability to successfully introduce HS2 while delivering outstanding customer experience.'
The DfT responded that it was 'entirely for Stagecoach and their bidding partners to explain why they decided to repeatedly ignore established rules by rejecting the commercial terms on offer'.
The DfT and Stagecoach have already exchanged letters, but Stagecoach described the government's initial response as 'vague and incomplete'.
Chris Grayling is also under fire from other directions. Some MPs have been calling for his resignation.
Ferry operator P & O is suing the DfT over its decision to pay Eurotunnel £33 million after the tunnel operator had complained that the controversial no-deal Brexit ferry contract had been 'secretive'.
Reader Comments:
Views expressed in submitted comments are that of the author, and not necessarily shared by Railnews.
So basically the only bidders were the German government, the French government and the Dutch government. It seems the Germans and French have more sense than the Dutch, refusing to accept responsibility for something they have no control over.

The argument that DfT knew about the noncompliance of the bids when they were submitted but didn't formally throw them out earlier, or question why noncompliant bids had been submitted, is laughable.

It's like chucking a brick through someone's window, then complaining if they delay calling the police.

Bad losers.