Posted 10th April 2019 | 4 Comments
Franchise ban for Stagecoach: Abellio wins East Midlands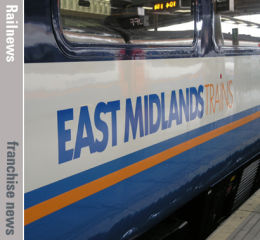 Updated 17.15

STAGECOACH has been banned from bidding for three rail franchises, in a clash with the Department for Transport over pension risks. Abellio has been awarded the East Midlands franchise, and will take over from Stagecoach in August.
The surprise move by the Department for Transport means that Stagecoach is now also off the franchise shortlists for Southeastern and the key West Coast Partnership, which is set to be the launch contract for HS2.
Stagecoach shares fell after the announcement and were down 4.28p, just over 3 per cent, by 08.45. They then staged a slight recovery but began to give ground again before midday and went on down during the afternoon, closing 9.3 per cent lower at 120.9p.
The DfT said Stagecoach had lodged 'non-compliant' bids for all three franchises.
A spokesman for the Department said: 'Stagecoach is an experienced bidder and fully aware of the rules of franchise competitions. It is regrettable that they submitted non-compliant bids for all current competitions which breached established rules and, in doing so, they are responsible for their own disqualification.
'Stagecoach chose to propose significant changes to the commercial terms for the East Midlands, West Coast Partnership and South Eastern contracts, leading to bids which proposed a significantly different deal to the ones on offer.'
There had already been reports that franchise-holders were uneasy about their liabilities for pension funds, and it is pensions which have provided the spark now.
Stagecoach Group chief executive Martin Griffiths said: 'We are extremely concerned at both the DfT's decision and its timing. The Department has had full knowledge of these bids for a lengthy period and we are seeking an urgent meeting to discuss our significant concerns.
'We have drawn on more than two decades of rail experience and worked in partnership with local stakeholders to develop high quality proposals to improve each of these rail networks.
'We bid consistent with industry guidance issued by the Rail Delivery Group and shared with the DfT. Without ongoing Government support for the long-term funding of railway pensions, The Pensions Regulator has indicated that an additional £5 billion to £6 billion would be needed to plug the gap in train company pensions.
'In contrast, the rail industry proposed solution would have delivered an additional £500 million to £600 million into the scheme. This would have provided better stability and security for members and much better value for taxpayers. We are shocked that the Government has rejected this for a higher risk approach.'
Meanwhile the new East Midlands franchise, which starts on 18 August and runs until 2027, will include new fleets and trials of hydrogen fuel cell trains, the DfT said.
There will be 80 per cent more seats on morning peak services to London, Nottingham and Lincoln, while the half-hourly electric service between London and Corby will be launched in December 2020. Other features of the new contract include 'improved' delay repay compensation and flexipass tickets 'to provide better value fares', according to the DfT.
London Luton Airport had been pressing for trains to call at Luton Airport Parkway every 15 minutes, but EM trains will call at both Luton Airport Parkway and Luton twice an hour.
Transport secretary Chris Grayling said: 'Improving the experience for passengers is at the heart of this new franchise. Abellio will deliver state-of-the-art new trains, upgraded ticketing systems and improvements to stations', while Abellio UK managing director Dominic Booth added: 'Abellio is proud to have been selected. We look forward to this franchise driving economic growth and delivering significant benefits for passengers.'
He continued: 'Abellio will invest £600 million in improvements to trains and stations, maximising the effect of the Government's £1.5 billion upgrade of the Midland Main Line, to make journeys easier, more reliable and comfortable.
'Closer collaboration between East Midlands Railway and Network Rail will ensure that track and train are aligned to deliver vital enhancements to infrastructure and to put the interests of passengers first.'
The DfT has not revealed whether the new East Midlands franchise is expected to pay premiums, but in 2017-18 East Midlands Trains paid £58.2 million, plus another £4.5 million profit share, according to the ORR. However, the franchise was effectively subsidised by £128.4 million when industry-standard reductions in track access charges were taken into account.

Reader Comments:
Views expressed in submitted comments are that of the author, and not necessarily shared by Railnews.
The pensions issue appears to be far from straightforward, and so too the "non compliance" accusations. A basic problem can arise in each party to a franchise agrement having to make inflexible commitments for quite a number of years, despite unpredictable future developments.

I could "go on"further about the flaws of franchising, but don't want to take up a lot of space. Suffice to say that in his 2019 Bradshaw address to the Institution of Civil Engineers, Keith Williams has expessed some dissatisfaction with the current franchising model.

I fail to understand how chucking out noncompliant bids reflects badly on franchising, David? This bidder had their fingers burnt badly on East Coast recently, so surprise surprise, they wouldn't take any further risks.

Not the end of the world. Not even the end of franchising. Don't throw the baby out with the bathwater! Franchising works.Welcome and good luck Abellio East Midlands!

All I can say to this is that yet again the general flawedness of the franchising model, at least for the intercity part of passenger operations, is highlighted , and is steadily becoming more and more apparent.

Please come up with something better Mr Williams !