Posted 14th March 2019 | 3 Comments
ORR fines GTR £5m for poor information after timetables failed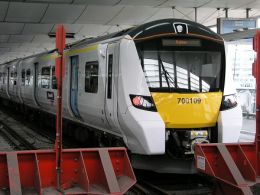 Updated 10.40

THE Office of Rail and Road has announced a fine for Govia Thameslink Railway of £5 million, along with a clampdown on the effectiveness of crisis management plans by all train operators and Network Rail.
After the disruption which followed the introduction of new but unworkable timetables last May, the ORR then investigated whether GTR and Northern 'did everything reasonably practicable to provide appropriate, accurate and timely information to enable passengers to plan and make their journeys in both the run-up to the timetable introduction and during the disruption that followed'.
The ORR has decided that GTR took 'reasonable steps in making passengers aware of the planned changes' before they were introduced, but not after things started to go wrong.
The ORR found that Thameslink and Great Northern trains 'disappeared' from timetables, but that these changes were only publicised weeks later. More trains were cancelled on 'a daily basis', which meant that the timetables posed a 'severe lack of certainty' for passengers.
When trains were restored they were not always included on information systems, which led to the arrival of unexpected 'ghost trains' with effectively secret stopping patterns. Replacement buses, too, were not given sufficient publicity, while frontline staff at stations were themselves left in the dark.
The ORR investigation into Northern has found that although in many cases passengers did get inadequate information in the first two weeks, Northern then 'considered and subsequently took reasonable steps in these circumstances to give passengers appropriate, accurate and timely information'.
An interim timetable was introduced on 4 June that stabilised the service, while the standard of information also improved. As a result, Northern is not being penalised.
Meanwhile, the ORR has written to all train companies and Network Rail today to require them to review their crisis management plans.
The ORR's deputy director, consumers, is Stephanie Tobyn. She said: 'The disruption experienced by many passengers as a result of the May timetable introduction was awful. When disruption happens, poor quality information makes an already difficult and frustrating situation worse.
'The exceptional circumstances that followed the introduction of the timetable meant that providing perfect advance information for passengers was from the outset an impossible task and GTR's overriding focus was on providing as much capacity as it could to meet customer demand. However persistent and prolonged failures in information provision meant that passengers couldn't benefit from the operational improvement it was trying to make.'
GTR chief executive officer Patrick Verwer said: 'We are disappointed at today's fine imposed by the Office of Rail and Road.
'We are making significant improvements to information for passengers. These include upgrades to station screens, issuing frontline staff with new smartphones loaded with real-time service information, and we have volunteer teams on standby to help passengers during disruption. Further improvements in customer information are planned.
'The severe disruption following last May's timetable introduction was due to industry-wide factors and we are sorry for the serious effect this had on our passengers.
'GTR has paid £18 million in passenger compensation and is investing a further £15 million in improvements for passengers for its part in the timetable issues.'

Reader Comments:
Views expressed in submitted comments are that of the author, and not necessarily shared by Railnews.
Bottom line is that this £5m fine will be paid for via our ticket prices. Surely there must be a better way on penalising company?
Martin

After 2018's failings a fine cannot have been unexpected. However £5 million can buy a lot of tangiable benefit whereas a fine, while a penalty, can just be seen as disappearing with no clear accountability.

GTR's customets may see the justice of the fine but I'm sure would be far happier if it contributed directly to their travel experiece.

Today's mantra is to put the passenger, the customer, at the heart of the business. The mechanics of ORR fining companies in this manner increasingly seems out of step being so rigidly part of the inflexibility of the contractual matrix that so blights the industry & so often can be seen ad treating it customers ad an inconvenience.