Posted 23rd October 2018 | 4 Comments
Grayling faces difficult Thameslink decision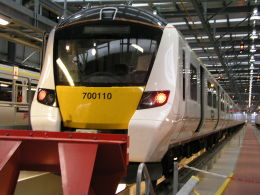 TRANSPORT secretary Chris Grayling has told a committee of MPs that any penalty for Govia Thameslink Railway following disruption earlier this year will be decided 'within weeks'.
He was giving evidence to the House of Commons Transport Committee on 22 October.
Mr Grayling said the action was being 'finalised', and he did not rule out terminating the franchise altogether, with the alternative of a financial penalty.
When questioned about the failed 20 May timetable changes, which should have seen another 400 services a day on Govia Thameslink routes but actually led to prolonged disruption, Mr Grayling said the problem was 'systemic'. He has recently launched a 'root and branch' review of the railway industry, and told the Committee that he wanted to see 'wholesale change', and that the industry needs to be 'much more joined up'.
He explained: 'We will make sure there is a consequence to the under-performance of GTR this summer within a small number of weeks.'
Analysis
Sim Harris
THIS is a difficult one for Mr Grayling. Another difficult one, really, since his Department is also juggling with other problems such as Intercity Express issues and a lagging electrification programme which helped to contribute to disruption on Northern, also from 20 May.
But the GTR franchise – the largest earner on the network – is unusual, since the costs risk (i.e. responsibility for paying the bills) rests with Govia while the revenue from tickets goes straight to the DfT. Govia is paid a fee instead.
This 'management contract' structure was worked out because the present GTR franchise is supposed to bridge the gap between the old and new Thameslinks, which should eventually see 24 trains an hour in each direction running under central London at peak times.
Mr Grayling had already been warned by Chris Gibb in a special report that such an intensive service would not work without extensive infrastructure upgrades, which have been authorised.
But the Thameslink chaos (not too harsh a word) following the timetable change in May also demonstrated that the GTR network is not even ready for a less ambitious set of improvements.
Mr Grayling may be determined to hold GTR to account for its share of the trouble, but the mechanism will be difficult, because a significant financial penalty could be more than Govia is willing to take. Its majority shareholder, GoAhead Group, has already warned that the customary profit of 3 per cent is set to be halved as a result of higher costs.
What Mr Grayling really does not want is to bring the axe down on another franchise, after the loss of Virgin Trains East Coast in June. Every mid-term franchise exit is another nail in the coffin of the franchising model, which has been looking increasingly fragile in any case after it became known that profits for other operators have been plunging recently.
Franchise owners such as Abellio have been taking the strain so far, but recently the Dutch company had to support Greater Anglia with an additional £80 million. FirstGroup, meanwhile has warned that it will have to make provision for losses of £120 million or so during the life of the TransPennine Express franchise. It has also become harder in recent years to draw up decent shortlists of bidders for future franchises.
So while Mr Grayling may wish to make a point by delivering a suitable punishment to GTR, he will have to take the greatest of care. If he overdoes the retribution, he could risk demolishing the whole house of cards which franchising has become.
Reader Comments:
Views expressed in submitted comments are that of the author, and not necessarily shared by Railnews.
Good. Because I think he isn't doing enough to provide better rail services in the UK and we are falling behind from other countries that have better rail services and have less disruptions and strikes. Such as Netherlands, Japan, Italy, France, Germany, Spain, Portugal and other countries that have better railways.

It is so easy to portray Govia as the villain of the piece in the Thameslink fiasco but throughout the puppet master has been DfT. This whole arrangement was a deliberate construct of DfT to attempt to maintain continuity of operation through the construction phase of Thameslink & as a means of remapping the network for the completed project.

Hindsight has shown that rather than minimising risk this mega franchise has actually contaminated a large part of the south east rail network. Rather than being a steadying hand throughout the programme from day one it was under resourced playing catch up at every stage until the failed timetable implementation in May. As operator Govia has already borne a considerable blow to it's competence & reputation. But it was only one part of a complex jigsaw. Perhaps the greatest penalty for Govia would be exclusion from future franchise bids based on past performance.
However this I think would be little more than a populist scapegoating exercise.

One common denominator stands out in all the industry's woes, the role of the DfT. In all recent failures it has been the weakest link. The failed franchise arrangements signed off by successive transport ministers have plunged the railway finances into a state of crisis. Mr Grayling may not know how to run a train himself but it is time for some honesty on his part to admit that his department is architect of the current woes facing the industry due to the distressed state of the franchise model.


What a nonsense this has become. Micromanagement by an incompetent DfT headed by a minister out of his depth who has never got to grips with his portfolio.

A textbook example why such decisions should be taken out of the hands of the politicians and put with a body similar to the SRA.

What kind of message is sent to other TOCs (not to mention the general public) when a failing, non-compliant franchise is allowed to limp on.