Posted 16th May 2018 | 3 Comments
400 more Thameslink trains a day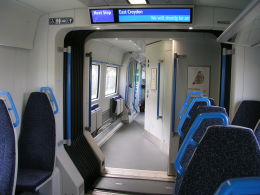 NEXT week's new Thameslink timetable will include another 400 trains a day, while every existing service has been retimed.
Govia Thameslink Railway will then be running 3,600 trains a day, or one every 24 seconds, and the operator has warned of 'some disruption' over the next few weeks as the timetable beds in and trains and crews are redeployed.
80 more stations will have direct services to central London by next year, with the full 24tph service between Blackfriars and St Pancras set to begin in December 2019. It has been postponed for a year to allow further infrastructure upgrades worth a total of £900 million to be completed by Network Rail.
GTR chief executive Charles Horton said: "We are introducing the biggest ever change to rail timetables to significantly boost capacity on the UK's most congested network. We don't want passengers to get caught out and so we strongly advise them to look up the times of their trains as they will find that from 20 May each and every one of them has changed.
"Due to the sheer scale of the changes, we will have to redeploy a large number of trains and crews and services may not run at normal times during the introductory phase, although the impact on peak time services during the transition will be minimal."
"Introduction of the new timetables is a major milestone in the delivery of RailPlan 20/20, our programme to modernise rail services, taking advantage of the new infrastructure and trains provided by the Government's £7 billion Thameslink Programme."
Passengers were consulted about the new timetable at the drafting stage, and 28,000 responses were received over 18 months.
Reader Comments:
Views expressed in submitted comments are that of the author, and not necessarily shared by Railnews.
Could Thameslink expand to other towns in the Southeast such as Canterbury, Rochester, Ashford International, Gillingham, Dartford, Maidstone, Eastbourne, Bognor Regis and possibly extend north of Cambridge to Ely and Kings Lynn.

And all at the expense of longer distance Midland Main Line expresses that will now be crawling behind these wonderful, transformational commuter services.
I would say it is warped logic, but it cannot be called logicsl in any way, shape or form.