Posted 18th February 2019 | 5 Comments
Rail Delivery Group unveils wide-ranging fares reforms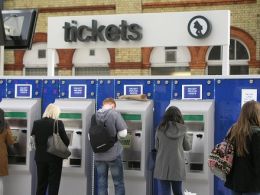 MAJOR changes to the basis for rail fares have been suggested by the Rail Delivery Group, in a submission to the Williams Review of the industry.
The RDG wants 'preparatory work' to begin now on a fundamental overhaul of how fares are calculated and charged.
It sought the opinions of 20,000 people and 60 organisations during its research, and concluded that eight of 10 support changes, nine out of 10 want smart tickets, which would usher in the possibility of price-capping and also part-time seasons, and eight out of ten want fares set to encourage travel on less busy trains.
The RDG also concedes that greater transparency is needed.
Its research was carried out in partnership with the statutory watchdog Transport Focus, which has called for fares reform for many years.
The result, according to the RDG, is the setting out of 'five principles that should underpin reforms to the fares system, including value for money and simplicity'.
The intention is that passengers 'only pay for what they need and are always charged the best value fare. This would be enabled by the fares system moving to a "single-leg" structure, as currently operates within London, so that customers are able to choose the most appropriate ticket for each leg of their journey.'
Commuters with smart cards would be able to choose their days of travel, and also potentially save money by using off-peak trains when they could.
Present peak travel rules are also under the spotlight, and fares could become more flexible.
Changes could also encourage more rail travel, according to independent analysis quoted by the RDG, which says another 300 million people could use the system each year – which would be an increase of roughly 20 per cent.
RDG chief executive Paul Plummer said: 'The result of our nationwide consultation is clear – customers have different needs and want an easy to use range of rail fares to meet them. Our proposals can deliver exactly that – creating a system that better fits how people live and work today.
'Rail companies are already working together on plans for real world trials so people can see what our proposals could mean for them. However, current regulation needs to be updated and we want to work with government, who are key to making improvements a reality, to deliver the better fares system the public wants to see.'
Commons transport committee chair Lilian Greenwood has given the plans a cautious welcome.
She said: 'It's no surprise to us that passengers want real reform of rail fares. In a 2016 Report, the Transport Committee labelled parts of the rail ticketing system "overly complex, opaque and unfair" and nothing has changed. The call for fairer fares has only become louder and more insistent after a year in which many passengers experienced appalling levels of disruption and promised improvements to services have been delayed or cancelled.
'The proposition that passengers only pay for what they need, are always charged the best value fare, can use smart tickets and season tickets that suit today's working patterns all make complete sense to us, and are welcome recognition that things need to change.'
'But the devil will be in the detail.'
The Campaign for Better Transport said the present system is 'broken and desperately needs fixing'.
CBT chief executive Darren Shirley added: 'We're particularly pleased to see proposals for more flexible commuter tickets to reflect modern work patterns, something we've long called for, and for nationwide smart ticketing. What's not clear however, is if these proposals will also lead to an end to the annual fares rise, which fails to reflect the level of service passengers receive the previous year.
'It is now up to the Government to take forward these proposals to ensure we have a fares system that is fairer and easier to use; that integrates ticketing across all public transport; and that genuinely puts passengers at the heart of the railways.'
RMT general secretary Mick Cash said: 'RMT believes that rail passengers and the taxpayer have been ripped off for far too long and the proposals outlined today will do nothing to address that harsh reality.
'Whichever way the industry dresses this up the fragmentation of privatisation will always lead to a complex mix of various fares across the network with passengers caught in the crossfire.'
In a related development, passengers on Merseyside trains became able to buy weekly, monthly and annual Railpass tickets on smartcards from today.
Reader Comments:
Views expressed in submitted comments are that of the author, and not necessarily shared by Railnews.
" it is not a single market that is being addessed"writes another contributo. I agree ; it may be that the attempt to have a "one size fits all" fares structure inevitably creates complexity, in trying to cater to all kinds of passenger everywhere with one structure. It could be useful if Intercity, commuter and rural operations could each have their own simplified arrangement.

It may be relevant to compare the fares problem with the apparent success of Sectorisation in the late stages of BR, again tackling things with a "horses for courses" approach.

I may be a sceptic, but many in our region will remember all the brouhaha around the "Yorkcard" bus & rail card project a good few years ago. It actually got to the point where the scanners were appearing on buses - only for the whole thing to collapse into nothing.
A new card issued by Transport for the North? Having created TftN, the government seems intent on giving it no funding, no real power and definitely no teeth!

TfL has led the way with Oyster Card & now contactless payment in creating an accessible network that encourages public transport use. The question is how far the National Rail network can share this best practice given the conflicting commercial objectives presented by franchising. Too often the desirable objective of rolling out Oyster card to mainline routes in London has been one of overcoming contractual constraints imposed through individual franchise agreements at the expense of improving the customer experience.

While the desire to simplify the fare structure is admirable let us not forget that it is not a single market that is being addressed. A solution that is fine for the commuter market may act as a barrier to the occasional leisure traveller. What does seem to be changing though is the traditional commuting market long served by season tickets. Smart card & contactless payment appear to be the way forward.

If I can plan a journey door to door from A to B using an internet planner why shouldn't it offer me a price for that trip irrespective of the operator or travel mode? We have relied on algorithms via ORCATS to allocate revenue for years, time now for a back office that can accurately apportion revenue. It may not be as sexy as new trains or physical infrastructure but for too long the ticketing & ticket reading infrastructure has been neglected. Time to seriously place the customer first by enabling a seamless journey experience.

I wish my local Ticket Machine could issue 'Group Tickets' for 3 and 4 people travelling together. Should be easy to organise if 3/4 people all buy a 'Day Return' at the same credit card.