Posted 8th May 2018 | 6 Comments
Major rail fares shake-up on the way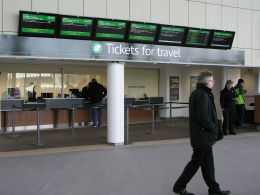 THE biggest shake-up in rail fares for more than 20 years has been launched by operators, with a consultation over how tariffs should be structured in future.
The Rail Delivery Group said the outcome would be 'revenue neutral', so that the overall cost of travelling by rail will not change as the result of any reforms.
The RDG wants to update and simplify a complex maze of regulations and brands, which has developed since 1995 when the last Ticketing and Settlement Agreement spelled out how fares should be set and sold. It assumed that all passengers would buy their ticket at a station ticket office and took no account of later developments, such as online booking and mobile ticketing.
Research by KPMG has revealed that only one passenger in three who took part in a survey was 'very confident' that they had obtained the most suitable ticket for their journey.
The present arrangements vary dramatically between operators. There are no standard definitions of 'peak', 'off-peak' and 'super off-peak' nor any national agreement about the times when they apply. The industry's own website National Rail Enquiries labels each type of ticket, but does not say when it can be used.
The development of Advance fares has added a new layer of complexity, aided by 'yield management' techniques which produce a range of different fares, each applicable to a quota of seats. When that quota has been sold, the next highest fare is offered instead.
Research by Railnews has revealed that just one train from London Euston to Manchester later in May is currently offering no fewer than 43 single fares for the same journey.
A further inconsistency concerns ticket vending machines. Each operator usually has a separate design of interface or screen, which a passenger needs to learn. Operators have been accused of 'burying' the best value fares, and even offering different rates for the same journey.
The Rail Delivery Group has also commissioned an independent report from KPMG to identify key principles. These should be 'transparent, predictable, fair, trusted, easier to use and value for money', while also improving integration with buses, trams and metro services, be flexible to meet the demands of different markets, and avoid the need for any additional public subsidies.The final report will follow the consultation and the operators will then make proposals to governments, offering options for fares reform.
Rail Delivery Group chief executive Paul Plummer said: "As part of the industry's plan for change, we want to work in partnership to drive root and branch reform of well-meaning but out-dated fares regulation. Working together, we want to develop proposals to reform fares and regulation to make it easier for our customers to get the right ticket, enhancing trust in the system and supporting continued investment to improve the service.
"Unpicking the regulation of a £10 billion-a-year fares system that underpins such a vital public service means there are no quick-and-easy solutions. The change that's needed won't be easy and the industry doesn't have all the answers, which is why we want to hear views from passengers, communities and businesses in all parts of the country.
"There have already been improvements and more are on the way but this consultation will enable us to make the right changes for the long-term more quickly."
Consumer groups have welcomed the news.
Transport Focus chief executive Anthony Smith said: "Rail passengers want a rail fares system they can trust, that is simpler, offers better value for money and is more understandable. Fares and ticketing systems need to suit the way we travel now – there is a huge demand for smarter ticketing. Opening the debate on reform options is overdue. The ability to buy cheaper tickets for legs of a journey, so called split ticketing, is fast eroding trust in advertised fares.

"Transport Focus will ensure the passenger voice is heard. Any future regulation must support sensible, proportionate reform which can underpin change while preserving essential consumer protection."
Which? managing director of public markets Alex Hayman added: "Rail passengers have struggled for far too long with a confusing ticketing system that can make it hard to pay the right fare, so passenger focused reform of the fare system is long overdue. The rail industry and government must ensure that any reforms tackle the poor levels of passenger satisfaction with the current ticketing system and are implemented swiftly."
However, the RMT said 'the internal review won't end Britain's great rail fare rip-off'.
Reader Comments:
Views expressed in submitted comments are that of the author, and not necessarily shared by Railnews.
Most passengers can understand Advance Purchase fares, because they are for specific trains. The confusion arises with "walk-on" fares, with their complex restrictions (many of which are totally illogical).
To simplify the fares structure: (1) abolish return tickets (apart from localised Cheap Day returns) and base all fares on singles. (2) Introduce a colour-coded system: Peak trains RED, Shoulder-Peak trains BLUE, Off-Peak trains WHITE. These colours would be shown on the tickets and in the train timetables. Easy to identify which fare applies to which train. Simple!

This is just another excuse to rip people off.
Like the then ATOC screwing with the BritRail Pass, because it was good value ....

I consider myself 'up-to-date' with Rail Fares but always check with my Great Western Ticket Office Clerk for any long distance journey. Recently took 8 people (including 4 disabled) to London via Waterloo. After 5 minutes searching he sold us the tickets and reserved the seats. However apparently he had sold us a local SWT 'School Holiday' ticket by accident which meant we couldn't return before 7 pm even with the seats reserved. Luckily a Supervisor at Waterloo wrote us a note authorising our earlier return. So if the 'experts' get it wrong what hope for 'ordinary' passengers.

Can we please introduce sensible fares of off-peak single tickets?

Surely the "walk on" peak and off-peak ticket price could be based on the same "pence per mile" anywhere in Britain and each franchise can sell its own products eg season ticket, advance, special promotions? The current system is good for those with loads of information and time on a computer, unfair if you travel at short notice.
[Distance charging was abolished in the later 1960s in favour of 'market pricing' on the argument that an electrified intercity route gives a better service than a slow local train. It is now embedded in the system. Two examples: the price for each kilometre (Anytime Single) between London Paddington and Thatcham is 37p. Between Wick and Forsinard each kilometre costs 13.9p. It is this kind of difference that makes 'split ticketing' worthwhile in so many cases.--Editor.]

Having been critical before of the " one size fits all" approach to the passenger rail industry, in terms of the franchising model, perhaps I could suggest this to also be a root of the problematic current fares structure?

Perhaps it might be useful to consider a more "horses for courses" fares structure, with intercity / cross country , urban/ commuter and rural operations each having their own "customised"and simplified fare structure ?

There would of course need to be mechanism for tickets that involve more than one of the above types of operation.