Posted 5th December 2017 | 3 Comments
Rail fares rise of 3.4% is a 'cruel joke'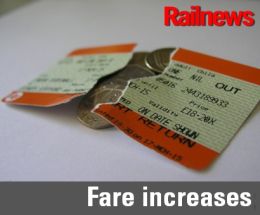 RAIL fares are to rise by an average of 3.4 per cent at the start of January, the Rail Delivery Group has announced.
Regulated fares will go up by 3.6 per cent, in line with the Retail Price Index in July this year.
Critics have described the forthcoming increases as a 'cruel joke' and a 'chill wind', but train operators said the money was needed for investment.
RDG chief executive Paul Plummer said: "Government controls increases to almost half of fares, including season tickets, with the rest heavily influenced by the payments train companies make to government. Alongside investment from the public and private sectors, money from fares is underpinning the partnership railway's long-term plan to change and improve.
"Working together, our plan will secure £85 billion of additional economic benefits while enabling further investment and improved journeys for customers, better connections to boost local communities and a bright future for our employees."
Stephen Joseph of the Campaign for Better Transport said: "Increasing fares by 3.4 per cent, the highest for five years, will seem like a cruel joke for hard pressed rail commuters who are seeing limited or no pay rises. We and others been arguing for a freeze on rail fares this year, but the Government has ignored this call, yet has been quite happy to freeze fuel duty.
"Whilst we welcome the new rail cards, which will help younger commuters and those getting to school or training, these don't remove the need for fundamental reform of the complex rail fares system and for season tickets for the growing number of part-time workers."
Commons transport committee chair Lilian Greenwood was also critical, saying: "As predictable as the turning of the year, here comes the announcement that rail fares are to go up. Passengers are facing an average increase of 3.4% - which translates into a significant new burden on household finances.
"Today the Rail Delivery Group tells us that most of this money will go into improving and running the railway but in recent years it's the passenger picking up a bigger share of the tab and many aren't seeing the benefits they were promised.
"At a time when workers are facing a real terms pay cut, isn't it time the Government looked to spread the cost of the railway more fairly?"

Transport Focus chief executive Anthony Smith added: "A chill wind will blow down England's platforms in January as rail fare increases bite. Many passengers face stagnant or falling incomes while rail fares continue to climb. It is time that the fairer, clearer Consumer Prices Index formula is used as the basis for rail fare rises rather than the increasingly outmoded Retail Price Index.
"While substantial, welcome investment in new trains and improved track and signals is continuing, passengers are still seeing the basic promises made by the rail industry broken on too many days. Passengers' immediate priorities are clear: a more reliable railway, better handling of disruption and better value for money."
Reader Comments:
Views expressed in submitted comments are that of the author, and not necessarily shared by Railnews.
This is concerning, but if one looks at the data released by the Rail Delivery Group, it is even more concerning to see where a large proportion of the money is going. That is to staffing costs. For example, the recent ASLEF pay rise for Southern drivers of 28% over 5 years. Do they really need that much money? Of course there will be those who say how responsible a job driving a train is, how someone MIGHT jump in front of a train, or train MIGHT have an incident. Yes it is a responsible job, yes they do work shifts, and unsociable hours, but so do people in factories that make produce that is used internationally, many with skills developed over years of work experience and education.

Even a railway manager such as myself, who is a specialist in my field with 9 years of academia as well as professional experience, on buses, trams and trains, does not get paid as much as train drivers. Something must be wrong somewhere.

Just hope I get a 3.6% pay rise to cover the increasing cost of travelling by train, not holding my breath though!