Posted 30th November 2018 | 5 Comments
Widespread protests over 3.1% New Year fares rise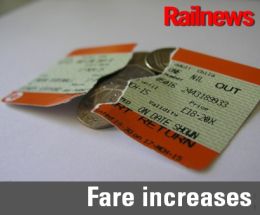 TRAIN fares will increase on average by 3.1 per cent in January.
There have been protests about the rises from consumer groups and unions.
Regulated fares, which include most season tickets, are set to go up by 3.2 per cent, which was the RPI last July.
The Rail Delivery Group pointed out that this is the fourth time in the last six years that the average increase has been held below the previous July's RPI inflation rate.
Rail Delivery Group chief executive Paul Plummer said: 'Nobody wants to pay more to travel, especially those who experienced significant disruption earlier this year.
'Money from fares is underpinning the improvements to the railway that passengers want and which ultimately help boost the wider economy. That means more seats, extra services and better connections right across the country.'
RMT general secretary Mick Cash was highly critical: 'Whatever way Chris Grayling tries to the dress this up this latest fare hike is another kick in the teeth for passengers on Britain's rip-off privatised railways. His cynical attempt to blame this rise on front line rail staff battling in all weathers to keep services running, and facing abuse and assault when the rail operators fail, is pure political cowardice fron a transport secretary who is a national joke,' he said.
Labour shadow transport secretary Andy McDonald said: 'This has been a painful year for rail passengers. With little prospect of improvements in 2019 this latest above inflation fares rise will be felt even more deeply than usual. These increases show a Government and rail industry out of touch with passenger concerns.'
Labour MP Lilian Greenwood, who chairs the Commons Transport Committee, said: 'After the year passengers have had, any increase in rail fares is going to be unwelcome. But 3.1 per cent - the largest increase we've seen since January 2013 – represents a real kick in the teeth. About one in five users of the railway suffered weeks of chaotic services after the badly botched timetable change in May and for some passengers, the pain persists. Overall performance is at its lowest ebb for several years, and on a downward trend.
'A fares system in which there is such a disconnect between quality of service and price is quite clearly broken.'
Anthony Smith, chief executive of the independent watchdog Transport Focus, said: 'Many passengers, still reeling from summer timetable chaos and frustrated by 'autumn' disruption, won't believe fares are going up again! Until day-to-day reliability returns – with fewer significant delays and cancellations – passenger trust won't begin to recover.
'Passengers now pour over £10 billion a year into the rail industry alongside significant government investment, so the rail industry cannot be short of funding. When will this translate into a more reliable railway and better value for money for passengers?'
Reader Comments:
Views expressed in submitted comments are that of the author, and not necessarily shared by Railnews.
It's all a bit of a postcode lottery. Clearly, those who use GWR mainline services out of Paddington have seen tangible improvements. If their Twitter feed is anything to go by, LNER are doing a superb job north of London, and their customer service is appreciated. On the other hand, South Western Railway have been full of broken promises. The positive posters at the start of their franchise have not been met by actions - instead, we are still having to endure staff who wouldn't know what good customer service was if it slapped them in the face, dirty trains, and half-hearted refurbishments. I think we are within our rights in this part of the world to want to see some return on the initial investment before we pay any more.

Welcome to groundhog day. Another year, same story same negative headlines.

Certainty worth restating the hypocrisy of Government. Fuel duty frozen for another year, regulated rail fare increase sanctioned as normal.

Interesting that despite the annual outcry recent studies have shown that so far the market is still absorbing the shock of the annual increase and overall gross revenue from the fare increase is still cash positive for the industry. As government policy for years has been to shift the balance of industry funding to the fare box it is unlikely that this annual charade with end soon.
[Actually, it is an accurate headline.--Editor.]

While road users continue to enjoy a fuel duty freeze demonstrating how little this government cares about pollution of the environment!

At least Londoners will benefit from another fares freeze by Mayor Khan keeping his promises made during Mayoral election and maybe some passengers within London might benefit by switching from say Great Northern services to nearby Piccadilly Line given the fare difference will be yet another 3% figure on top of what they would pay if services were transferred to Mayor as promised under Cameron Government....

Another year another Failing Grayling Tax for rail users ...!

This story is run at the same time every year. All those involved say the same things. All comments are so predictable that you can 'cut and paste' them from last year. Same outrage. Always negative. On my local line (Great Western)since we had the local new electric trains to Paddington this year (4.1.2018), I am very pleased and at no extra cost. Nice Toilets for example instead of the awful cramped ones on the old Turbos. Worth every penny of 3.1% increase.