Posted 15th August 2017 | 4 Comments
Fares rise leads to fresh calls for renationalisation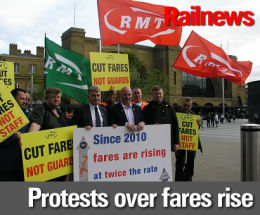 REGULATED rail fares are set to rise by 3.6 per cent in January, in line with July's Retail Price Index. The release of the figure by the Office of National Statistics was accompanied by calls for the lower Consumer Price Index to be used instead, while other critics claimed that renationalisation of passenger services would lead to lower fares.
The RMT held demonstrations outside more than 30 stations between Fife and Devon, while the Rail Delivery Group said 'money from fares is supporting one of the biggest programmes of investment in the railway since Victorian times'.
Labour shadow transport secretary Andy McDonald said: "The truth is that our fragmented, privatised railway drives up costs and leaves passengers paying more for less. The railways need serious reform that could be achieved if the Tories matched Labour's manifesto policy to extend public ownership to passenger services, but instead Ministers are persisting with a failed model of privatisation that is punishing passengers."
Consumer groups were also critical. Transport Focus director David Sidebottom said: "Yet again, passengers, now majority funders of the railway, face fare rises next January. Commuters do not give value for money on their railways a high satisfaction score – just one third according to our latest survey. So while performance remains patchy and with pay and wages not keeping pace with inflation, they will feel rightly aggrieved if they are paying much higher rises next January.
"Why is the Government not using its preferred measure of inflation: the one that is used to determine wages and pension increases, and one which is often lower than RPI? Why not use the Consumer Prices Index for rail fares too? Passengers deserve a fairer deal."
Mick Cash of the RMT said the impending rises proved that renationalisation was now overdue. He told Railnews: "We are paying more for less. If you didn't have a privatised rail network, and the fragmentation that causes, and all the costs associated with that, you could actually save £1 billion a year which could mean an 18 per cent cut in rail fares rather than an increase."
The Rail Delivery Group said money from fares was helping to upgrade the railway. Chief executive Paul Plummer said: "Many major rail industry costs rise directly in line with RPI. Rail companies are working together to improve performance now, adding thousands more seats over the next 18 months and, longer term, simplifying fares and ticket buying."
The Department for Transport made no formal announcement, but in a statement the DfT said: "We are investing in the biggest rail modernisation programme for over a century to improve services for passengers – providing faster and better trains with more seats, We have always fairly balanced the cost of this investment between the taxpayer and the passenger."
Season tickets are set to increase by 3.6 per cent throughout Britain, but the Scottish Government limits off-peak regulated increases to RPI minus 1 per cent, meaning that off-peak fares north of the border are now expected to rise by 2.6 per cent in January.

Reader Comments:
Views expressed in submitted comments are that of the author, and not necessarily shared by Railnews.
Why would re-nationalisation of the railways reduce prices. For a start, the increases are set by Government figures. Secondly, if the railways were run by the Government, there would be no competition whatsoever between companies and everything would go back to the bad old days of BR. Thirdly, if the Unions want the railways nationalised, that is reason enough to keep them as they are. The unions have no interest in passengers, rail fares, or even members. They are only interested in themselves and how much power they can wield.

Nationalisation save money ? Don't make me laugh. I had a small business once supplying Computer Parts. Dealing with other private firms would result in them bargaining me down to a mark-up on my costs of around12%. Supplying Government Departments was different. I could almost charge what I like because the Government Employees would sign off anything, - all you had to do was deliver it on time. Phone up the Government Run Income Tax or Benefits Office. On the expensive phone (0870 number) for around 25 minutes before they answer. Phone a Business and its answered immediately on an 0800 number because they want the Business. Governments should run nothing. They should however provide Monitoring Bodies (eg OWFAT, OFCOM etc.) with powers to make sure Monopolies don't happen and trading and safety is above board.

Yes, the current structure of our railway is far from ideal , but, no, renationalisation isn't the answer!

Infrastructure is , to all intents and purposes, already nationalised ; being a natural monopoly, this seems unavoidable. Up to now, despite a number of "incarnations", both private and public, a network that is financially efficient, safe and customer - friendly has eluded us . Can someone somewhere solve this ( please ) ?

Passenger franchising is far from ideal, and largely negates the original justifications for privatisation - enterprise, innovation, long - term investment with acess to the private capital market.

Despite its various flaws, though, the railway of the past 20 years is a lot better in most respects than its nationalised predecessor , as most people over 50 , or so, can witness. Personally, I'm politically non-partisan, but it seems apparent that outside of wartime, centralised "command and control" just doesn't work well .