Posted 15th February 2018 | 6 Comments
Intercity Express door failures frustrate passengers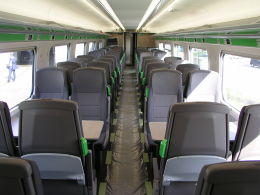 PROBLEMS with the doors on Hitachi Intercity Express trains newly in service on Great Western Railway have frustrated some passengers.
Delays of up to 45 minutes have been reported at places like Swansea. In some cases local commuters as well as longer distance passengers have boarded a train and then been effectively trapped on board on a stationary train for a while because the doors could not be reopened.
The bi mode IETs came into service last October, and the inaugural journey carrying transport secretary Chris Grayling from Bristol Temple Meads to London on a Class 800 was also dogged by problems, when air conditioning leaked in one vehicle and the pantograph could not be raised at Maidenhead, which was at that time the start of the electrified section, because of a technical error while the train was being prepared for service.
A spokesman for GWR pointed out: "The Intercity Express Trains continue to perform well in service, successfully completing over 60 long distance journeys every day, covering in excess of 40,000 miles (64,000km) every week, and with each train providing up to 24 per cent more seats than the High Speed Train it replaces.
"There have been a small number of isolated issues with the operation of IET doors, which has occasionally meant it has spent longer at stations than expected.
"This is currently being investigated and we are sorry for any inconvenience caused."
Meanwhile the first completed Class 802s, which have been designed mainly for services to the south west of England, have been unveiled at a Hitachi manufacturing site in Italy, near Pisa.
Hitachi said the original differences between the 800s and 802s are being reduced, because the 800s are also being retrospectively fitted with the same type of larger fuel tanks.
Clearance tests for the IETs are continuing in the south west this spring, although at least one IET has already been worked through on the main line to Penzance as part of an engineering trial.
It is hoped that the first 802s could enter service on the route between London and Cornwall in July.
Reader Comments:
Views expressed in submitted comments are that of the author, and not necessarily shared by Railnews.
I'm very pleased with our 8-Car Suburban Electrics running from Didcot since January. I know they are very disabled friendly with Buttons for opening doors and summoning drivers help much lower down, but my 3 year old Grandson has found out that he too can operate them, and I have to keep an eye on him whilst travelling. Reading Depot now seems the base for the GW Sleeper trains and locos, and we have acquired an 08 as well.
[It could be that the sleepers are being stabled at Reading during the day, now that Old Oak Common is being reborn. Their maintenance base is now Penzance.--Editor.]

A lot of hate being directed towards the 800 series trains on various forums and social media platforms. I am fortunate in that I get to drive the wonderful HST. I love them deeply and will miss them when gone. I do however, recognise that at over 40 years old they do need replacing. The 800 series is an extremely good looking train that I believe will perform well once the teething troubles have been ironed out. All new types of train have these initial glitches.
The issue is that they will now be required to operate for much longer periods on diesel than intended, with the performance impacts that go with that.
Our displeasure should be directed towards the scaling back and cancellation of electrification, and not the train.
I hope to see the 800 series on the MML in years to come. My only regret will be the dropping/raising of the pantograph at Kettering, and not running on ac throughout to Nottingham and Sheffield.

This is a bit concerning. I'm sure these issues will be resolved and it will only be a short-term problem, but something as basic as doors not opening should have been something that got picked up and fixed in testing.

There might be a valid reason, but we do need an explanation for how all of these issues are going into passenger service undetected.

More teething problems with the doors on the Class 802's. It's just like the same kind of problem with the Class 800's.

Guarantee that the VTEC Class 801's will also be having teething problems when the Class 801's will enter service late this year. Same could be said with the ScotRail Class 385's AT200's.

Japanese rubbish, just like we have on HS1. The doors on the "Javelin" trains (Class 395) are also much slower to open than on any other type of train.