Posted 26th October 2017 | 9 Comments
Grayling DOO letter is 'unprecedented, damaging and dangerous'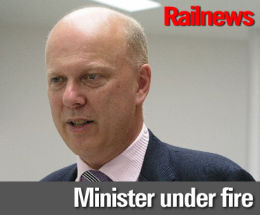 TRANSPORT secretary Chris Grayling has written to MPs, explaining that contingency plans are being prepared ahead of fresh RMT strikes over DOO next month. He has condemned the RMT's stance over the issue of safety-critical staff on trains.
The RMT has described his letter as 'unprecedented political interference' in the long-running dispute about driver-only operation.
The union has called 24-hour strikes on Northern and Merseyrail on 8 November, accompanied by 48-hour walkouts on Greater Anglia, Southern and South Western Railway on 8 and 9 November.
Previous experience suggests that Greater Anglia and Southern will be least affected, but the implications of a conductors' strike on SWR, which would be the first since the franchise started in August, are not yet clear.
In his letter Mr Grayling says: "The RMT's action is aimed at deliberately disrupting passengers. I want to assure you that the RMT's dispute is not about jobs: affected staff have been offered cast iron guarantees by the train companies involved. This dispute is not about money: affected staff have also been offered pay guarantees. And this dispute is not about safety: driver controlled trains have been ruled as safe by the regulator."
He continues: "I will be taking every step to ensure that as many people as possible can use the railway to get to work, school and important appointments on the RMT's strike days. Contingency planning is well underway and I will write to you with a fuller outline of plans closer to 8 November."
His intervention has been met with resistance from the RMT, which described his behaviour as 'damaging and dangerous', and claimed that the government are 'driving the current rail disputes for their own politically-motivated reasons'.
The union's general secretary Mick Cash said: "This letter from Chris Grayling nails down once and for all the core fact that it's the Government who are imposing Driver Only Operation on the train operators and who are directing the attack on Britain's train guards from the centre. Instead of allowing normal industrial relations to run their course the train companies are boxed in by central diktat from Chris Grayling and the DfT.
"This unprecedented political interference explains why RMT has been able to reach negotiated settlements over the guards and the method of train dispatch in Scotland and Wales, where responsibility is devolved, but have had the door slammed in our face in England when it comes to any meaningful talks.
"Chris Grayling's letter shows that the Government are driving the current disputes for their own politically-motivated reasons. That damaging and dangerous behaviour needs to stop right now."

Train operators and the Rail Delivery Group have already called for new talks in the long-running dispute, which started with strikes on Southern last year, sparking demonstrations by angry commuters, while the executive of ASLEF has reached an agreement with Govia Thameslink Railway over driver controlled operation. The result of a members' ballot is expected on 8 November.

Analysis

Sim Harris
ONE of the core aims of privatising the railway in the 1990s was to transfer operational and financial responsibility to the private sector, but Mr Grayling is now taking the helm in a way which does indeed appear to be unprecedented.
It is hard to see how his gesture will do anything to ease the tensions in this increasingly protracted dispute over whether a second safety-critical member of staff is needed on all trains. The DfT points to services such as Thameslink and its predecessor Midland Electrics, which started in 1982 as DOO, as examples of how single-staffing works. The RMT maintains that the absence of a second safety-critical member of staff poses an unacceptable risk to safety. Alongside its anti-DOO campaign, the union is also opposing Transport for London over the occasional absence of staff on some suburban Underground stations.
What the industry and rail passengers both want is an end to the row, and a return to normal services.
Mr Grayling has provided a short-term message of comfort with his promise of contingency plans, but at a deeper level he may have only turned up the gas a little more under this cauldron of simmering dissent.
Reader Comments:
Views expressed in submitted comments are that of the author, and not necessarily shared by Railnews.
Lets be honest here, the guards on SWR are invisible on a typical journey between stations. They sit in the cab reading the paper and I have enough photos from passing trains to back this up before anyone jumps and down and disputes it. SWT refurbished the 455's to have door controls in every carriage and I can go months before seeing a guard walk through a train and use the local door controls. Guards are not helping themselves here.
Guards dispatching the train are believed to be quicker, hence why SWT kept them.
Trouble is the train pulls into a platform and then you noticeably wait for the guard opening the door. Whereas on a Southern service, the doors open the instant the train pulls into the platform.
In an ideal world, the driver opens doors and guard shuts it.
Technology moves on I'm afraid to say, we will have self driving cars on the roads in 5 years time and self driving trains are already here. Its just evolution and we all see that.
I want a second person on the train and for that person to be visible and carrying out customer related duties. Until we see that, the commuters will continue to support the TOC's and eventually new trains will enter service with no guard provision. As SWR have shown, its cheaper to buy new. All they have to do is put up with 2 years of disputes and then they can get rid of the guards on half their fleet, where will the RMT members be then?

Once agian politcians not listing to their voters. We want a second person on the train and be trained to help when things go wrong and visible Drivers are there to drive and not get involed with the rest of the public.

And Mr Palmer you need to read the Mcnullty report! If this DOO goes through there will be no one on a train in 10 years time only the driver and you think it will be any cheaper to run NO the driver will be on 25% more money which is about what the guard gets now. This is all about profit for the overseas rail companys which are state run so the can invest in there own countries whilist the main issues in this countrys system are not addressed due to lake of funding.

"Driver controlled trains have been ruled as safe by the regulator". A regulator set up by the government, supported by 'experts' appointed by a distrusted RSSB, that includes TOC managers in its governance. The real experts in this dispute are the Drivers, Guards and other railway staff, who actually do the job. It's high time that their expert opinion was listened to.

As head of the DfT he is responsible to Parliament and must make such statements as part of his duty.

Don't forget that this is the person that the RMT was demanding a few weeks ago that he intervene in negotiations.

It is incredible how visible Chris Grayling can be when he wants to be seen as a populist union basher in the tory press but invisible when announcing slashing vital electrification in the north.

The more I see of him in action, the more I realise he is not fit to run a model railway in a loft.

The proposals are for Driver Controlled Trains. This does not mean Driver Only Trains. Yes, there should be a second person on non-metro style trains who should be trained in safety aspects. But the second person would give more confidence to travelling public if he or she were to be have a Customer Relations role patrolling the train and checking for fare-dodgers instead of hiding in a rear cab as so often happens at present. The visible presence of staff during a journey, especially at night, would reassure nervous customers.
Modern technology is reasonably capable of checking door safety on departure and most TOCs appear to agree to have a second person on train so why do we need a dispute.

Enough is enough. The RMT are not arbiters of what is safe on the railways, there are other organizations who bear that responsibility, and they have stated DOO/DCO is safe. RMT members have been guaranteed jobs, and a second staff member on services that currently have them - the only difference being in exceptional situations the train service will run with a driver only, instead of cancelling the service and causing disruption for thousands of passengers. It's time to train the army to fill in when these radicals call their strikes. In fact, train the army to fill their positions, then lock out the RMT members who want to continue their political struggle, until they come to their senses.

Even The Office of Rail and Road is now attempting to coin the phrase 'Driver Controlled Operation' as DOO like it was always addressed as thus. Safety is now, in some situations, however remote in possibility, but proven to come in recent history, put into a 'roster lottery'.
Since when did Regulation become Spin City? It is Unacceptable; We the Travelling Public, pay enough for this to be a totally safe railway, not for watering down like Neo-Liberal Retail. Stand with the Union, upheave these Capitalist Supremacists.