Posted 8th November 2017 | No Comments
Safety debates continue as five strikes begin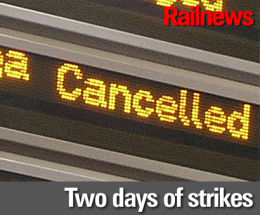 A DEBATE over safety has flared on Greater Anglia, as the RMT starts two days of strikes affecting a total of five operators in the long-running disputes over train staffing.
The union said support for the action among its members was 'rock solid'.
RMT conductors at Greater Anglia are walking out today and tomorrow, and two days of strikes are also starting today on South Western Railway and Southern.
Single 24-hour strikes are being staged today on Merseyrail and Northern.
The effects will vary. Southern is expecting a near-normal service, with many of its trains running under driver-only operation.
South Western Railway expects to run 60 per cent of its off-peak services, and 70 per cent in the peaks.
Merseyrail and Northern will have reduced services today.
Merseyrail warned that there will be no trains on the Ellesmere Port line, while other lines will operate only between 07.00 and 19.00, with a break in service during the middle of the day. Some stations will be closed.
Northern said it would run about two thirds of its usual weekday timetable, but again only between 07.00 and 19.00.
Greater Anglia, meanwhile, is the only operator which expects to run a normal service on all lines, but this has been achieved by training office staff to deputise for conductors on the 40 per cent of GA trains which need them.
The RMT highlighted alleged breaches of safety during the Greater Anglia walkouts in October, and called upon the Office of Rail and Road to intervene.
Greater Anglia has maintained that its deployment of stand-in conductors is safe, but also invited ORR railway inspectors to audit the arrangements, including 'administrative matters' which it agreed had arisen,
The ORR has now told Greater Anglia that the inspectors are satisfied that the arrangements are robust and that the contingency conductors are safe to provide cover, but the RMT has discounted this advice.
GA said its plans had also been endorsed by an independent rail safety consultant who confirmed the arrangements were robust, adding that training materials met industry best practice standards.
Greater Anglia train service delivery director Richard Dean said: "We are pleased that the Office of Rail and Road has completed its review and agreed our arrangements for training and deploying back office staff as conductors to cover for RMT industrial action are safe.
"We can now go ahead with providing a full safe service should RMT strikes go ahead on 8-9 November.
"We highly value our conductors and are guaranteeing the future of conductors until the end of the franchise in October 2025, and plan to recruit more. All conductors will continue to be safety trained."
The RMT has remained unconvinced. General secretary Mick Cash said: "The only way that Greater Anglia can be running these services is through taking serious risks with public safety just as they did during the last phase of strike action. Passengers need to be made aware of that fact."

Speaking today, he added: "RMT members stand solid, united and determined again this morning in the latest phase of strike action in a raft of separate disputes which are about putting safety, security and access to transport services before the profiteering of these rip-off private rail companies.
"Political and public support is flooding in as our communities choose to stand by their guards against the financially and politically motivated drive to throw safety-critical staff off our trains. The union salutes the members who are standing firm this morning for a safe and accessible railway for all."
Train operators are criticising the RMT's stance.
South Western Railway managing director Andy Mellors said: "Our discussions have been around the introduction of a new fleet of suburban trains, which will start to arrive in 2019.
"These new trains can be operated in a variety of ways and we have been talking to the RMT about which method of operation will be most beneficial in terms of performance and customer service. As part of these discussions we have guaranteed that we will roster a Guard on every train; and that those Guards will continue to be trained in safety procedures.
"Earlier this week, following a meeting with our local RMT representatives, we wrote to the RMT General Secretary setting out a framework for the operation of the new suburban fleet which would allow these talks to continue in the joint hope of finding a solution which would not inconvenience you, our passengers.
"It is therefore immensely frustrating that, despite this, the RMT Executive chose to ignore this offer.
"No one wants a strike. I still hope that common sense will prevail and the RMT will come back to the table and work with us to find a way forward. While this would be by far the best outcome for all of us, we cannot rely on this. To this end, we have trained a team of contingency Guards from within our workforce to provide the best service possible."