Posted 13th October 2017 | 2 Comments
Network Rail's public funding limits revealed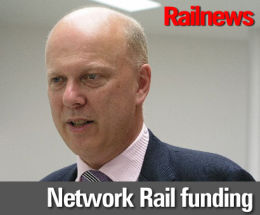 THE transport secretary Chris Grayling has published the delayed Statement of Funds Available for Network Rail's next five-year control period, which begins in April 2019.
The headline figure of £47.9 billion is higher than some sources had been predicting. It includes a contribution of up to £34.7 billion by direct grant, with the balance coming from NR's various revenues, including track access charges and property rents.
The Rail Delivery Group said the document was a 'vote of confidence', while Mark Carne of Network Rail said continued high investment was essential. Passenger watchdog Transport Focus warned that the industry should now keep its 'basic promises', while Labour's Andy McDonald has criticised what he described as a 'chaotic approach' to rail investment.
In his written statement to Parliament, Mr Grayling said: "The government is determined that the railway becomes more focused on issues that matter most to passengers – such as punctuality and reliability. It therefore focused on the operation, maintenance and renewal of the railway,"
The total figure is higher than some industry observers had been expecting, because they feared that there would be less for NR from 2019 than in 2014, when the budget for the current control period – CP5 – was £38.4 billion.
The CP5 figure included £12 billion for network enhancements, particularly electrification, much of which has since fallen by the wayside as the true costs became clearer.
This time round there is no figure for enhancements as such, but Mr Grayling told the Commons that some of them are included in the headline budget, at least in principle. He did not name any of these schemes.
Network Rail chief executive Mark Carne said: "Continued high levels of investment in our railway is essential to create the jobs, housing and economic boost our country needs to prosper. Today's announcement shows the Government's endorsement of this approach."
The Rail Delivery Group described the announcement as a 'vote of confidence' . Chief executive Paul Plummer said: "This decision recognises the importance of our railway to the economy and to the communities and customers it serves and it represents an important vote of confidence in the industry's ability to deliver while providing greater certainty for jobs and investment in the supply chain."
Companies supplying the railway with products and services employ at least 120,000 people, and Darren Caplan of the Railway Industry Association said: "The commitment to increased funding announced is recognition of the need to counter the increasing backlog of renewals work. This settlement will help Network Rail and its supply chain to maintain the rail system."
Rail watchdog Transport Focus, meanwhile, called on the industry to honour its 'basic promises'. Chief executive Anthony Smith said: "We're pleased to see that government is listening to what passengers want – better day-to-day reliability – and making that the main focus. Passengers tell us they want more reliable trains, a better chance of getting a seat or at least standing in comfort, and less delays.
"The proof will be when passengers start to see more reliable services and better value for money. Passengers now pump around £9 billion a year into the industry. In return they should expect the basic promises made by the industry to be kept."
Some politicians were critical. Labour's shadow transport secretary Andy McDonald said: "Today's statement of funds available for the rail industry highlights the government's chaotic approach to rail investment: its promises, pauses and cancellations are all catastrophically undermining the industry.
"Pledges about record levels of funding will ring hollow both for passengers denied much needed upgrades and a rail supply chain haemorrhaging jobs and skills."
The detailed figures must now be crunched by the Office of Rail and Road so that a Final Determination can be published by the ORR in October 2018.



ANALYSIS
Almost £48bn, but this SOFA is short on details

Sim Harris

THERE has been a broad welcome for this SOFA from the industry, accompanied by sighs of relief.
The complicated saga of electrification, or more accurately lack of electrification, had put the wind up quite a few people, accompanied by fears – mostly unvoiced in public – that the Treasury might reduce Network Rail's credit limit from 2019.
Electrification was a major plank of the last High Level Output Specification and its companion SOFA in 2012, but dawning realities over costs caused repeated casualties.
Schemes carried off hurt during CP5 have included the Great Western routes to Bristol Temple Meads, Oxford, Newbury, Henley-on-Thames and Marlow, and also the promised extension of electrification from Cardiff Central to Swansea (don't even think of mentioning the Valley Lines).
The Midland Main Line scheme, which should have connected London and Sheffield with hoped-for 'infill' links onwards from there to Leeds and Doncaster, has been cut back to Bedford, Kettering and Corby, while there will be no wires either between Oxenholme and Windermere. A further loss has been the 'electric spine' which was intended to stretch from Southampton to the Midlands and North via Oxford and East West Rail.
Transpennine is looking a little uncertain (will it need bi mode trains to bridge the gaps?), although Preston to Blackpool North is going ahead at last this winter.
The big question now is whether any of the CP5 casualties can be revived in 2019-2024. Although there was nothing specific, Mr Grayling allowed the clouds to part sufficiently to reveal one or two glimpses of blue sky.
One of these was: "The SoFA published today includes funding to continue to take forward the enhancements that were deferred from control period 5. In line with the new process for enhancements these schemes will continue to be subject to ongoing consideration …"
A further gleam of sunlight followed: "In addition to this, I am making funding available for the early-stage development of new enhancement schemes. I will announce further details on a new process for taking forward enhancements later in the year. We need to ensure investment best addresses the needs of passengers and freight, and that funding commitments appropriately reflect the stage of development of those enhancements."
So some of the aborted CP5 schemes could be revived in CP6. We don't (naturally) know which ones. Indeed, Mr G. is also considering further schemes but again these are cloaked in anonymity.
We may also speculate that very little in the way of new work will be authorised until every scrap of possible private sector funding has been scrutinised and held up to the light first.

Glimpses of blue sky perhaps, but it may be a little soon to put the umbrellas away just yet.

Reader Comments:
Views expressed in submitted comments are that of the author, and not necessarily shared by Railnews.
What about the some £30.8 bn in borrowing that was allowed in CP5, but which does not appear to be available in CP6?

The DfT has said that new debt and borrowing by Network Rail will not be allowed going forward. If that is fully correct, what was previously funded by borrowing with have to come out of the £47.9 bn figure.

[Your figure of £30.8 billion sounds like the cumulative total borrowed until 2014 (mostly raised from corporate bonds). If so, it has long been spent. The DfT now lends some funds to NR. The total of £47.9 billion for 2019-2024 is a combination of Direct Grant (up to £34.7 billion) and NR's own revenues (track access/property, etc.). Further funding will have to come from other sources, which is why NR is vigorously pursuing private sector partnerships/contributions for CP6. -- Editor.]


Network rail wastes millions every year by allowing it's own in house Works Delivery Department to undertake renewals / projects and other works at inflated prices.These works should go out to tender. Stop this practice by selling off it's works delivery business.