Posted 6th September 2017 | 5 Comments
Network Rail confirms Blackpool electrification plans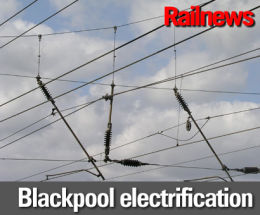 NETWORK RAIL has unveiled details of its scheme to complete the electrification of the railway between Preston and Blackpool North, and work will move into high gear this autumn during a 19-week blockade.
Buses will replace trains to Blackpool North and Blackpool South between 11 November and 28 January, so that the contractors can be given complete possession.
The project had been delayed by problems over costs. The original contractor Balfour Beatty surrendered the scheme in August 2015, after a review had said the work was unlikely to be on time and budget.
It had then been hoped to complete the project to electrify 27km of line by the spring of this year, but although work to lower the track has been carried out in the Poulton-le-Fylde area, the timetable for the rest of the scheme has only been confirmed now.
VolkerRail, working with Atkins, Murphy and Siemens, will replace more than 11km of track and install over 1,100 overhead line structures, 200km of overhead line and three footbridges. They will also build platform extensions at Blackpool North as well as provide a third platform and step free access at Kirkham & Wesham.
In addition, the signalling will be upgraded on both lines to Blackpool, with 84 new signals being installed and control migrated to the Rail Operating Centre in Manchester. Five conventional signal boxes (at Salwick, Kirkham, Poulton, Carleton and Blackpool North) will be closed.
Network Rail London North Western route managing director Martin Frobisher said: "The upgrade of the line between Preston and Blackpool is the largest rail investment in the area since the 19th century. It will enable greener, quieter and more reliable train services, providing passengers and Blackpool with a railway to be proud of.

"As Blackpool's economy grows, the railway is growing too and we are working with the wider industry and our Blackpool region partners to keep the people of Blackpool and the Fylde on the move throughout the closure. There is never a good time to carry out this type of work but we have planned it to take place outside of the main holiday season so it causes the least impact.

"I am confident the short-term pain will certainly be worth the long-term gain of transformed train travel in future."

One of the operators affected will be Northern. Regional director Sharon Keith said: "The work will pave the way for further improvements for our customers who, in the future, will benefit from brand new or fully refurbished electric trains – resulting in better journeys and, thanks to further investment, better stations.
"I'd like to thank our customers in advance for their understanding and patience whilst this essential work takes place."
Reader Comments:
Views expressed in submitted comments are that of the author, and not necessarily shared by Railnews.
The line from Kirkham to Blackpool South would be ideal for an extension of the Blackpool Trams.

The Blackpool South route has never been nominated for electrification, it is served by an hourly service from Colne that is also not considered for electrification. However the possible use of Tram train, connecting into the existing Blackpool tram network at Star Gate has been mooted. I don't know if such a proposal has got any further than the 'What if?' stage though. Blackpool North on the other hand is served by regular trains to Manchester Victoria, Manchester Airport and Liverpool, all of which are or are about to be electrified. Furthermore a direct Blackpool North - London service is planned to be reintroduced, it is not beyond the realms of plausibility that the Blackpool North - Glasgow/Edinburgh services may also be considered at some point in the future as a seasonal service.

So the electrification will only go to Blackpool North. Why not extend the electrification to Blackpool South. Or is just Blackpool North that will see electric trains running to Blackpool North whilst Diesel trains will run to Blackpool South as always.
[The line to Blackpool South via Lytham has never been nominated for electrification, as far as I know. There is probably no business case. After all, it is a single track route with an hourly service, which says something about the level of traffic.--Editor.]

I'm sure the residents of Blackpool in 2040 will be delighted with their newly electrified railway.