Posted 23rd August 2017 | 5 Comments
Mayor warns North has 'run out of patience' over transport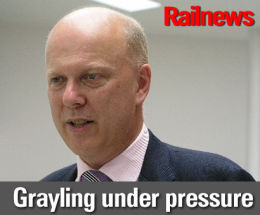 A MAJOR summit of transport leaders in the north of England takes place today, but transport secretary Chris Grayling has come under fire from more than one direction over details of his policies.
Mr Grayling writes in the Yorkshire Post that "the success of northern transport depends on the North itself," and that leaders in the region should 'take control'. He explains: "It is central government's responsibility to provide funding and a delivery structure that ensures efficiency, value for money and accountability. But, beyond this, I want the North to take control."
However, transport chiefs in the region remain unconvinced, particularly after Mr Grayling told reporters in Manchester that Transpennine electrification could be downgraded to a discontinuous installation, which would mean that trains on the route would have to be bi mode.
Mr Grayling also announced last month that electrification plans are contracting elsewhere, with schemes cancelled on the Midland Main Line north of Kettering and on the Great Western Main Line west of Cardiff, as well as between Oxenholme and Windermere.
The Mayor of Manchester Andy Burnham now says the north has 'run out of patience' with the government.
Mr Grayling has not been invited to today's Northern Summit in Leeds, which has been called by Mr Burnham to draw up a 'battle plan' and prepare a campaign for better rail services.
According to the Manchester Evening News, the exclusion prompted an 'angry rebuttal' from the transport secretary, in which he accuses Mr Burnham of 'using inaccurate analysis', and points out current developments such as the Ordsall Chord in Manchester and progress with HS2.
Mr Grayling wrote: "I am sorry that your office did not directly invite ministers in the Department for Transport to participate in the event. We would have been able to highlight that we are the first government for decades to make northern infrastrucutre a priority and that we are delivering real change. I'm sure you would not want to use inaccurate IPPR figures which create a sense that the infrastructure of the north is not changing when it clearly is.
"To do so is to talk down the north, and I know you would never do that."
The war of words has broken out just a day after former Chancellor George Osborn backed 'HS3' – a new high speed rail link between Manchester and Leeds.
The MEN quotes Mayor Andy Burnham as saying: "Chris Grayling is missing the point by attempting to turn this into a party political battle. We are gathering business and political leaders together with the sole aim of doing our best for the north of England.
"The fact that his own former cabinet colleague and Chancellor George Osborne has echoed our concerns shows that this goes far beyond party politics, and demonstrates that there are real issues here that Chris Grayling urgently needs to address. We are getting organised and demanding the government keeps all of its promises to people here and delivers a fair funding deal for the North of England."
Mr Grayling is also under pressure from Wales, where Labour First Minister Carwyn Jones has claimed the government 'cannot be trusted on Brexit' after Mr Grayling cancelled Great Western electrification between Cardiff Central and Swansea. Mr Jones, who has previously called for more electrification in the country including along the North Wales coast, said Wales was being 'sidelined' by the Great Western decision.
Reader Comments:
Views expressed in submitted comments are that of the author, and not necessarily shared by Railnews.
I think that Chris Grayling is becoming the new "Richard Beeching". I guarantee that he is. Since postponing the electrification on the Midland Main Line north of Bedford which the electrification will only be extended to Kettering and Corby and not to Nottingham, Derby, Leicester, Sheffield and Leeds.
[It is quite true that Dr Beeching preferred diesels, and that he tried to halt the West Coast electrification between London and north west England.--Editor.]

So Grayling says " The north should take control!" Yet in London the very same Grayling refuses to transfer services to Mayor Khan and TFL wanting to waste time and money on vertical integration...

Well if Grayling is so keen on vertical integration then he should transfer infrastructure as well as services to TFL given they and their predecessors have been operating their own underground network since 1863 !

As for the north well London has said it was willing to raise at least half the cost of Crossrail 2 in a similar way as cost of Crossrail 1 has been raised so will the north pledge to do the same ?

The talk of dis-continuance electrification is a nonsense and will mean more and more trains especially freight trains will be running under the wires as diesel trains and yet we hear all this talk from Grayling of electric cars .

It's time Sir Peter Hendy suggestion that electrification be treated like track renewal with its own annual budget allowing rolling electrification to be developed alongside specific schemes

Who'd have thunk it. The honourable member for Epsom, otherwise known as Chris Grayling, is more interested in Crossrail 2 than any new transport projects in the north.

Positive action in the North and, it seems from Wales, but where are the business's and Councils from the Midlands? The most important electrification scheme of all, the MML has been cut to the point that it becomes pointless and yet there is comparative silence from East Midlands business and local Government.