Posted 20th July 2017 | 6 Comments
Rail network 'now full in many areas'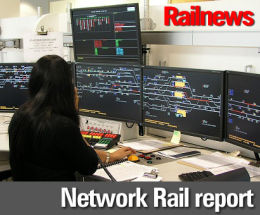 NETWORK RAIL spent £3.9 billion on enhancing the railway network last year, but its chairman has warned that congestion is causing delays.
The increasing number of trains is one of the causes of deteriorating performance, along with poor weather and industrial action, particularly on the Southern routes of Govia Thameslink Railway.
Network Rail's new annual report also records that the 'exceptional safety record' has continued, and that the reliability of infrastructure and equipment is now the best on record.
But bearing down on costs 'remains challenging'. Network Rail said this was largely due to 'increased supply chain costs compared to regulatory assumptions in 2012, as well as much less access to the railway than was assumed then given the rapid rise in early morning and late night trains'.
The company is now involved in drawing up its proposals for budgets in Control Period 6, which starts in April 2019 and runs until 2024, and the definitive High Level Output Specifications and Statements of Funds Available from the governments in London and Edinburgh are due to be published today.
Although most of Network Rail's major projects stayed in course last year, electrification schemes between Edinburgh and Glasgow and in London between Gospel Oak and Barking were behind schedule.
Network Rail said there has been renewed concentration on 'transforming Network Rail into a more customer-focused, cost competitive organisation'. It added that 'the benefits of devolution have started to be realised in the last year, with significant additional responsibility now being exercised by the nine route managing directors and their leadership teams', which had led to greater accountability at local level.
The Rail Upgrade Plan moved on, with the first part of the new concourse at London Bridge opening in August, while at the end of the year the new route between London Marylebone and Oxford was completed when the last upgraded section reopened between Oxford Parkway and Oxford in early December.
Repairs to weather damage continued to require major expenditure: the sea wall at Dover was reopened in September, restoring the railway between Folkestone and Dover. The affected section had collapsed during a storm on Christmas Eve 2015, and needed 200 people and more than 90,000 tonnes of rock for the reconstruction.
The Digital Railway project is also making progress, with business cases being developed.
Network Rail chairman Sir Peter Hendy said: "Britain's railways create growth, jobs and housing through connectivity; they are a remarkable success story. We have seen the greatest passenger growth in the last ten years of any European country and we are also Europe's safest major railway.
"I am very proud of the efforts of Network Rail's teams and contractors across the country, who work relentlessly to deliver a better railway for the millions of passengers who rely on us every day.
"The extraordinary growth in passenger numbers means the network is now full in many areas, and this congestion inevitably increases delays when anything goes wrong. It has also meant we have less access than ever before to make essential improvements. We are leading the way the whole rail industry operates in the years ahead, by both embracing new technologies and working ever more closely together to deliver the most effective and efficient outcomes for passengers. But there is much more to do to deliver the affordable and reliable railway our country needs."
Reader Comments:
Views expressed in submitted comments are that of the author, and not necessarily shared by Railnews.
Given the current climate seems to be against the 'easy' infrastructure improvements that could increase capacity (electrification, opening closed lines and stations) and the harder improvements (building new railways from scratch) are really expensive and take ages, but there is a capacity issue now, could it be time to knock a head on the 9-5 standard working day? Even most of the busiest lines are generally only at capacity for the morning and evening rushes, with some services largely empty for the rest of the day. So would it not be beneficial at least in the short to medium term if more employers started adjusting working hours earlier or later than 9-5, to use what is still quite high capacity on trains at off-peak times?

Interesting is it not, that Network Rail says the railway is full, yet has been busy closing and ripping up areas of railway and yards that could provide that capacity and rail development land for new stations. Manchester Mayfield was closed long ago, but no effort at thinking about using it again, now sold off.

The emphasis has been on sweating every piece of track to exhaustion. There is no spare capacity in the system because that's how Network Rail have run it - it used to be there. That said, to be fair Beeching really did cause most of this problem. We need new central city stations in some cases. All down to money and will.



I suppose you could increase rail capacity if you replaced slow diesel trains with faster electric trains which have better acceleration and deceleration and often have a higher top speed that can be maintained over longer distances ....

Oh wait a minute plans for the above on lines like the MML have been cancelled in favour of trains powered by duck weed ...

'Reliability and infrastructure is the best on record'? thats a laff! i shall remember that when the train im on is delayed by yet another points/signal failure!

On a recent Transpennine Express journey from Liverpool to Manchester.we reached Deansgate Junction dead on time and then lost 20 minutes on the couple of miles from there to Piccadilly. The train manager actually announced "due to congestion". Even more frustrating when you're watching a stream of Metrolink Trams passing which would get you there in a few minutes. And Manchester's not the only example; I've spent hours on trains waiting for a platform at New Street.