Posted 5th July 2017 | 2 Comments
New RMT offer on Southern is rejected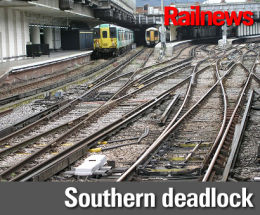 A PROPOSED six-month cooling-off period in the driver-control operation dispute on Southern has been rejected by Govia Thameslink Railway.
The RMT, which is in talks today with MPs on the Southern Rail Cross Party Group, has offered to 'break the deadlock' if GTR would agree that no trains would run without two members of staff on board. At the moment, trains can be operated by a driver working alone in 'exceptional circumstances', and the RMT claims more than 8,000 trains are running annually without a supervisor on board.
The RMT also proposed an 'accessibility guarantee', which would give guaranteed assistance to vulnerable or less able passengers from on-board staff on all trains, without the need to book in advance.
Southern services are currently being disrupted by an indefinite ban on overtime and rest-day working by ASLEF drivers.
RMT general secretary Mick Cash said: "We will be telling MPs that we are hoping the company will reconsider our proposal for a trial six month period of an accessibility guarantee.
"We would hope that they would agree to this sensible proposal as the Association of Train Operating Companies consultant's report has said train companies should guarantee a second person to comply with their legal obligations. That there is no agreement yet points to the continued hand of Chris Grayling blocking a settlement as even the government-backed Gibb report into Southern Rail admitting that the Secretary of State is determining the direction of this dispute.
"The reason this dispute is now entering its fifteenth month is because the government have backed the employer. MPs now need to ask when the government is going to back a fair settlement instead."
However, GTR has turned down the idea. "The guarantee the RMT wants is a guarantee to cancel trains," a company spokesman said.
He continued: "We want to put the passenger first and keep trains running. Driver controlled operation is safe and provision for those who need assistance has not deteriorated while, at the same time, service levels have steadily improved."
Reader Comments:
Views expressed in submitted comments are that of the author, and not necessarily shared by Railnews.
Southern Metro services have never run with two members of staff on-board and as such there is surely no OBS staff capacity to to run services to Epsom Downs/Tattenham Corner/Caterham/Horsham with OBS? Consequently this guarantee would, I imagine, lead to a cancelled trains that run fine now as Southern say.

The spin and lies from ASLEF, the RMT and GTR Southern is beyond petulant and their attitude to passengers intelligence is disgraceful, especially from the RMT. This is beyond a farce and passengers should no longer be used as paying collateral to be abused between the two sides, neither have our best interest at heart.

[I understand the undertaking suggested by the RMT only covered those services which normally have an OBS now. The union is arguing against the list of 'exceptional circumstances' defined by GTR when any train can run in DOO mode. The Metro services, as you rightly say, have been DOO for a long time and still are. Sorry if that wasn't clear.--Editor.]