Posted 24th April 2017 | 2 Comments
RMT urges 'no interference' as Southern DCO talks restart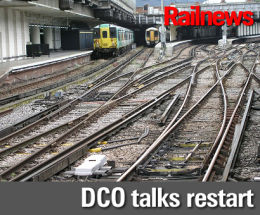 TALKS are set to take place today (Monday) and tomorrow between the RMT and Govia Thameslink Railway in the long-running dispute over the introduction of driver-controlled working on Southern. The union has called for 'no interference' with the negotiations.
The dispute has been running for a year, and has caused 31 strikes by the RMT alone. ASLEF has also been staging stoppages, but two attempts to reach a deal have been overturned by drivers in referendums and ASLEF's executive is understood to be deciding its next steps.
Talks with the RMT have been held in the past, but without any agreement. On the last occasion, both sides said after the meeting only that they 'were considering their positions'.
Strikes by the RMT have less effect than previously, according to Southern, because trains can now run with only a driver on board in 'exceptional circumstances', which include industrial action. The RMT has continued to claim 'rock solid support' for its walkouts.
Southern said: "We're pleased to be meeting the RMT in a bid to try and find a route forward to end their dispute."
RMT general secretary Mick Cash, who has maintained that the government lies behind the programme to convert most Southern routes to DCO, said: "The union welcomes the opportunity to engage with Southern rail in further talks. We expect there to be no efforts to undermine these important talks from other parties and that they will be allowed to take place free from external interference."
Reader Comments:
Views expressed in submitted comments are that of the author, and not necessarily shared by Railnews.
Doesn't Government have 3 basic options here. 1)allow more cash to meet virtually all union demands accepting it's a price worth paying for a reliable train service 2) trust a body such as DFT to decide and implement long term strategy and change even if it might at times seem painful or 3) full privatisation with all sides wiultimately aware unsolved disputes will probably lead to insolvency and closure