Posted 3rd April 2017 | No Comments
ASLEF drivers reject DOO deal again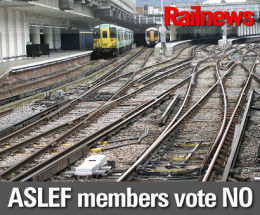 DRIVERS belonging to ASLEF have rejected a second deal over driver-only operation on Southern.
Members voted by 372 votes (51.8 per cent) to 346 (48.2 per cent) against the proposed deal.
General secretary Mick Whelan said: "We understand and support the decision arrived at in a democratic vote by our drivers and will now seek new talks with the company and work to deliver a resolution to this dispute in line with the expectations of our members."
Andy Bindon of Southern's operator Govia Thameslink Railway said: "It's a hugely disappointing outcome for our passengers, particularly as the agreement carried the full support and recommendation of the ASLEF leadership.
"We have shown a willingness and desire to find a solution to their dispute and we will now, once again, sit down with the union, understand the issues which led to this regrettable decision by the drivers and try and find a way forward to resolving it."
Members of ASLEF on Southern had previously rejected a deal over DOO on 16 February which had also been accepted by their union's executive.
Meanwhile, the RMT has postponed a strike of its Southern members, originally called for tomorrow, to have further talks with GTR. At the moment, the RMT has called three strikes for 8 April, which will affect services on Merseyrail, Northern and Southern. The two disputes in the north of England are also about DOO.
RMT general secretary Mick Cash said: "This ballot was entirely a matter for ASLEF and its members. However, the result reflects the continuing and deep seated concern amongst drivers and the wider workforce over the extension of DOO and the safety impact on passenger services.
"Southern Rail cannot jam their heads in the sand any longer. We are in talks with the company tomorrow and we now expect the fundamental issues at the heart of our guards' and drivers' disputes to be taken seriously."
Rail Delivery Group chief executive Paul Plummer said: "It's very disappointing. A stronger railway needs everyone working together to improve services for passengers, employees and businesses across the Southern region and the whole of Britain. We would urge ASLEF to return to talks and we call on the RMT to call off its planned strikes on Saturday when people will be going to the Grand National – a much-loved iconic British event watched around the world."