Posted 14th February 2017 | 1 Comment
Southern DOO talks restart with RMT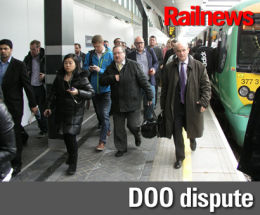 THE RMT is set to join fresh talks about driver-only operation on Southern today, while ASLEF drivers continue to vote over a deal agreed at ACAS earlier this month.
The union was angered by its exclusion from the ASLEF negotiations at ACAS, which affect around 930 Southern drivers. Their union has essentially accepted Southern's proposals to replace safety-critical conductors with on-board supervisors, and also a list of 'exceptional circumstances; when trains can be allowed to run with no second member of staff.
The RMT has claimed that an average of three Southern services are already running each day with only a driver – around 1,000 annually.
General secretary Mick Cash said: "These figures confirm that as a bare minimum the equivalent of 1000 services will no longer have a second member of staff in addition to the driver. That's a thousand journeys where a disabled passenger may not be able to get on or off the train or where passengers and the driver are at increased risk from anti-social behaviour or if something goes wrong, such as a derailment or fire."
"These are only the instances that have been reported and I have to say that our members think these figures are the thin end of the wedge and instances of driver only trains are far, far more widespread and increasing."
"Guaranteeing a second member of safety critical staff on every train is only way you can guarantee access for all and a safer journey for passengers."
Govia Thameslink Railway said: "We call on the RMT to follow the same consensual spirit and leadership shown by ASLEF and come to the table with the courage, confidence and conviction to settle their dispute for the benefit of passengers, the regional economy, their members and our employees."
The ASLEF referendum ends on Thursday this week.
Reader Comments:
Views expressed in submitted comments are that of the author, and not necessarily shared by Railnews.