Posted 15th November 2016 | 1 Comment
HS2 Phase 2 plans are a 'shot in arm' for economy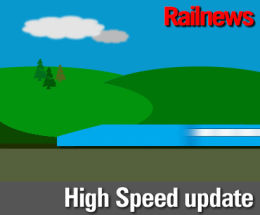 THE Government has set out its plans for Phase 2 of HS2, which is set to take High Speed trains onwards from the West Midlands to Crewe by 2027 and then to Manchester, the East Midlands, South Yorkshire and Leeds by 2033.
State-owned developer HS2 Ltd has also awarded contracts worth a total of £900 million to several consortia so that construction of Phase 1 between London and the West Midlands can begin next year.
The news has been greeted by the TUC as a 'much-needed shot in the arm for the British economy', while opponents to the scheme have repeated their claims that the project is unnecessary and destructive.
There is still some uncertainty about the route of HS2 Phase 2b, mainly through South Yorkshire. The first proposal was to build a new station at Meadowhall in Sheffield, which is outside the city centre. This has since been replaced by a revised plan to divert the High Speed line east of Sheffield itself and serve the city by a spur which would take HS2 trains over the existing railway to the city's main station. A decision on this proposal, which came from HS2 chairman David Higgins, is expected next year. There is opposition to the idea, partly because it could mean the loss of part of a new housing estate in the Doncaster area.
A 'route refinement consultation' has been launched today about the South Yorkshire proposals and another six relatively minor changes elsewhere. These include replacing a proposed tunnel under East Midlands Airport with a surface diversion, moving the previously proposed depot at Golborne to a site north of Crewe and adjusting the approach to Manchester Piccadilly up to 370 metres eastwards to avoid directly affecting residential properties and a school.
The Government said HS2 will 'significantly increase capacity on our congested railways', generate jobs, skills and growth and carry more than 100 million passengers a year. More than 1,400 million passengers are carried annually on National Rail at the moment.
Some of the detailed benefits are said to be the creation of around 25,000 jobs during construction as well as 2,000 apprenticeships. It will also support growth in the wider economy, worth an additional 100,000 jobs.
Transport secretary Chris Grayling said: "Our railways owe much to the Victorian engineers who pioneered them, but we cannot rest on their legacy when we face overcrowding and capacity problems.
"HS2 is an ambitious and exciting project and the government is seizing the opportunity it offers to build a transport network fit for the 21st century; one that works for all and makes clear to the world that Britain remains open for business.
"The full HS2 route will be a game-changer for the country that will slash journey times and perhaps most importantly give rail passengers on the existing network thousands of extra seats every day. They represent the greatest upgrade to our railway in living memory.
"But while it will bring significant benefits, I recognise the difficulties faced by communities along the route. They will be treated with fairness, compassion and respect and, as with Phase One, we intend to introduce further compensation which goes over and above what is required by law."
The Department for Transport has issued safeguarding directions for the preferred Phase 2b route between the West Midlands and Leeds and also Phase 2a between Crewe and Manchester. This protects the preferred route from conflicting development and also means that those people who are most affected by the plans can now apply to the government to buy their homes.
This assurance has failed to convince opponents to the scheme. Penny Gaines, the chair of Stop HS2, claimed the railway would not benefit the economies of the Midlands or the North of England. She also warned: "Anywhere where there are gaps in the line is continued uncertainty for people affected. Phase 2 was announced in early 2013, and these people have been living in limbo for nearly four years."
However, the announcement about Phase 2 has been welcomed by others, including the TUC. General secretary Frances O'Grady said: "HS2 is a much-needed shot in the arm for the British economy. Extra capacity and modern rail infrastructure will help companies outside of London to compete globally.
"Today's announcement is not only good news for rail workers, but for companies throughout the UK supply chain too.
"Britain's steel workers stand ready to provide the steel needed for HS2 – all they need is for the government to commit to buying British."
Three consortia of construction companies are already benefiting from Phase 1, because they have been awarded contracts worth £900 million to start work next year. They are CS JV (Costain Group Plc and Skanska Construction UK Ltd) in 'Area South', Fusion JV (Morgan Sindall Plc, BAM Nuttall Ltd and Ferrovial Agroman (UK) Ltd) in 'Area Central' and LM JV (Laing O'Rourke Construction Ltd and J Murphy & Sons Ltd) in 'Area North'.
Reader Comments:
Views expressed in submitted comments are that of the author, and not necessarily shared by Railnews.
When building the Y station at Toton (between Derby and Nottingham), instead of having the UK1 (still waiting to read the actual gauge UK1 size), just stop and/or pass through Toton... It is only a short distance to Nottingham and Derby main station so why not simply lift and shift the railway lines a few cm's further apart so the new UK1 gauge trains can call at Toton and 2 per hour terminate Nottingham and 2 per hour terminate at Derby. No classic line compatible for just a very short distance of track km's.
Also why is there only one line split into two? We should be building a dozen lines opening within Five years making every urban centre in UK no greater distance than two hours apart.
The French Atlantic South West line is an excellent example, the line is as straight and direct as possible with station stops being reached with fly-overs/unders a few km's before and rejoining a few km's beyond the stopping stations.
Wait, I know why, it is simply Too Logical and tories deciding things are never Logically thought through!