Posted 14th September 2016 | 1 Comment
MPs voice fresh concerns about HS2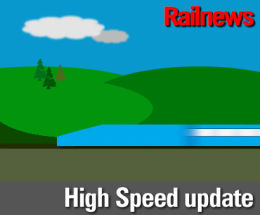 A NEW report from the House of Commons Public Accounts Committee about HS2 concedes that some progress has been made since the PAC virtually condemned the project in 2013, when it had said a high speed line would simply attract more businesses to London at the expense of provincial cities, but the Committee's chair has warned that "Parliament and the public are still in the dark about crucial details".
The Committee has turned its attention to the costs and project timetable, rather than the arguments for and against building a high speed line.
The publication of the report follows the news that Simon Kirby, who was in charge of the construction of Phase 1, is moving to Rolls Royce and that his successor is now being sought.
In 'Progress with preparations for High Speed 2', the PAC warns that there is still uncertainty about some aspects of the scheme, particularly Phase 2 to Manchester and Leeds, and that the project as a whole is over-ambitious, so that the opening date of Phase 1 between London and Birmingham in 2026 is in doubt.
It has called on the Government to 'move quickly to set out a realistic timetable for delivering HS2', and also clarify 'important details' about the second phase as well as its plans for the wider rail network.
The Committee recommends that a Department for Transport announcement on the route of Phase 2b between Birmingham and Crewe, due this autumn, should also confirm whether Phase 1 will open in 2026 or 2027.
The report said that costs of Phase 2, which has evolved over the past couple of years with the introduction of a diversion east of Sheffield, were still 'volatile', and that the newly-proposed route in South Yorkshire was 'one example of the significant uncertainty' that remains.
The report also claims 'a great deal of work is still required' to integrate HS2 with other rail investment proposals.
It adds: "Furthermore, greater assurance about sources of funding and finance for regeneration and growth is required to ensure that the promised regional benefits from High Speed 2 materialise."
MP Meg Hillier, who chairs the Committee said: "The Government has promised significant benefits to taxpayers in return for their investment in HS2, expected to run to more than £55 billion.
"Despite this, Parliament and the public are still in the dark about crucial details – not least when the railway will open, how much it is expected to cost and precisely where it will go.
"The announcement at the weekend that HS2 chief executive Simon Kirby is leaving the company adds to the uncertainty enveloping a project on which strong and stable leadership is vital.
"Lack of clarity over plans for HS2 in South Yorkshire highlights what is at stake for communities and local economies, and why government must explain its intentions and the basis for its decisions in a transparent manner."
The DfT said the project was 'on time and on budget', adding: "We are keeping a tough grip on costs, and pressing ahead with plans for Phase Two -- with further details due to be announced this autumn."
The Adam Smith Institute launched a fresh attack on the high speed scheme as a whole earlier this month, urging that it should be scrapped as part of changes which would also include the part-privatisation of Network Rail. Its report, 'Network Fail', has been widely criticised, with Rail Delivery Group chief executive Paul Plummer describing the Institute's comments as: "Somewhat surprising, given HS2's crucial role in ensuring the country has the railway it needs in the long term."
Reader Comments:
Views expressed in submitted comments are that of the author, and not necessarily shared by Railnews.
Dr Beeching is mostly known for his " negative" closure policy, but his first pronouncement was "positive" - that railways should concentrate on what they do best.

Applied to HS 2, it seems this is not happening ; rather it is planned to ramble round the country, trying to be all things to all people. Shorter distances ( Birmingham to London, etc ) would only bring moderate extra benefit but high costs ( eg. getting through the Chilterns and NW Greater London ). If HS2were targetted on distances with potential for new day - return journeys ( London - Teesside / Tyneside / Edinburgh / Glasgow ),via an East Coast alignment, benefit / cost ratio would likely be considerably better , with some "spin off" benefit also for cities in Yorkshire..

Any additional need for capacity relief on WCML could be met at far lower cost by making use of the ex -- Great Central trackbed / right of way as a basis for extra conventional infrasructure south of Nuneaton.