Posted 22nd July 2016 | 5 Comments
New transport secretary reaffirms case for HS2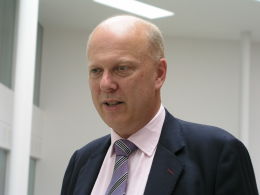 UPDATED VERSION: 12.00
THE new transport secretary Chris Grayling has told an audience in the East Midlands that the case for HS2 remains, and that he will not be 'backing away from it'.
He was addressing business leaders and local politicians in Derby in his first public appearance since he succeeded Patrick McLoughlin in last week's cabinet reshuffle.
He told the promoters of the Midlands Connect strategy that the Midlands region was 'absolutely at the top of our agenda' and that the Midland Main Line would be electrified north of Bedford as far as Kettering and Corby by 2019.
Opponents of HS2 have already called on Mr Grayling to reconsider the scheme, but he said: "Transport is about making life better, but we are still catching up with the demand. Four out of the five major railfreight routes run through the Midlands.
"One of the first things I did in my role was to confirm that there are absolutely no plans to back away from the HS2 project. It's an essential part of our blueprint for an effective transport system for Britain, and I am pleased at the recognition and support HS2 has received across the region. HS2 is not simply about passengers and speed – it's about freight, because actually it will help us to get freight off the roads and on to the railways, because the capacity we will free on the other lines will give us a real opportunity to enhance local services for passengers and also railfreight.
"What we need to do is to make sure that HS2 is really joined up with the network, and that it works together with our road system, so the HS2 team are working with Highways England.
"There are still people out there who are doubters, people who don't want it, people who think it's a white elephant. They are wrong. It is absolutely vital to the future of our transport system."
The new transport secretary is also facing a more immediate challenge – the continuing dispute over the extension of driver-only operation on Southern and the currently low levels of performance on Govia Thameslink Railway.
His newly-appointed rail minister Paul Maynard has said the government could step in to encourage fresh talks to take place between the RMT and GTR over its controversial plans to convert most of the remaining conductor-operated trains on Southern – around six out of ten – to driver operation, when drivers take control of opening and closing the doors.
Reader Comments:
Views expressed in submitted comments are that of the author, and not necessarily shared by Railnews.
An HS1-2 link would be hugely beneficial; if anyone at the DfT had the brain cells to realise that a properly developed HS1/HS2 strategy would negate the need for a 3rd runway at Heathrow, saving £10bn or thereabouts.

Having frequent direct HS rail services from LHR to Brussells and Paris via a HS1-HS2 link would save 30+ daily flight departure slots, and provide the very growth potential for the intercontinental services LHR expansion is designed for.

I hope you're right about the HS1/2 link, its absurd to be considering better pavements between the stations as a substitute, misses the greater benefits including a high speed crossrail service by Javelins, on top of the connectivity it will offer us "up north"Hopefully the joined up thinking which has generated the change at Sheffield will prevail down south too


Just because the Conservative party has played musical chairs HS2 has still passed it Commons stages with a 10/1 majority and is now at committee stage in Houuse of Lords after passing its first couple of readings.

Of course BREXIT takes away the false argument that HS2 was an EU imposed project when it has always been a domestic project more in line with a WCML2 project with elements of ECML2 and MML in second stages. In fact the new east west line being planned for the north originally called HS3 builds on sections of HS2,and will hopefully be built to the larger continental gauge .

In fact I noticed the recent plans to serve Sheffield Station mentioned use of classic compatible trains. Well while this is ok for present station hopefully the new branch on both sides of Sheffield will be built to Continental gauge to allow for future upgrade of Sheffield when HS network grows in both demand and size.

As for argument about lack of HS2/1 link well all that was abandoned was a totally inadequate link using the North London Line. We now have a clean sheet to plan a new link or indeed links given how Eurostar trains were used in London to Leeds ECML services it proves that building a link from HS1 to ECML which might even overcome the Welwyn bottleneck might be a place to start .

while i suppoert hs2, can those concerned bridge the gap between lewes-uckfild, s.w inland route okehampton ta